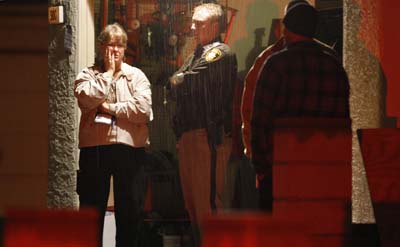 A 2-year-old boy was fatally bitten during a Wednesday afternoon attack by at least one dog at his home, Las Vegas police said.
The boy, who was not identified, was attacked about 4:30 p.m. at the home on the 6200 block of Warm River Road, near Washington Avenue and Jones Boulevard.
Bill Cassell, a spokesman with the Metropolitan Police Department, said the boy and his younger brother were being taken care of by their grandmother when the 2-year-old was attacked by one, or perhaps both, of the family's mix-breed terriers. Cassell said the dogs also might be a type of pit bull.
Cassell described the dogs as between 40 pounds and 45 pounds.
The boy's younger brother was unhurt in the attack, and the grandmother suffered superficial injuries, Cassell said.
"This is absolutely a tremendous tragedy," Cassell said. "Even though we know our dogs and we think we know their temperaments, this shows that at any given time, they can resort back to their instinctive behavior."
Cassell said the boy's parents were not home at the time. He declined to give out details of how the attack occurred, or how many times the child was bitten.
He was dead by the time medical personnel and police arrived at the home.
Cassell said preliminary information indicated the parents had no history with Clark County Family Services and the boy seemed to come from a "good, upstanding family."
Cassell said the dogs were taken by the Clark County Animal Control. He didn't know if they would be euthanized. Cassell said it was also too early to determine whether any charges would be filed in connection with the attack.
The tragedy comes just two months after a similar attack on a child in North Las Vegas. On Sept. 12, a 4-month-old North Las Vegas girl was fatally mauled by her family's pit bulls. In that incident, Cenedi Kia Carey died from blunt force trauma from dog bites to the head.
She was also in the care of her grandmother at the time.
North Las Vegas police said the dogs were in the back yard of the home when they burst through a screen door and attacked the girl while she was in a stroller.
Last month, the district attorney's office decided not to press charges against Cenedi's family members.
District Attorney David Roger said his office couldn't find that the family members of the child had intentionally placed her in harm's way.
The dogs also had never been deemed vicious, Roger said.
"There were no significant prior actions of the dogs that would suggest that these dogs would be dangerous to human beings," he said.
Contact reporter Antonio Planas at aplanas@reviewjournal.com or 702-383-4638.