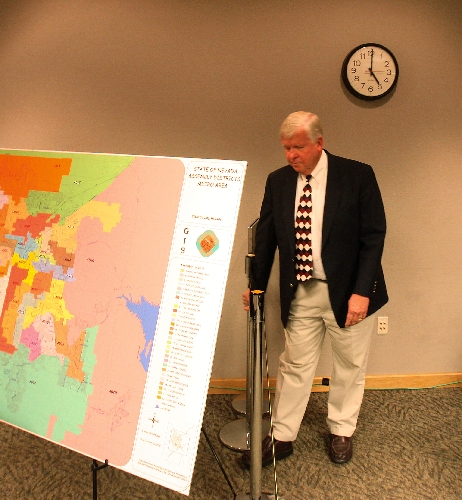 In the 12 years Larry Lomax has been involved in candidate filings, he has never seen this many people running for office.
Nearly 400 candidates have filed for races in Clark County. Fifty-eight filed on Friday — the final day for candidates in both state and local races to toss their hats into the ring for the June 8 primary.
The final day is usually one of the busiest, said Lomax, the county's registrar of voters. Not this year.
"It's the quietest last day we've had in a while ," he said.
County treasurer candidate Edwin Canizalez cut it close to the 5 p.m. deadline — filing for his first election 20 minutes beforehand.
"I was undecided," Canizalez said. "I really wanted to commit to it before I filed."
Canizalez, a Republican, faces Democratic incumbent Laura Fitzpatrick and fellow Republican Mike "Doc" Javornicky.
Lomax said candidates will often wait until the last minute to see which races are uncontested, a strategy he called "cherry picking."
An example occurred in a Searchlight race, where officials were worried they might not have a candidate for constable, which has been vacant for more than a year. Las Vegas police officers and constables from surrounding areas have served papers in the meantime.
Justice of the Peace Stan Colton, who is up for re-election, said he scrambled to find someone to fill the constable's seat but was unsuccessful.
That was until Republican Jack "Fat Jack" Cochran filed less than 60 minutes before closing on Friday.
"I just wanted to see who would jump in there, and nobody did," Cochran said. "So I thought I would."
Had Cochran not gotten in at the last minute, it's unclear what would have happened.
State statute provides an attorney general's opinion from 1920, which states that simply because no one has filed for an office doesn't mean a vacancy is created. According to state law, a vacancy can only occur when a person resigns from office or dies.
The "empty office" cannot be filled until the next election or if an appropriate official appoints someone to fill the position.
And even then, they're not always obligated to fill it.
"The law is totally blank in that area," said Alan Glover, Carson City Clerk Recorder. "Nothing in the statute tells you what to do.
"It's an odd little provision. The oddest I've ever seen."
Glover said the no-candidate provision could be "corrected pretty easily."
"The Legislature should probably take a look at this again and insert a few words," he said.
Contact Kristi Jourdan at kjourdan@reviewjournal.com or 702-383-0279.