Affidavit details Nevada gaming chief's recorded conversation with Laxalt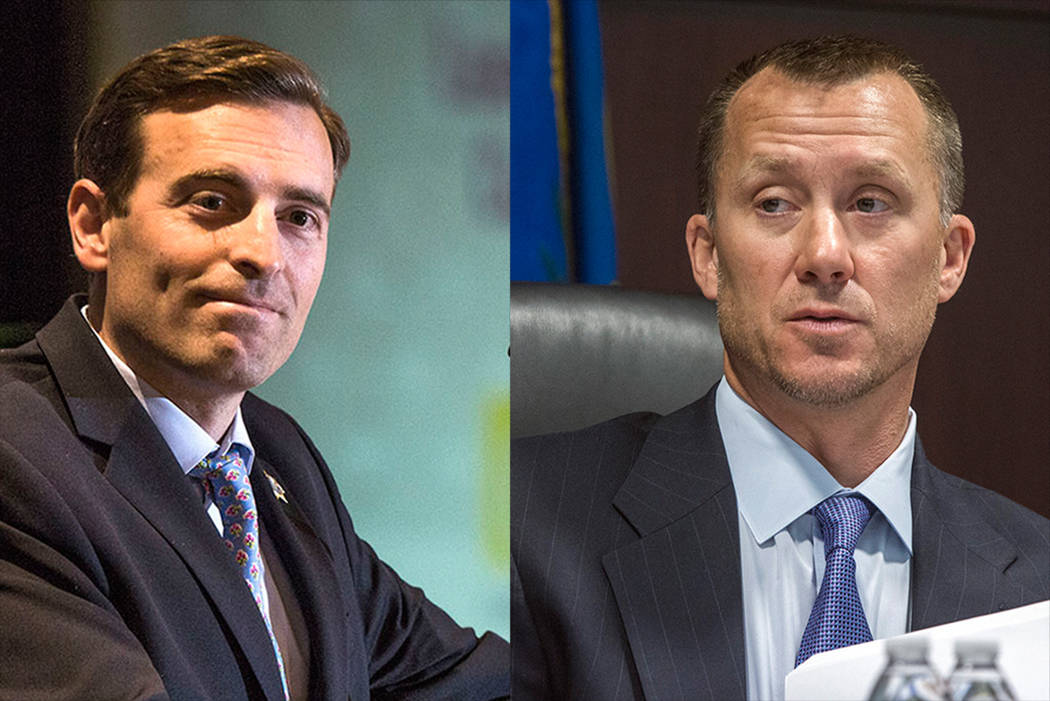 CARSON CITY — Gaming Control Board Chairman A.G. Burnett said Nevada Attorney General Adam Laxalt asked him last year to take action that would have harmed gaming regulation and the reputation of the state, Burnett's affidavit about their secretly recorded conversation shows.
Laxalt made the request on behalf of Las Vegas Sands Corp. and its chairman, Sheldon Adelson, according to the affidavit.
Burnett gave the recording to federal authorities, who "advised there appeared to be no criminal violations," Burnett said in the affidavit.
The Review-Journal obtained a copy of the document Wednesday.
The affidavit was sent to Assemblywoman Maggie Carlton, D-Las Vegas, along with Burnett's recording of his conversation with Laxalt, in response to a subpoena issued last week by the assemblywoman. Carlton said Tuesday that the recording warrants a legislative hearing.
Laxalt's office stood by a Tuesday statement, which accused legislative Democrats of politicizing a "routine action that previous attorneys general" have taken. The office provided no additional comment Wednesday on the affidavit, but did send a letter to Carlton regarding her request for a hearing.
"I write to inform you that Attorney General Laxalt and his staff are willing to appear at a fair and independent hearing to clear up any questions the legislature may have about the Gaming Control Board's request to our Office for legal assistance responding to a request that the Board received about protecting the confidentiality of documents," Laxalt chief of staff Nicholas Trutanich wrote.
Playing politics?
Laxalt, a Republican, is considering a run for governor next year.
Carlton and other Democrats have expressed frustration this session that Laxalt did not personally appear this session to present his agency's budget to the money committee.
But one Republican lawmaker said Carlton's subpoena is "political bull——."
"From day one of this legislative session, Democrats have been on a mission to destroy the Attorney General," Assembly Deputy Minority Floor Leader Jim Wheeler, R-Gardnerville, said Tuesday in a statement. "They have impugned his motives, and his ethics. This is a political witch hunt, and a waste of taxpayer dollars. Anybody in this body interested in playing Sherlock Holmes ought to consider that Nevadans have higher expectations for their lawmakers and Democrats are failing to meet them."
Request for intervention
Burnett's April 27 affidavit refers to a "licensee" but does not explicitly name Las Vegas Sands or Adelson. It details requests by Sands to get the Gaming Control Board to involve itself in a wrongful termination lawsuit against the company. Steven Jacobs, former president and CEO of Sands China Ltd., filed the lawsuit shortly after he was fired as the head of the company's operations in China.
An issue in the Jacobs lawsuit involved the release of an internal report that had been created for Sands. Jacobs requested the report but Sands' attorneys refused to turn it over. A ruling on the issue was expected soon from Clark County District Judge Elizabeth Gonzalez.
Sands asked whether the Gaming Control Board would file a "friend of the court" brief supporting its position on the confidentiality of the report. Burnett said any such filing would constitute unwarranted and unjustified interference in the lawsuit.
Shortly thereafter, Burnett said he learned that Laxalt and Sands representatives had met regarding the discovery matter in the lawsuit.
Adelson and Sands contributed thousands of dollars to Laxalt's 2014 campaign for attorney general.
Urgent meeting
In the affidavit, Burnett said that on March 24, 2016, Laxalt contacted him by text message asking for a meeting. Burnett responded that was preparing for a family vacation and could meet after his time off. Laxalt requested a meeting the next day.
"This is urgent that I see you since you are gone all next week," Laxalt wrote.
"This message furthered my concern," Burnett said in the affidavit, "as the timing was not lost on me: The Nevada Supreme Court was set to hear the motion to remove (Gonzalez) in the civil case on Tuesday, April 5 in Carson City."
Laxalt then picked up Burnett in Reno and took him to a coffee shop.
"I was shocked and in disbelief due to the nature of these unusual circumstances. I was also extremely worried about what the conversation might entail," Burnett said.
Laxalt asked Burnett about filing a friend of the court brief in the wrongful termination case regarding the disclosure of the report. Burnett said the board would not become involved in the case.
Burnett said he met with the licensee on April 5, 2016, and told him the board would not become involved.
The gaming board filed a disciplinary action against Sands on May 11, 2016. It was settled May 19. Sands settled the wrongful termination lawsuit on May 31, 2016.
Ron Reese, a spokesman for Las Vegas Sands, declined comment Wednesday on Burnett's affidavit.
The Review-Journal is owned by the family of Las Vegas Sands Corp. Chairman and CEO Sheldon Adelson.
A.G. Burnett Affidavit by Las Vegas Review-Journal on Scribd
Contact Sean Whaley at swhaley@reviewjournal.com or 775-461-3820. Follow @seanw801 on Twitter.