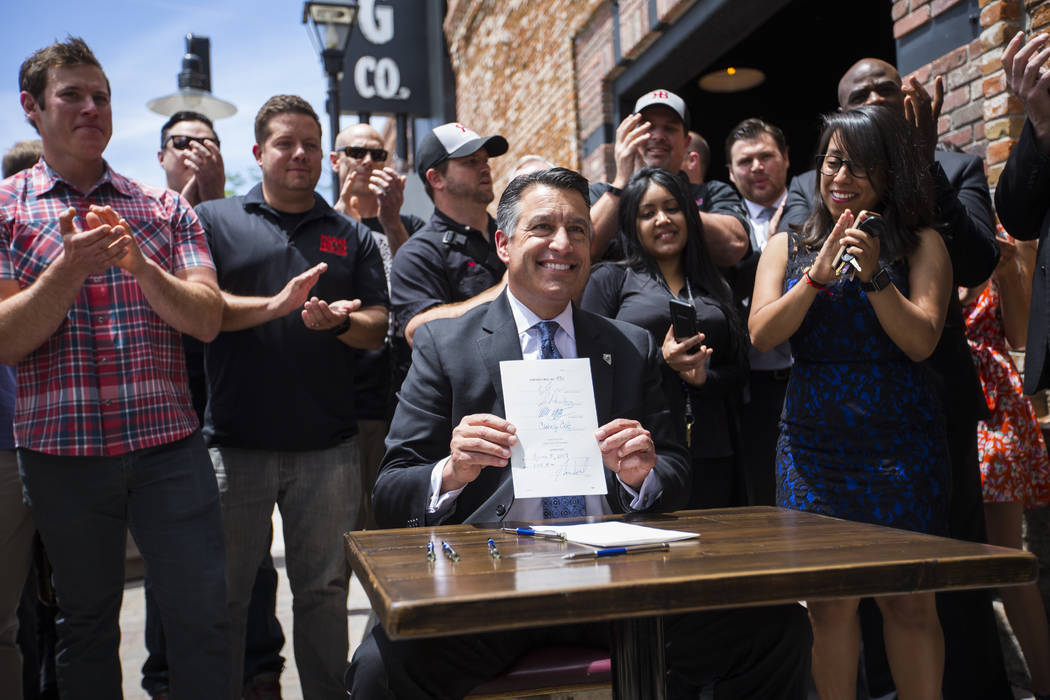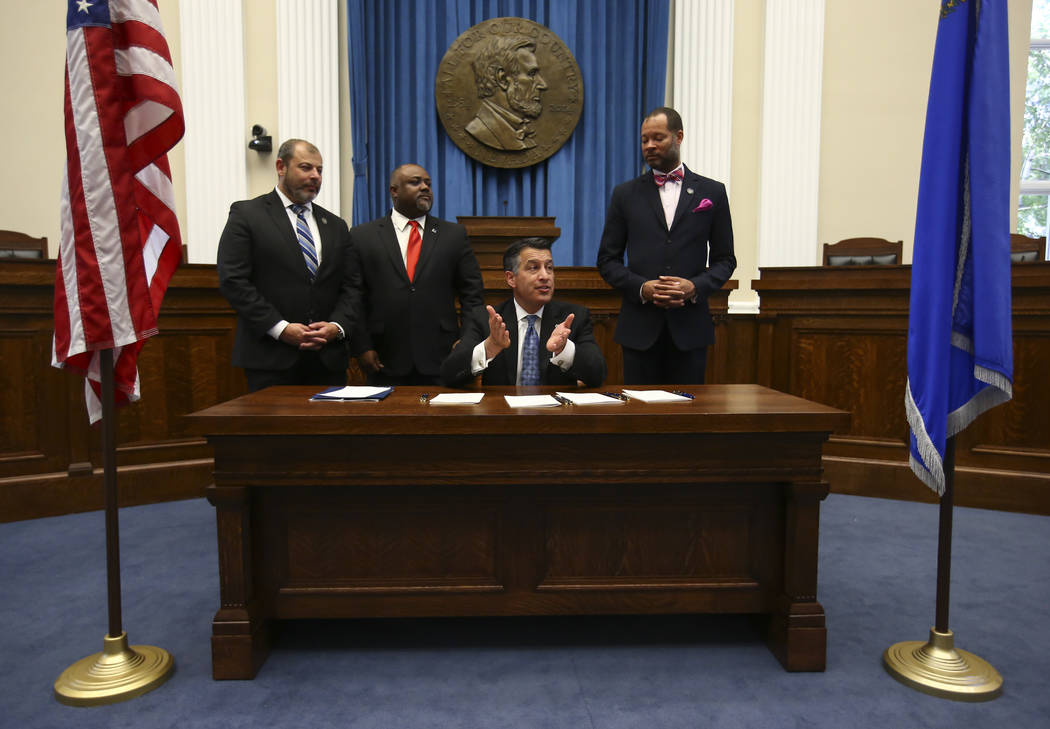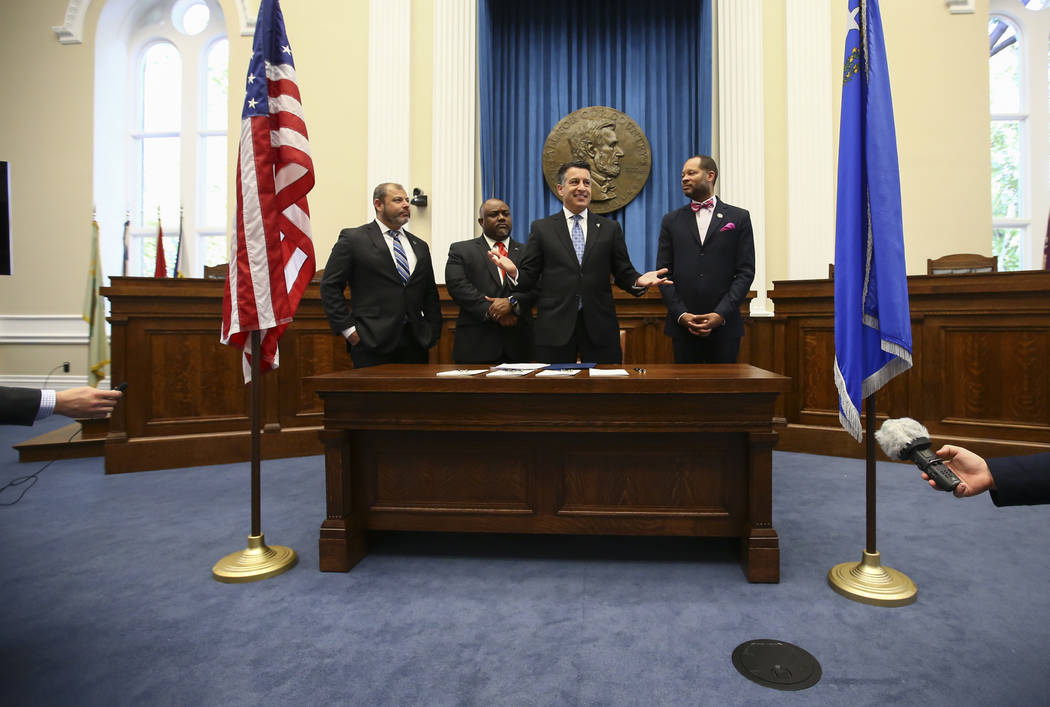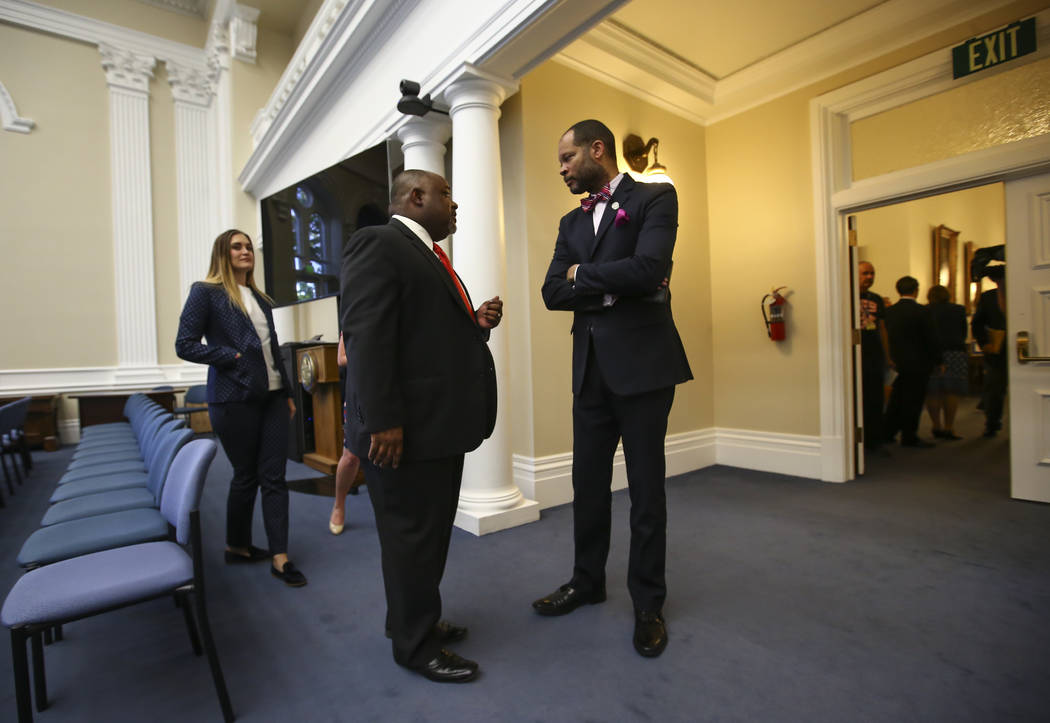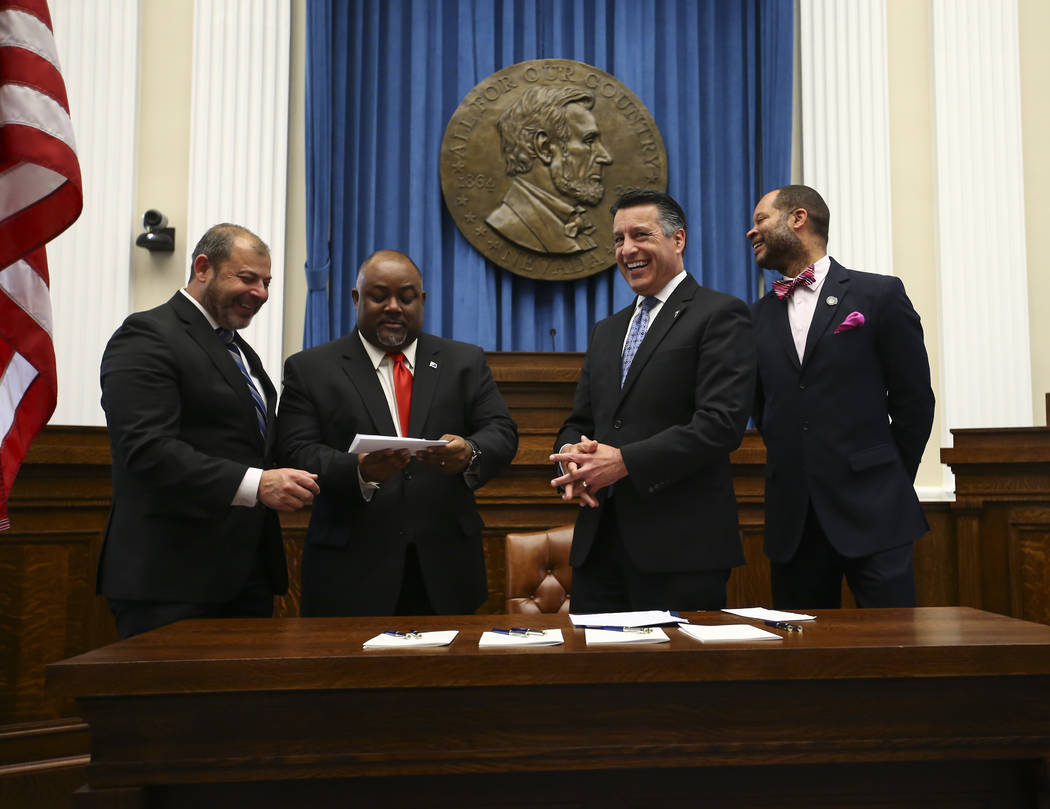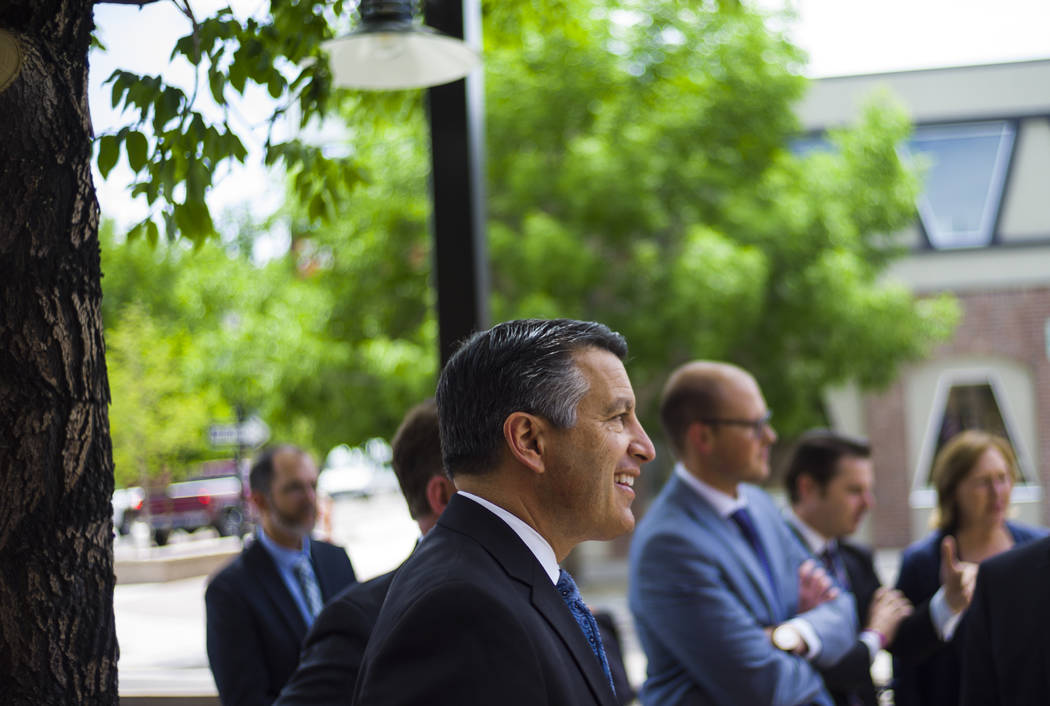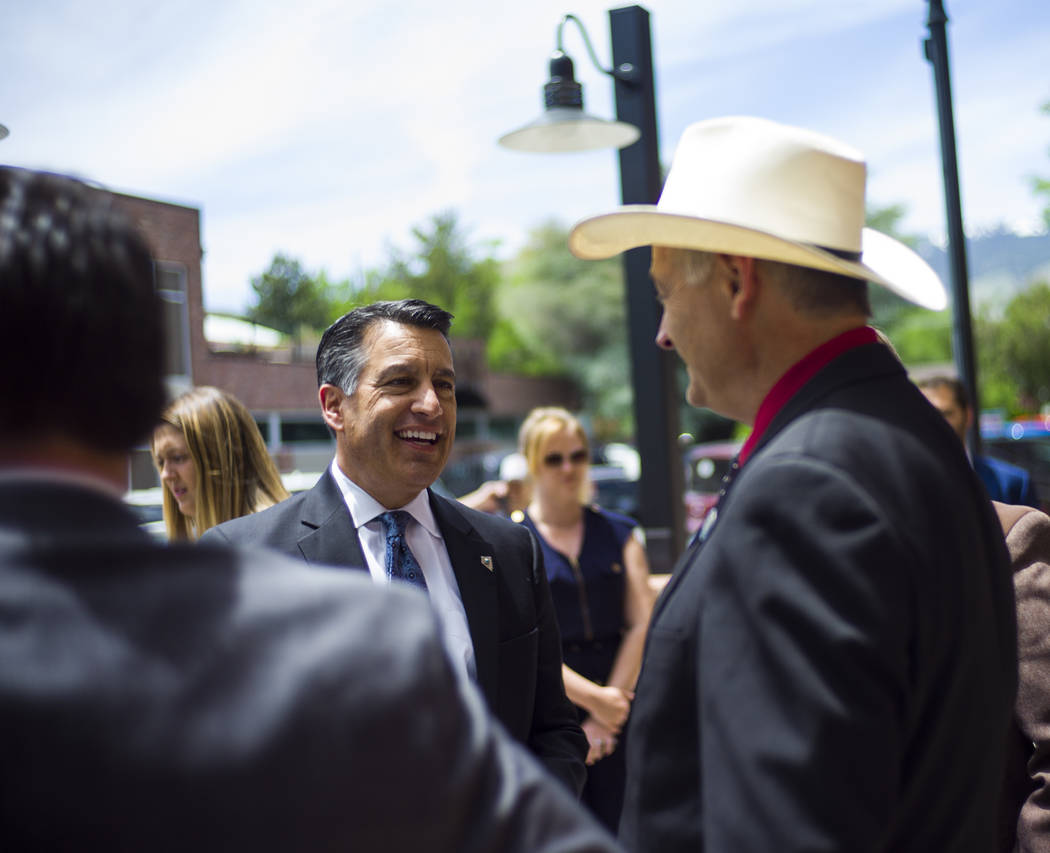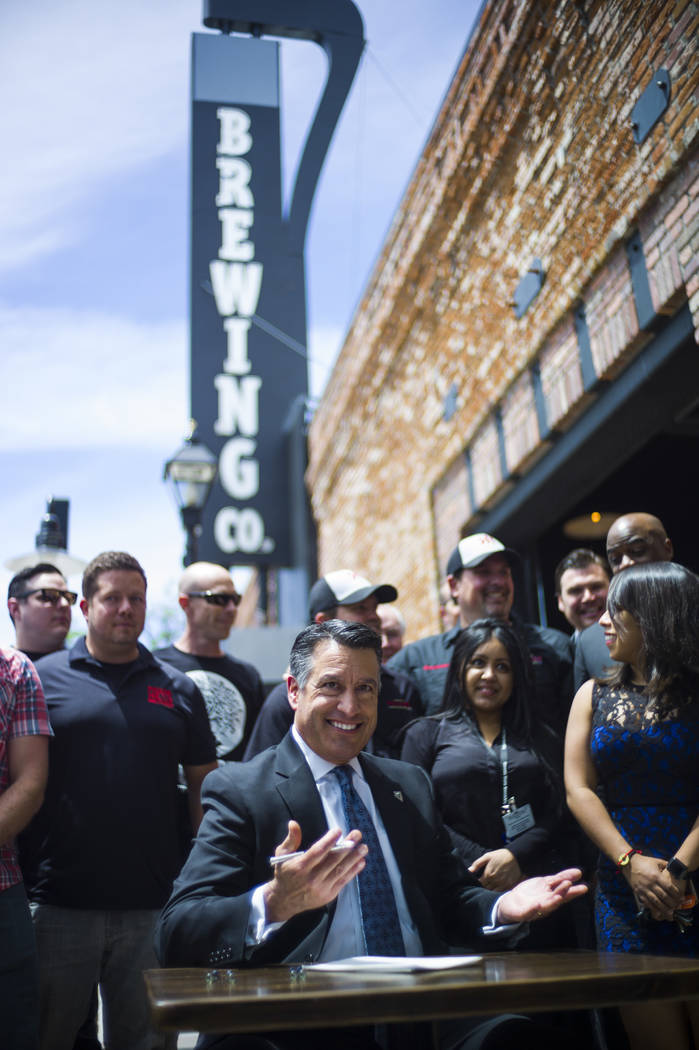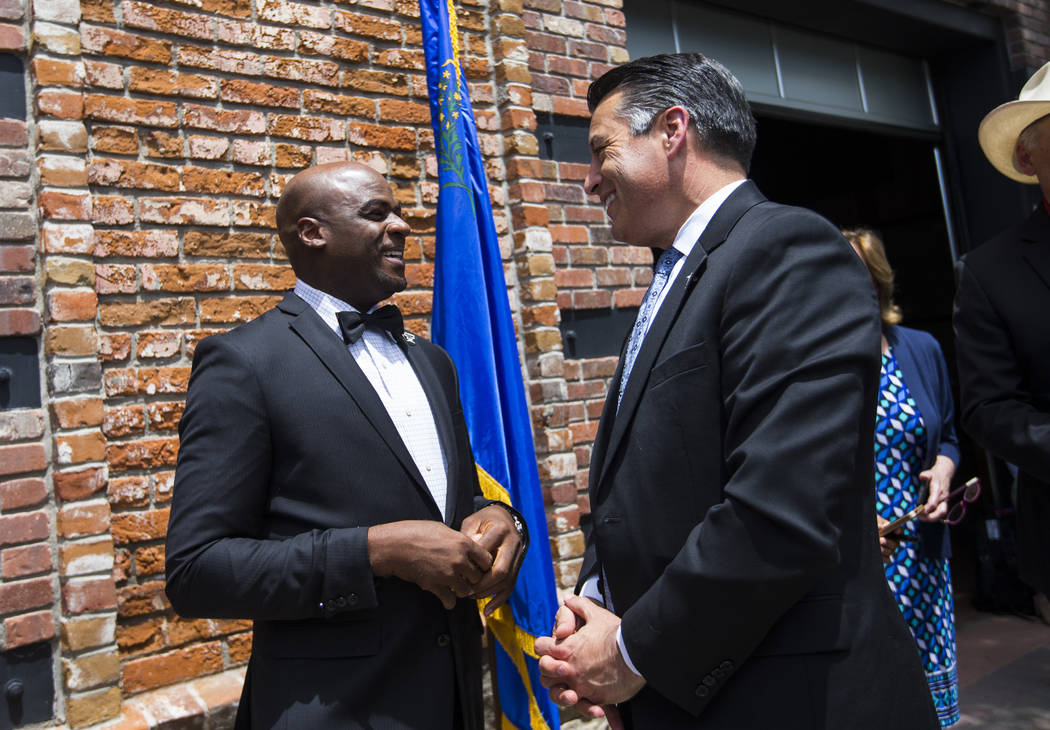 CARSON CITY — It wasn't quite time for a good stiff drink — the Nevada Legislature remained hard at work throughout Monday with a looming midnight deadline to adjourn — but the hour was rapidly approaching.
Gov. Brian Sandoval on Monday signed legislation that will help the state's brewpub industry expand production. Assembly Bill 431 allows craft breweries to increase beer production to 40,000 barrels a year, up from 15,000 barrels currently. However, there would be a reduction in the amount of beer that could be sold at retail, to 5,000 barrels from 15,000 barrels.
"I am one that likes to visit the craft breweries and sample what they have to offer," Sandoval said at a signing event in front of The Union, a brewery in Carson City.
Sandoval also signed Senate Bill 199, which creates an "estate distillery" category for distilleries that grow at least 85 percent of their agricultural raw materials within the state. Under the new law, estate distilleries can sell and transport up to 75,000 cases annually to a wholesale dealer in Nevada and export out of the state up to 400,000 cases. Retail sales for off-premises consumption is limited to 7,500 cases or fewer annually.
Other bills Sandoval signed Monday:
■ Senate Bill 360, sponsored by state Sen. Nicole Cannizzaro, D-Las Vegas, establishes the "Wards' Bill of Rights" and increases penalties for crimes against elderly and vulnerable individuals. The bill is among several this session aimed at curbing abuse within the guardianship system.
■ Senate Bill 369, sponsored by Senate Majority Leader Aaron Ford, D-Las Vegas, requires the Clark County School District to establish professional development programs to train teachers and principals to better engage and collaborate with families.
■ Senate Bill 415 proposes a question to the voters about whether feminine hygiene products should be exempt from sales and use tax. Voters will weigh in on the so-called pink tax during the 2018 general election.
■ Senate Bill 162, sponsored by Sen. Heidi Gansert, R-Reno, provides for registration and certification of mental health professional assistants, psychological assistants, psychological interns and psychological trainees. The bill is intended to improve access to mental health services and expand the pipeline of providers.
■ Assembly Bill 327, sponsored by Assemblyman William McCurdy II, D-Las Vegas, allows a person who fully completes probation to apply for the court records to be sealed.
■ Assembly Bill 141, sponsored by Assembly Chief Deputy Majority Whip Tyrone Thompson, D-North Las Vegas, expands the operations of the Office of Minority Health, which is housed within the Department of Health and Human Services. The measure also expands the definition of "minority group" to include more communities.
■ Senate Bill 398, sponsored by Senate Assistant Minority Leader Ben Kieckhefer, R-Reno, recognizes blockchain technology as a type of electronic record. Blockchain is a technology that provides transparent, unchangeable record-keeping assigned to individuals.
■ Senate Bill 65 came from the Governor's New Energy Industry Task Force. This measure opens to the public access to the triennial Integrated Resource Plan meeting between certain utilities and the Public Utilities Commission of Nevada. It also requires the PUC to give preference to resources with the greatest economic benefit, environmental benefit and opportunity for job creation.
Contact Ben Botkin at bbotkin@reviewjournal.com or 702-387-2904. Follow @BenBotkin on Twitter.