Bill sponsor touts DUI ignition locks as 'life saving measure'
Updated May 16, 2017 - 7:42 pm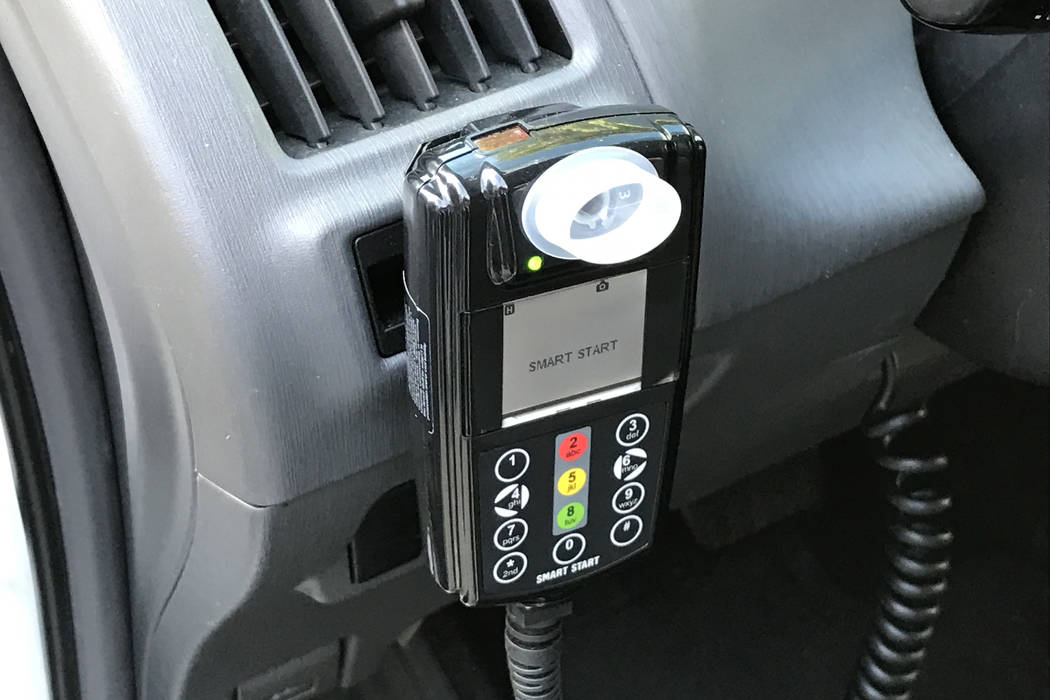 CARSON CITY — Drivers convicted of drunk driving may be able to get behind the wheel sooner — with a catch.
Under Senate Bill 259, people with DUI convictions would need to breathe into an ignition interlock device installed on their vehicle. The vehicle will not start if the device detects have boozy breath.
The Assembly Judiciary Committee heard the bill Tuesday. Its sponsor, Sen. Mark Manendo, D-Las Vegas, said the devices have stopped more than 2 million attempts by motorists to drive impaired.
"I can't imagine how many lives that has saved," Manendo told lawmakers.
The bill would allow those convicted of DUI to install an ignition interlock device on their vehicle and drive while their license is revoked. If such a device is used, the 90-day revocation period would be increased to 185 days.
There's also a provision that would allow drivers to use an ignition interlock device while their DUI case is pending.
"Make no mistake, this is a lifesaving measure," Manendo said.
Chelsea Capurro, a lobbyist with the Coalition of Ignition Interlock Manufacturers, said: "We think this is a great way for people to get their life back in order and continue driving safely."
Driver's licenses would have a notation indicating the driver must use a vehicle with an ignition interlock device.
The technology also has safeguards against tampering or using someone else to breathe into the device, such as capturing images as the driver completes the test.
Manendo acknowledged that offenders may find ways to work around the device, saying it's "not 100 percent foolproof."
Chelsea said the cost of the device would be about $70 a month for drivers, with free installation.
The bill drew support from law enforcement and the Northern Nevada chapter of Mothers Against Drunk Driving.
Chuck Callaway of the Metropolitan Police Department supported the bill, saying many people with suspended or revoked licenses will drive anyway.
However, he added, "I think it's more suitable for first-time offenders than folks who have multiple DUI charges."
John Piro with the Clark County Public Defender's Office said the requirement for an ignition interlock while a case is pending would punish a potentially innocent person.
If someone is found not guilty or the charges are reduced, they should be able to get their money back, he said. He also raised concerns about increasing the revocation period from 90 days to 185 days.
Wendy Stolyarov of the Libertarian Party of Nevada said the bill is a "corporate handout" that benefits the ignition interlock companies and will "hit low-income individuals disproportionately."
The committee didn't take action on the bill, which has passed the Senate unanimously.
Contact Ben Botkin at bbotkin@reviewjournal.com or 775-461-0661. Follow @BenBotkin1 on Twitter.
Nevada intoxicated driving statistics
77 alcohol-related deaths in 2016.
1,025 people in Nevada killed in crashes involving a drunk driver between 2003 and 2012.
Source: University of Nevada, Reno School of Medicine; Center for Traffic Safety Research.
Related
DUI ignition lock bill flies through Nevada Senate
Nevada Senate panel considers bill to require ignition locks
Las Vegas senator wants ignition device on cars of all arrested for DUI