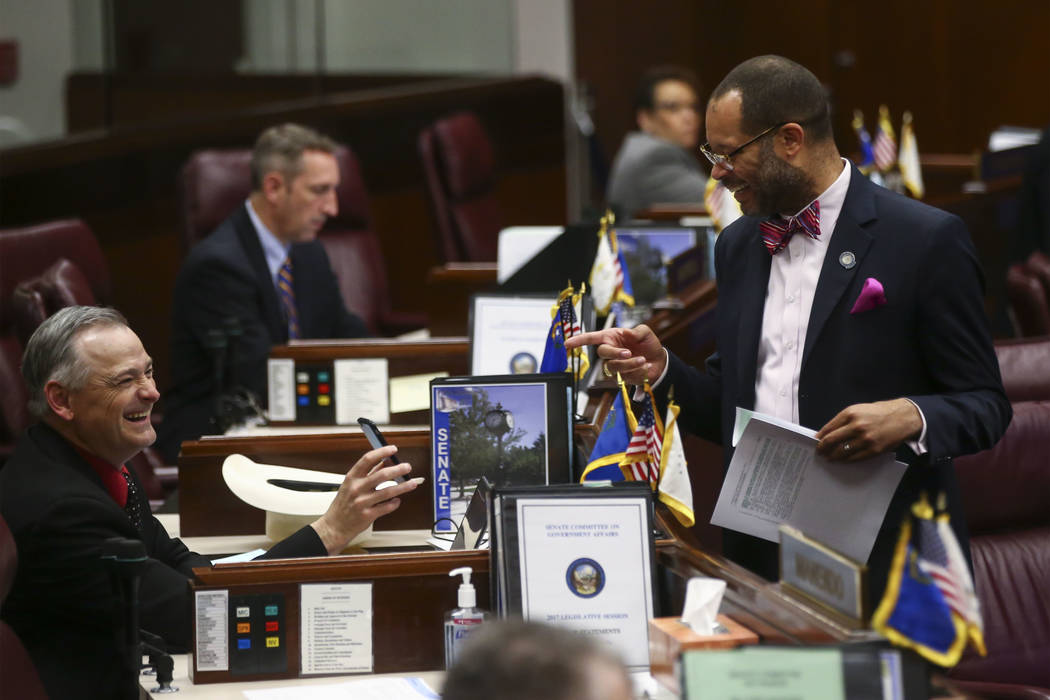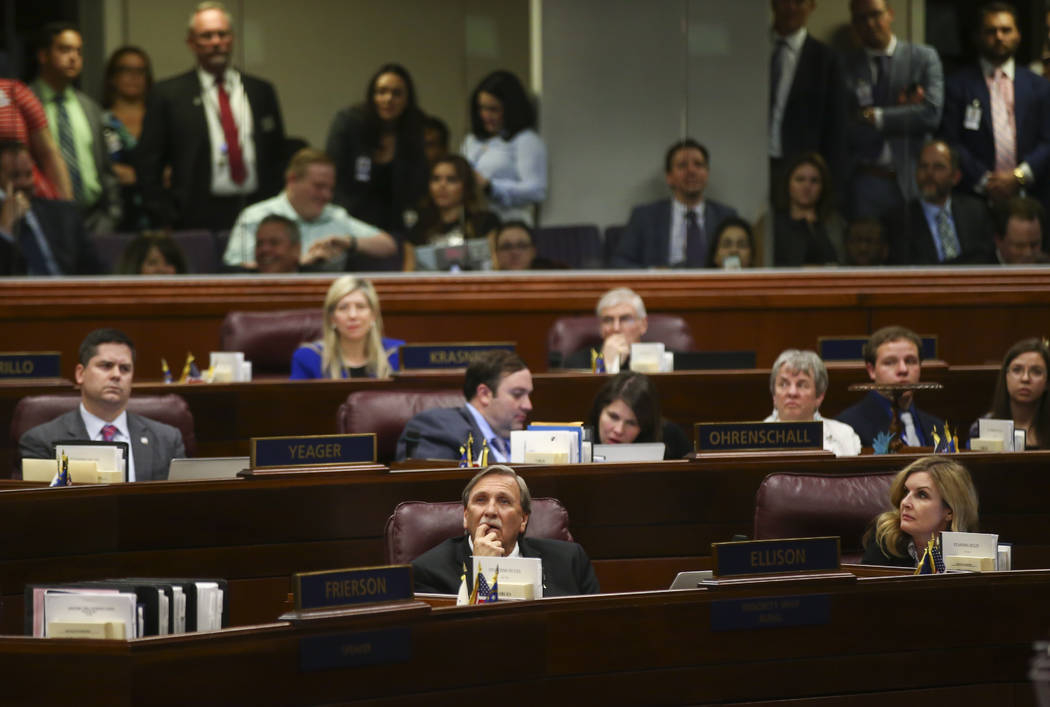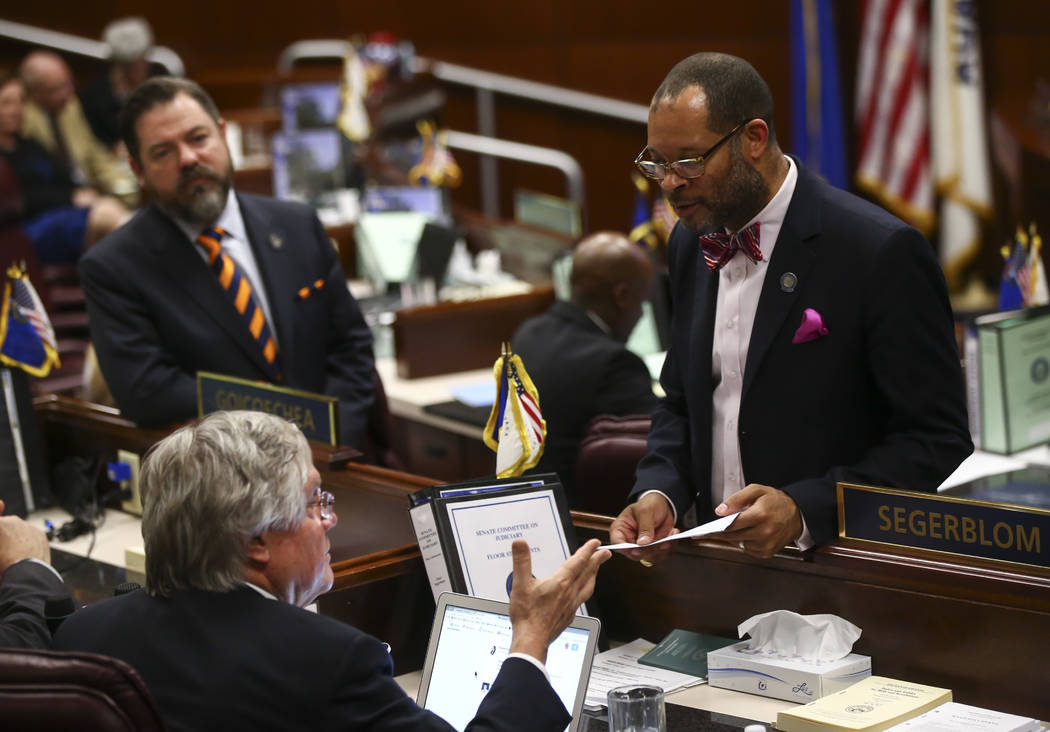 CARSON CITY — State workers got a boost and the gambling industry won confidentiality protections in the final, frenzied hours of the 2017 Nevada Legislature.
Bills were gutted, amended and replaced in whole with new language in the hectic final minutes of the session before lawmakers adjourned at midnight Monday.
Legislators approved Senate Bill 368, giving state workers an extra 1 percent pay bump in each of the next two years. That's on top of the 2 percent raises included in Gov. Brian Sandoval's budget. If signed by Sandoval, it would mean state workers will receive a 3 percent boost in each year of the two-year budget cycle.
The original SB368 dealt with criminal procedure issues.
Senate Bill 376, a measure dealing with estates and heir finders, morphed into a bill addressing confidentiality of data and information provided by gaming applicants and licensees to state regulatory agencies.
The language in the bill was swapped during a late night conference committee and passed by both houses without a hearing.
Sandoval and the majority and minority legislative leaders issued a joint statement late Monday after the bill was amended, saying it will provide Nevada's gaming regulatory system "more certainty and predictability related to the protection of proprietary information."
Deals and votes
Lawmakers also squeaked in approval of Senate Joint Resolution 17, a crime victim's bill of rights known as Marsy's Law. The proposed constitutional amendment was passed in the 2015 session and needed to pass again this year to be placed on the 2018 ballot for voter ratification.
An amendment added by the Assembly would have doomed its advancement to the ballot, because the language must be identical to the measure approved in 2015.
Attorney General Adam Laxalt on Tuesday said Nevada is one step closer to "enshrining victims' rights" into the constitution.
The law would require that victims be kept informed of the status of their criminal proceedings. It would guarantee their right to be notified of all proceedings and the release of inmates involved in those crimes.
The Clark County School District received an infusion of cash in the late hours with the Assembly's final passage of Senate Bill 550, which allocates $17 million for the district to upgrade its human resources management system. The same bill gave the Washoe County School District $5 million for information technology, buses and school police vehicles. The Nevada Alliance of Boys and Girls Clubs got $2 million.
Ride-sharing companies will have to verify and report to the state that their drivers have required business licenses under Senate Bill 554. The bill was declared an emergency measure after a separate bill was killed when it was amended to increase the amount of insurance drivers would be required to carry — a move companies like Uber and Lyft said could put them out of business in Nevada.
SB554 restored the original intent of the bill by requiring transportation network drivers to prove they have a business license within six months of being allowed to accept passengers.
Goodbye, bills
While those bills survived in the countdown to sine die, other bills failed.
Assembly Bill 159 sought to ban hydraulic fracturing in Nevada. Supporters of the bill argued fracking to extract oil contributes to seismic activity, water contamination and air pollution and has adverse health effects on people. Opponents countered a ban could stifle economic growth and energy development opportunities.
Senate Bill 261, allowing terminally ill patients to request life-ending drugs from their doctor, also failed. Though it was passed by the Senate, it did not make it out of an Assembly committee.
Legislators also nixed another attempt to institute annual legislative sessions. Senate Joint Resolution 11, a proposed constitutional amendment, sought to have 90-day legislative sessions in odd-numbered years and 30-day sessions in even years.
The Nevada Constitution mandates the Legislature convene in regular session in odd-numbered years for no more than 120 calendar days. The measure passed the Senate on a 12-9 vote but died in the Assembly.
Contact Sandra Chereb at schereb@reviewjournal.com or 775-461-3821. Follow @SandraChereb on Twitter.