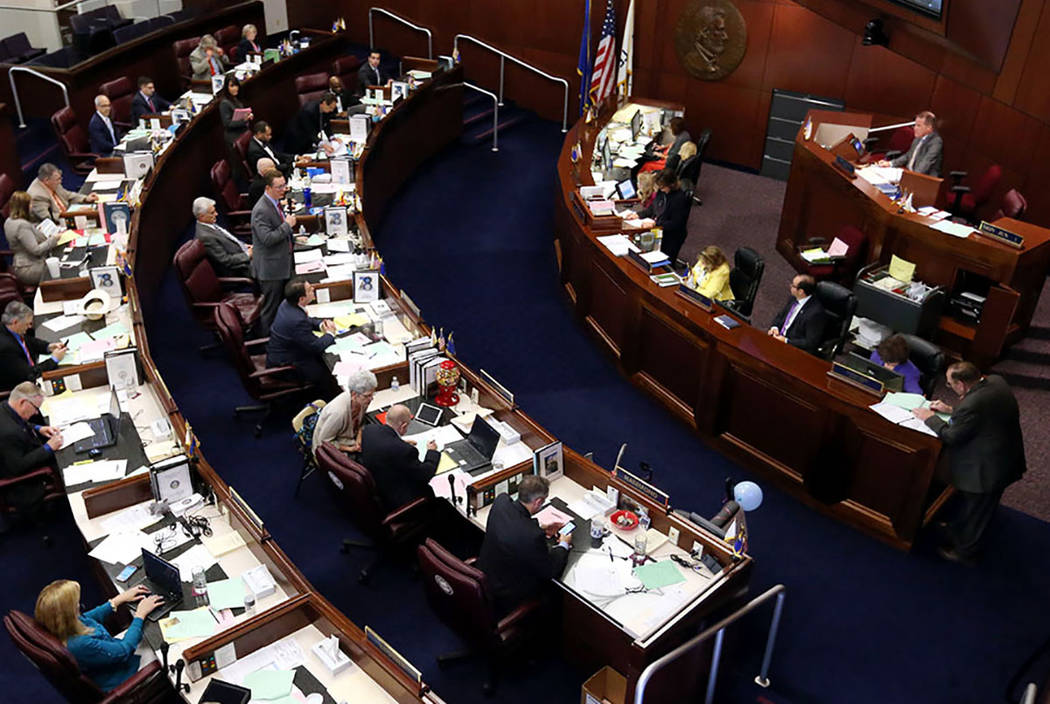 CARSON CITY — Nearly three dozen more bills were tossed to the legislative scrap heap after failing to advance beyond a do-or-die deadline in the Nevada Legislature.
Friday was the last day for nonexempt bills to make it out of committee in the second house. Seven Assembly and 26 Senate bills didn't survive. A resolution requesting an independent scientific and economic analysis on management of the Colorado River also died.
Among the casualties were Assembly Bill 298, a water bill that drew harsh opposition from environmentalists, ranchers and rural counties who argued it would throw decades of Nevada law into chaos and make it easier for large water import projects.
While the bill was backed by the Southern Nevada Water Authority, agency officials said it was not tied to long-range plans to pipe billions of gallons from basins along the Nevada-Utah line to provide water for Las Vegas.
A bill to ban firearms from libraries also died. Senate Bill 115 passed the Senate on a 12-9 partisan vote but didn't get out of the Assembly Judiciary Committee.
Riders and passengers of mopeds can let their hair blow in the breeze after the Assembly Transportation Committee killed a bill that would have required them to wear helmets. Supporters said people involved in moped crashes often suffer life-threatening or debilitating brain trauma when their heads hit the pavement. Senate Bill 246 passed the Senate on a 20-1 vote.
Employers won't face higher administrative fines for violating state wage laws with the defeat of Assembly Bill 211. Besides raising fines to $10,000 from $5,000, the measure would have allowed harmed workers to receive back wages and compensation. It passed the Assembly on a partisan 27-15 vote but did not get out of the Senate Commerce, Labor and Energy Committee.
Senate Bill 86, which would have authorized schools to teach cursive handwriting to elementary school students, died in the Assembly Education Committee, despite unanimous support in the Senate.
The flurry of action and dying bills is likely to increase as the Legislature moves toward a June 5 adjournment. Friday is the deadline for bills to pass their second house.
Contact Sandra Chereb @schereb@reviewjournal.com or 775-461-3821. Follow @SandraChereb on Twitter.
Bill no more
Nearly three dozen bills failed to meet a Friday deadline to clear a second committee in the Nevada Legislature. Here are the bills that died:
Assembly
AB119 — Garnishment of spousal and child support.
AB120 — School construction.
AB137 — Insurance premium tax.
AB211 — Compensation and wages.
AB298 — Water.
AB390 — Governmental administration.
AB400 — Instructional materials.
Senate
SB21 — Abolishes the Nye County Water District.
SB39 — State purchasing.
SB52 — Unemployment compensation.
SB55 — Invalidate occupational or professional licenses granted in error.
SB76 — Governing the investment of money held by the state.
SB83 — Nevada Indian Commission.
SB85 — Property tax.
SB86 — Cursive handwriting in elementary school.
SB111 — Auditing of state government agencies.
SB115 — Banning firearms in libraries.
SB119 — Immunity from civil liability for volunteers on the Clark County School District reorganization board.
SB128 — County fire department taxes.
SB130 — Brew pubs.
SB210 — Licensure and regulation of anesthesiologist assistants.
SB242 — College savings plans.
SB290 — Genetic counselors.
SB310 — Silver State Opportunity Grant Program.
SB334 — Unprofessional conduct by dentists.
SB346 — Prescription drugs.
SB354 — Professional licenses.
SB379 — Alcohol and drug abuse and behavioral health programs.
SB387 — Protection orders.
SB408 — Surgical procedures.
SB426 — Helmets for drivers and passengers of mopeds and trimobiles.
SB449 — Veterans court.
SB484 —Foster home licensing.
Assembly Joint Resolutions
AJR4 —Analysis of the current management practices of the Colorado River.