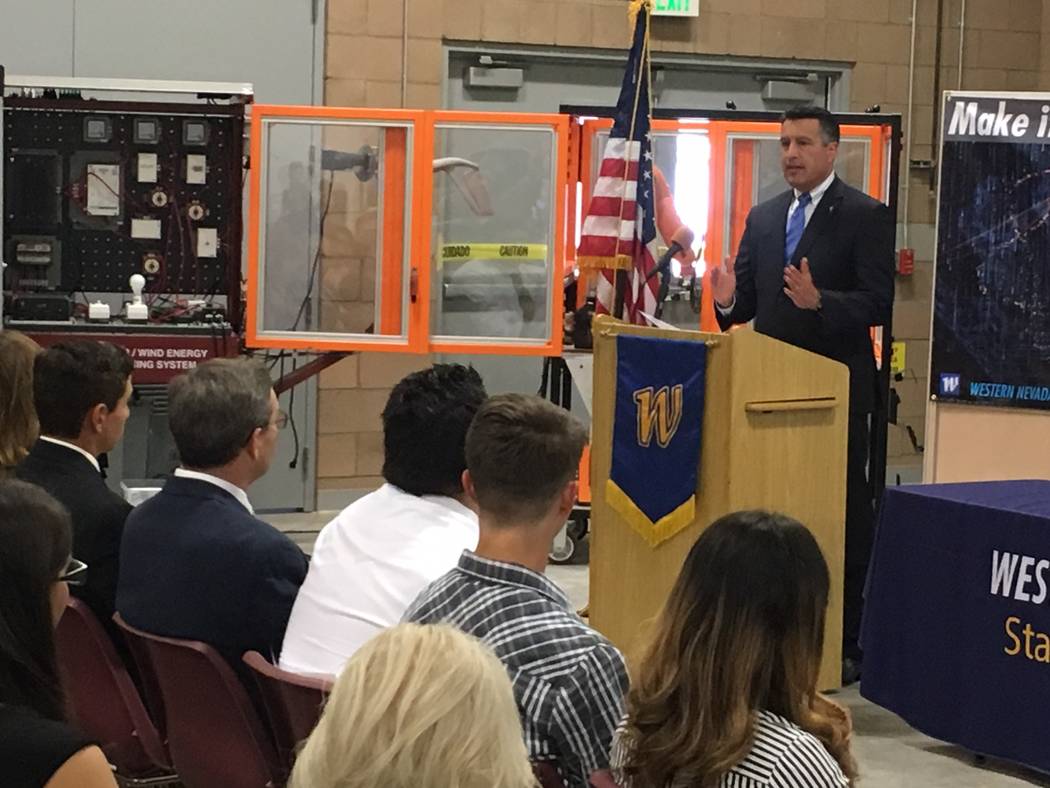 CARSON CITY — A bill that requires school districts statewide to offer dual credit courses to high school students so they can simultaneously pursue higher education degrees and certifications was signed into law Wednesday by Gov. Brian Sandoval.
Sandoval signed Senate Bill 19 at Western Nevada College in the capital, where 89 high school students graduated on Monday through the college's dual credit initiative called the "Jump Start" program.
The program allows students to take college courses while in high school and apply them to the credits needed for high school graduation.
Sandoval said the program is a role model for all school districts to emulate. The bill requires such programs to be made available to all high school students through cooperative agreements with their local colleges and universities. The public schools budget includes $2 million for the program, which is offered on high school campuses.
"This is something we need and had to do," Sandoval told the students, staff, lawmakers and others present for the signing ceremony.
He signed the bill in one of the classrooms where students learn to manipulate robotic machines as part of their training.
Thirteen of the students who participated in the Western Nevada program were from Clark County.
Getting Nevada's high school students into training that will help fill the need for a highly skilled workforce with the many new companies to state state is crucial to its economic growth and diversification efforts, Sandoval said.
Victims bill signed
Sandoval also signed into law a bill that extends the statute of limitations so victims of child sexual abuse have more time to sue perpetrators for civil damages.
Assembly Bill 145 extends the statute of limitations from 10 years to 20 years. The clock on the statute of limitations starts after a victim turns 18 or discovers an injury was caused by the abuse, whichever comes later.
The bill signing was attended by victims advocates, the sponsor, Assemblywoman Lisa Krasner, R-Reno, and prominent civil rights attorney Gloria Allred.
The law will help victims, Sandoval said, noting the length it often takes for them to come forward after the crime.
"It's really going to go a long way to protect them because a lot of times it takes many, many years," he said, adding that victims deserve their day in court.
Krasner thanked Allred and her legislative colleagues, who passed the bill unanimously in both chambers. The law puts the civil statute of limitations in line with the existing statute of limitations for prosecutors to seek criminal charges, Krasner said.
"Adult survivors of child sexual abuse will have a longer period of time as a result of this new law in which to file a civil lawsuit against the sexual predator who inflicted harm upon them," Allred said.
The law also allows victims to enter into a confidential settlements with perpetrators, not just publicly filed lawsuits.
Contact Sean Whaley at swhaley@reviewjournal.com or 775-461-3820. Follow @seanw801 on Twitter. Contact Ben Botkin at bbotkin@reviewjournal.com or 775-461-0661. Follow @BenBotkin1 on Twitter.