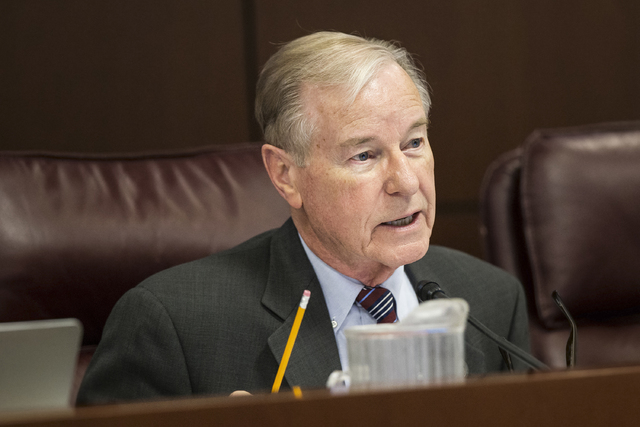 CARSON CITY — The Nevada Senate, after emotional floor debate, approved a bill Tuesday allowing terminally ill patients to request life-ending medication from their physicians.
Senate Bill 261 passed on an 11-10 vote and now goes to the Assembly.
Supporters said it would provide the sick and dying the right to end their suffering at a time of their own choosing.
Sen. David Parks, D-Las Vegas, said the measure provides suffering patients the "right to a peaceful and dignified death."
Sen. Ben Kieckhefer, R-Reno, was a sponsor of the bill but voted against it. Kieckhefer said he became "increasingly uncomfortable" with the bill and what he called a "significant lack of clarity."
"I don't necessarily trust doctors to tell me when I'm going to die," Kieckhefer said.
He also shared concerns raised by critics that the sick, frail and disabled could be pressured to end their lives by family members or caregivers.
Under the measure, mentally competent patients over the age of 18 could request a prescription for life-ending drugs. Two doctors would have to confirm the terminal diagnosis and a life expectancy of six months of less. Doctors, pharmacists and health care facilities would not have to participate.
Legislators on both sides of the issue gave emotional speeches, recounting the final days of friends and loved ones.
Sen. Pete Goicoechea, R-Eureka, supported the bill, saying it would give the dying a better option than a gunshot or hose attached to an exhaust system.
Sen. Nicole Cannizzaro, D-Las Vegas, talked about her father and said she understands why someone would want to use the provisions SB261 provide.
"I do not think for a moment my dad would have opted to leave this world sooner than he did," she said. But, Cannizzaro said, the bill may provide "a sincere sense of comfort" for someone knowing that the ultimate decision was theirs alone to make.
Sen. Mark Manendo, D-Las Vegas, recalled his father, a Korean War veteran who was disabled most of his life and became weak and bedridden, dependent on others for bathing, feeding and bathroom needs.
"He wanted to go. He prayed to go," Manendo said.
"Seeing somebody that you love and care for suffer for so many years … there just has to be another way," he said.
The bill now goes to the Assembly with less than two weeks remaining in the legislative session.
If approved in the lower house, it faces a possible veto by Republican Gov. Brian Sandoval, who has said he does not support the policy.
Contract Sandra Chereb at schereb@reviewjournal.com or 775-461-3821. Follow @SandraChereb on Twitter.