Governor signs 71 more bills into law, vetoes 7 others
Updated June 8, 2017 - 8:51 pm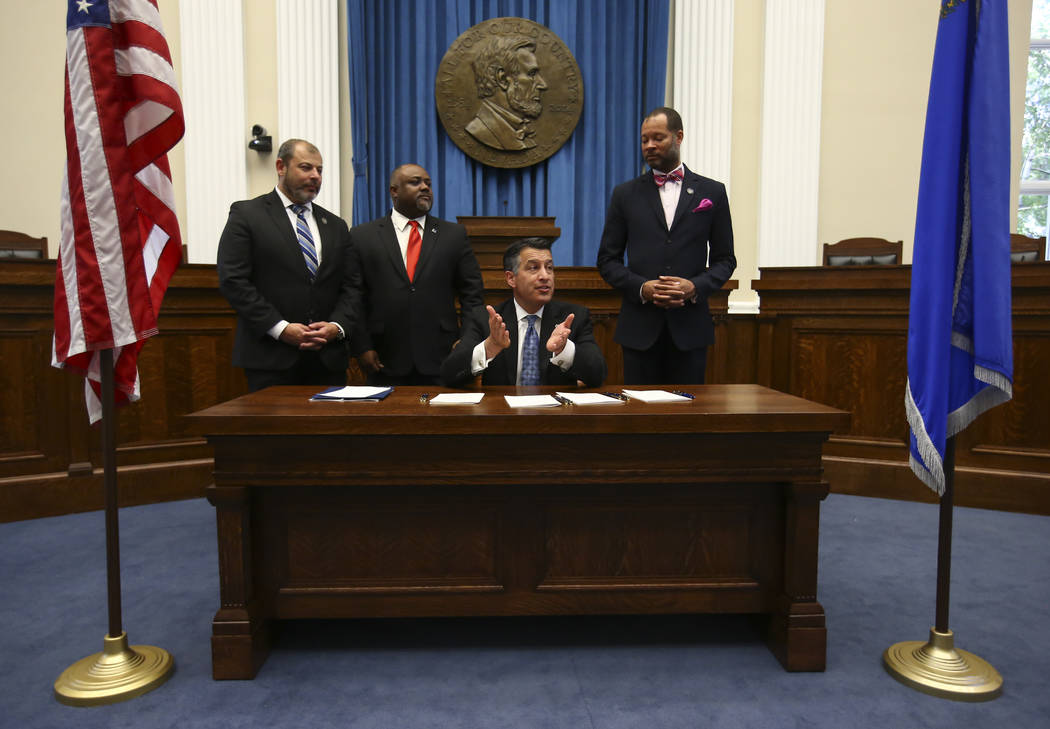 CARSON CITY – Gov. Brian Sandoval signed 71 bills into law late Thursday and vetoed seven others, including measures to raise the minimum wage, ban the use of private prisons, and protect patients from "surprise" emergency hospital billings.
The two-term Republican governor also vetoed Senate Bill 464, which would have authorized the Las Vegas Convention and Visitors Authority to enter into project labor agreements for the upcoming convention center expansion; and Assembly Bill 403, allowing the Legislative Commission to nullify administrative regulations.
Assembly Bill 382 was an attempt to protect patients from "surprise" billings when they receive out-of-network emergency care. In his veto message, Sandoval agreed the bill attempts to fix a long-standing problem. But he said it would disrupt the balance between insurers and provider and "likely lead to doctors leaving Nevada."
Sandoval also vetoed Assembly Bill 348, a sex education bill that would have changed Nevada's parental "opt in" requirement for a student to participate in sex education.
Under existing law, a consent form is required before each course of instruction. AB 348 would have allowed a "one-time" consent for every course going forward.
Assembly Bill 303 sought to prohibit Nevada from sending inmates to privately run prisons beginning in 2022. In his veto message, Sandoval said the measure "improperly encroaches" on the authority and discretion of the executive branch.
Senate Bill 106 would have raised Nevada's minimum wage by 75 cents each year over five years until it reached $12 for workers not offered health insurance and $11 if an employer does offer health insurance.
Sandoval said the bill would place a "significant burden" on Nevada's small businesses at a time when they are emerging from the Great Recession.
The governor signed Assembly Bill 97 requiring law enforcement agencies to turn over rape kits for testing within 30 days and requires labs to test them within 120 days. It appropriates $3 million to the Nevada attorney general's office toward the effort.
Sandoval also signed Senate Bill 192 expanding the hours of mobile mental health units in Clark and Washoe counties. The law requires mobile units to be available from 8 a.m. to midnight, seven days a week.
Senate Bill 391 establishes the Nevada Promise Scholarships and appropriates $3.5 million to help eligible community college students. Assembly Bill 511 provides $20 million over the next two years to support Nevada's Millennium Scholarship program.
Senate Bill 178 is a weighted funding formula for K-12 education and provides extra money for at-risk children and English language learners.
Some other measures signed:
• Senate Bill 167, authorizing school gardens and appropriating $615,000 over the biennium.
• Assembly Bill 423, requiring the secretary of state to collect information and report on gender equality in the workplace.
• Senate Bill 126, establishing a loan program for small businesses and businesses owned by minorities, women and the disadvantaged.
• Senate Bill 550, appropriating $17 million to the Clark County School District for upgrades to its human resource management information system.
• Assembly Bill 519, appropriating $8 million for new voting machines, with about half targeted for Clark County.
• Assembly Bill 492, authorizing $10 million a year in tax credits for the film industry.
Contact Sandra Chereb at schereb@reviewjournal.com or 775-461-3821. Follow @SandraChereb on Twitter. Review-Journal Capital Bureau Chief Sean Whaley contributed to this report.