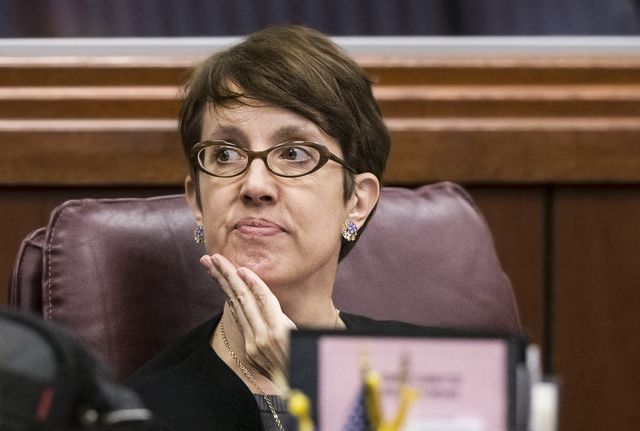 CARSON CITY — There was disagreement Monday over the ramifications of a bill amending public works contracts and the potential cost to the state.
Assembly Bill 100, sponsored by Assemblywoman Heidi Swank, D-Las Vegas, would declare provisions requiring contractors to waive a right to damages for unforeseen delays as "void and unenforceable."
The bill was heard Monday by the Assembly Ways and Means Committee because of potential costs.
In earlier testimony, Swank said the intent was to treat public and private construction contracts equally under the law. State statutes say claims for delays cannot be waived in private construction contracts.
"Please know that the majority of public owners do not exploit this discrepancy and most treat both the general contractors and subcontractors fairly," Swank said when the bill was heard in March by the Assembly Government Affairs Committee.
"However, AB100 closes this loophole so that all levels of contractors are equitably treated on all types of construction projects in Nevada."
But Gus Nunez, administrator of the Division of Public Works, said the change could add millions of dollars to the cost of construction projects if the state is responsible for anything not contemplated by the parties when the contract was signed.
A fiscal note submitted by the administration estimated costs for the state's 2017 capital improvement projects would increase nearly 6 percent, or about $13 million, if AB100 were in effect.
Craig Madole, chief executive officer of the Nevada Chapter of Associated General Contractors, took exception to the state's estimates.
"We believe the unsolicited fiscal note is erroneous and should be rejected," he told the Ways and Means panel Monday.
Nunez said delays and related costs caused by weather or other unforeseen circumstances are hammered out through negotiations.
Swank said there was a misunderstanding on what the bill does.
"The fiscal note assumes all delays are put on the state. That's not what it is," Swank said.
Assemblywoman Maggie Carlton, a Las Vegas Democrat who chairs the money committee, called the differences "a Grand Canyon of a miscommunication gap."
"It sounds like everyone is hearing a different story on this one," Carlton said.
No action was taken by the committee.
Contact Sandra Chereb at schereb@reviewjournal.com or 775-461-3821. Follow @SandraChereb on Twitter.