Local governments spent nearly $4M lobbying the Nevada Legislature
Updated July 12, 2017 - 9:53 pm
CARSON CITY — Local government entities in Nevada spent just over $3.75 million lobbying state lawmakers in the just-concluded 2017 legislative session, a report released Wednesday by the Nevada Department of Taxation shows.
The summary report of lobbying expenditures, required by state law, shows that total spending by counties, cities, schools and other local government entities increased by about $450,000 over the 2015 session, when $3.3 million was reported by local governments.
Counties spent $1.14 million, cities $1.38 million and schools $369,000, the report shows.
Most of the expenses are for travel, lodging and the salaries of the lobbyists. Those who work directly for local governments would be paid their salaries whether they were lobbying the Legislature or performing other duties.
Total local government lobbying in Clark County hit $2.2 million — 59 percent of the total spending.
Clark County spent $437,000, while four incorporated cities in Clark County spent a combined $931,000. Information provided to the agency shows that the city of Las Vegas spent $475,000, while Henderson spent $240,000, North Las Vegas $172,000 and Mesquite, $44,000.
Spending by other entities is included in the report. The Las Vegas Convention and Visitors Authority, for example, reported $115,000 in lobbying expenses. The Metropolitan Police Department reported $206,000. Clark County schools spent $283,000.
Local government spending on lobbying lawmakers has continue to rise in recent sessions, but the most spent since the report first came out in 2005 was just under $4 million in the 2007 session.
Not all local governments spend money on lobbying.
Only eight of Nevada's 17 counties, for example, reported lobbying expenditures.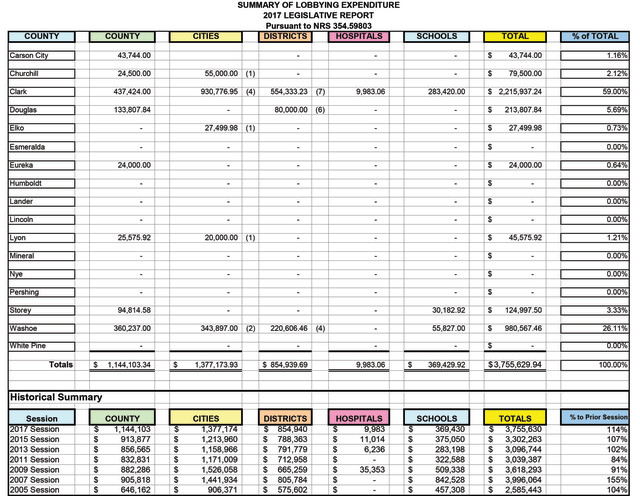 Summary of Lobbying Expenditure/Nevada Department of Taxation
Contact Sean Whaley at swhaley@reviewjournal.com or 775-461-3820. Follow @seanw801 on Twitter.