Money panel OKs out-of-state transfer of 200 Nevada inmates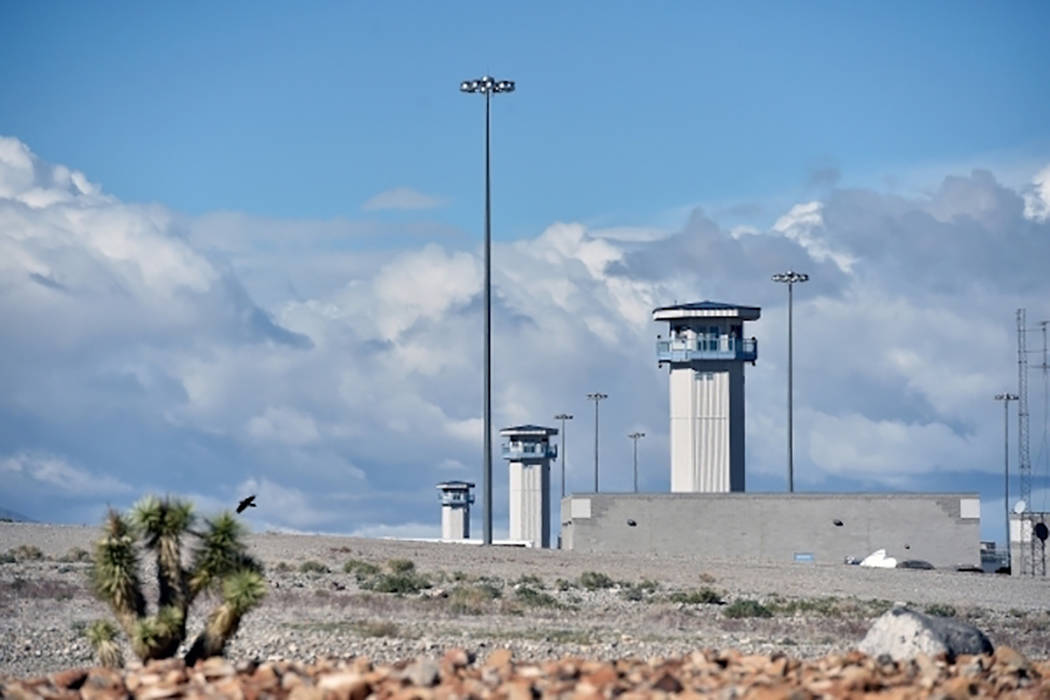 CARSON CITY — A joint legislative subcommittee Thursday rejected a new proposal to double the number of inmates Nevada will send to out-of-state prisons because of a looming bed shortage.
The public safety subcommittee of the Assembly Ways and Means and Senate Finance panels instead approved Gov. Brian Sandoval's initial request for $12.4 million to send 200 "high-risk" inmates out-of-state.
Department of Corrections officials say the move would ease overcrowding and allow it to complete deferred maintenance at Southern Desert Correction Center, which will mean temporary closure of 212 beds.
Nevada prisons are expected to face a shortage of 455 beds by end of fiscal year 2018 and 863 beds in fiscal 2019.
Based on those projections, legislative fiscal staff, the governor's finance office and NDOC requested doubling to 400 the number of inmates Nevada sends out of state, at an additional cost of $8 million.
But Democrats on the money panel objected to the move, arguing Nevada has long avoided making tough choices to properly fund corrections or embrace sentencing reform to reduce inmate populations.
"The reality of where we are now, we can't continue to move money around without an indication that we have to pay for it," said Assembly Speaker Jason Frierson, D-Las Vegas.
"I'd love to do a lot of things that we don't have the money to do," Frierson said.
Sen. Pete Goicoechea, R-Eureka, countered "it might be wise" to increase the number of out-of-state inmates to give the state time to increase its own capacity.
Senate Majority Leader Aaron Ford, D-Las Vegas, who is opposed to private prisons, agreed to the 200 number "as a responsible thing to do," but added, "we have to weigh in our mind the proper thing to do."
Other bills
Several bills are pending this session that could help ease prison crowding, including day reporting centers for parolees, a pilot-re-entry program to help convicts acclimate back into society; and expanding residential confinement programs.
The subcommittee also rejected the governor's recommendation to add 10 correctional officers at High Desert State Prison because of the facility's existing high vacancy rate.
Lawmakers in 2015 approved 100 new correctional officers, but many prisons have had trouble filling those slots.
"Until we can start filling all these vacant correctional officer positions I don't see why we would do more," said Assemblyman Mike Sprinkle, D-Sparks.
"Part of the biggest problem is we don't pay these guys enough to keep them," said Assemblyman Chris Edwards, R-Las Vegas. "Knowing the staffing shortages … I think we need to give them as much as we can in hopes they can hire all the positions that they need."
The governor's budget proposal includes raises for correctional officers at about 10 percent over the biennium to try to increase recruitment and retention. The committee opted instead to fund five new non-sworn correctional assistant positions.
"I do believe that we may take action that might allow us to hire and retain more," Frierson said. "When we do that, we can talk about doing more."
The subcommittee did approve Sandoval's recommendation for $947,000 in 2019 to add 10 correctional officers and one casework specialist at Florence McClure Women's Correctional Center, Nevada's only prison for females.
Over the past five years, Nevada's overall female inmate population increased 31 percent, from 936 in 2012 to 1,230 as of Dec. 31.
Contact Sandra Chereb at schereb@reviewjournal.com or 775-461-3821. Follow @SandraChereb on Twitter