Nevada gets $5.6 million to combat opioid abuse
April 27, 2017 - 11:06 am
Updated April 27, 2017 - 6:27 pm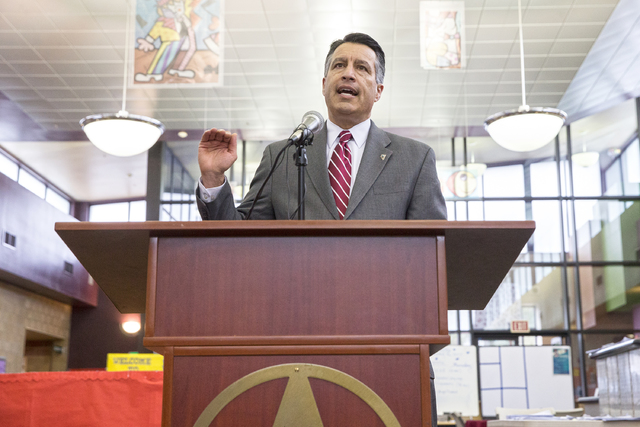 CARSON CITY — Nevada will receive $5.6 million from the federal government to help fight opioid addiction, Gov. Brian Sandoval announced Thursday.
The money is part of the 21st Century Cures Act, passed by Congress late last year, which included $1 billion in grants to help states deal with growing opioid abuse.
Sandoval in a statement Thursday said the federal grant "will provide significant resources aimed at combating the opioid crisis, a sweeping epidemic which is hurting families across Nevada and our nation."
The issue is a priority for Nevada's Republican governor, who last year convened a statewide summit with first lady Kathleen Sandoval to discuss policy changes needed to combat prescription drug abuse.
The summit culminated with the governor's proposals contained in Assembly Bill 474, which seeks to impose new restrictions on doctors and pharmacists when it comes to prescribing pain medication, as well as enhanced tracking mechanisms.
The bill was approved by the Assembly Committee on Health and Human Service and was re-referred to Ways and Means.
In 2015, the Legislature approved Senate Bill 459, which reduced potential criminal penalties for people who report drug overdoses. It also made Naloxone, a drug that can help reverse opioid overdoses, more accessible.
"Nevada is committed to working collaboratively with medical professionals, stakeholders and community advocates as we continue to tackle the significant health, social and economic consequences of prescription drug abuse," he said.
The state's grant award was based on rates of overdose deaths and unmet need for opioid addiction treatment, the governor said.
Contact Sandra Chereb at schereb@reviewjournal.com or 775-461-3821. Follow @SandraChereb on Twitter.
Opioid abuse in Nevada
According to the Centers for Disease Control and Prevention, Nevada's overdose rate in 2010 was 20.7 per 100,000 population — well above the national rate of 12.4 per 100,000.
While the state has seen a decline in overdose deaths, opiate-related hospitalizations have steadily increased.
Statistics from the Nevada Division of Public and Behavioral Health show inpatient hospitalizations for opioids jumped from 4,518 in 2010 to 8,231 in 2015.
During that same time, emergency room visits related to opioids more than doubled to 7,035 from 3,095.