Nevada Legislature mired in partisan standoff over controversial ESAs
Updated June 3, 2017 - 8:39 pm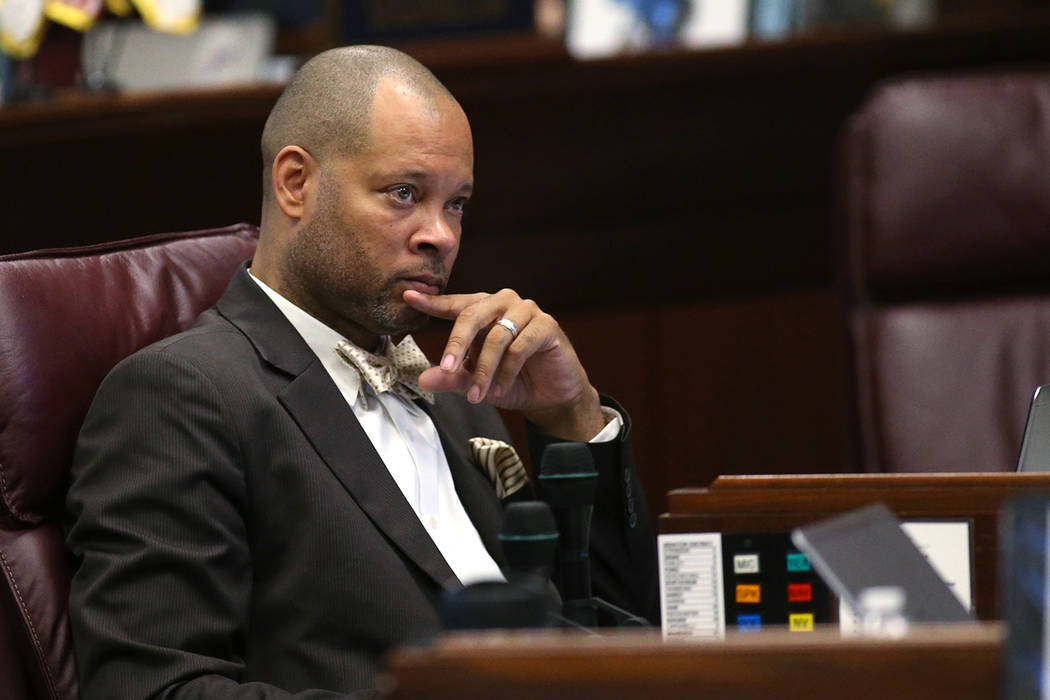 CARSON CITY — The Nevada Legislature found itself in a high-stakes standoff Saturday that could put a $270 million hole in the upcoming general fund budget.
The potential financial black hole hinges on funding for controversial education savings accounts, which Democrats have rejected but which are a line in the sand for Republicans.
Republicans in both the Senate and Assembly are adamant about getting funding for ESAs, which would provide parents with state tax dollars to send their children to private schools. Gov. Brian Sandoval proposed $60 million for the program, but that money was moved into the main public education budget by Democrats in votes this past week. The education budget bill is on its way to Sandoval.
Without ESA funding, Republicans have refused to vote for the budget bills. They are passing anyway because Democrats are in the majority, and the measures require simple majority votes. The Senate on Saturday gave final legislative approval to two remaining budget bills needed to fund state government over the next two years.
Party-line passages
Assembly Bill 517 is the state employee pay bill and gives state workers a 2 percent raise in each year of the biennium beginning July 1. Assembly Bill 518 is the overall appropriations bill, outlining how much general fund dollars agencies can spend.
Both bills passed the Senate on partisan votes, with Republicans opposed. State Sen. Pete Goicoechea, R-Eureka, abstained from voting on the employee pay bill because his son is the state veterinarian.
Late Friday, the Assembly approved Senate Bill 544, the main public education funding measure, and Senate Bill 545, an authorization bill for agencies to spend money outside the general fund. Both were passed on party-line votes, 27-15.
Those four budget bills were being prepared to send to the governor.
But the capital improvements budget proposal, Senate Bill 546, is a different, thorny matter. Here, according to information provided to the Las Vegas Review-Journal, is where the problem lies.
SB546 requires a two-thirds vote because it also reimplements a 17-cent property tax rate to pay for the construction bonds and existing debt service.
If the bill does not pass, the 17-cent property tax rate is no longer in place, and the state general fund will have to pay the debt service on existing construction bonds, creating a $270 million hole over two years.
The state's bond rating also would likely be reduced without the property tax revenue source, raising debt service costs even further.
This is where Sandoval and lawmakers find themselves with the session set to expire at midnight Monday.
Republicans hold their ground
So far, Republican lawmakers have refused to budge on their budget votes without ESA funding, and the capital construction bill is going nowhere.
The capital construction bill also includes projects near and dear to the hearts of many lawmakers and state government officials, including Sandoval. It has $33 million for a 96-bed veterans home in Sparks. The bill, which needed 14 votes to pass, was defeated by a 12-9 party-line vote in the Senate earlier this week.
Without support from Republican lawmakers, it is up to Sandoval, Senate Majority Leader Aaron Ford, D-Las Vegas, and Assembly Speaker Jason Frierson, D-Las Vegas, to figure out how to resolve the impasse.
And it is even more complicated than just getting the capital construction bill passed.
When Democrats moved the $60 million in proposed ESA funding into the public education bill, it left no revenue source to fund the school choice measure even if there was an agreement to do so.
A bill that would impose a 10 percent retail tax on the sale of marijuana could generate more than $60 million in new revenue, but that money by law must go to the public schools budget.
The marijuana tax bill also has failed to advance because of Republican opposition. It also requires a two-thirds vote.
A promise for no special session
All this was in play with less than 72 hours to go in the 2017 session, and Sandoval has vowed not to call a special session of the Legislature should it fail to get its business done by the constitutionally mandated 120-day deadline.
Adding to the pressure for the Democrat majority in the Legislature is that the Senate, because of Republican opposition, could not waive a rule requiring 72 hours before bills can get a final vote.
As a result, all Assembly bills that need to pass this session had to be introduced in the Senate for first reading on Saturday. Second readings would come Sunday with final votes Monday, the last day of the session. Assembly bills not making the Saturday deadline fail.
Contact Sean Whaley at swhaley@reviewjournal.com or 775-461-3820. Follow @seanw801 on Twitter. Review-Journal Capital Bureau reporter Sandra Chereb contributed to this story.