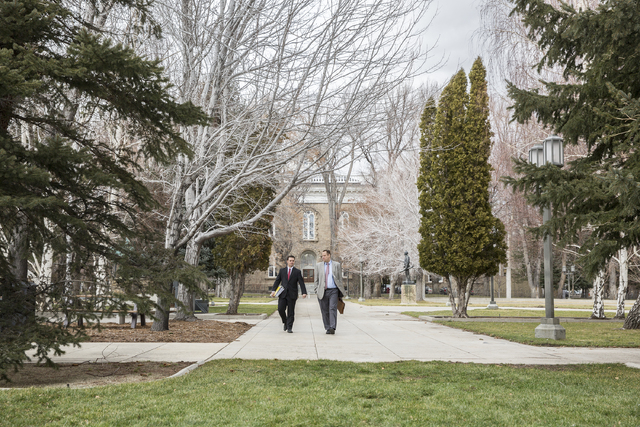 CARSON CITY — Sixteen bills and resolutions ended up on the legislative scrap heap after failing to get beyond a Tuesday deadline. The measures dealt with a wide-range of issues, from non-compete provisions in employment contracts to business license fees.
Nine Assembly bills succumbed to the pass-or-die deadline.
Among them was Assembly Bill 217, which sought to empower cities and counties to revoke the business licenses of hotels and motels where prostitution repeatedly occurs, and where the owners or managers know, or should have known, the activity is taking place.
The bill was sponsored by Assemblyman John Hambrick, R-Las Vegas, who said the bill was need to combat human trafficking and the illegal exploitation of women so communities will "not have to worry about the scourge of human trafficking."
AB217 was endorsed by the Assembly Government Affairs Committee but failed to get a vote in the full Assembly.
Assembly Bill 226 was an election reform bill that, among other things, would have changed how candidates are chosen if the only contenders are from the same major political party.
Under current law, if only two candidates from the same party are in the race, the election is decided in the primary. The winner appears on the general election ballot needing only one vote to claim victory. Nevada has closed primaries, where only people registered to that party can participate.
AB226 would have required those two candidates be on the general election ballot, where all voters regardless of party affiliation can cast a ballot. If there were three or more all from the same party, the top two vote getters in the primary would advance.
Another measure, Assembly Bill 149, would have restricted non-compete provisions in employment contracts and declared such clauses as being against public policy, void and unenforceable.
The idea of building a high-speed rail line connecting Las Vegas and Reno fell off the tracks at the stroke of midnight Tuesday. Assembly Bill 360 sought to feasibility study to explore the concept.
Five die in Senate
On the Senate side, there were five casualties after the deadline.
Senate Bill 271 sponsored by the Legislative Commission's subcommittee to study water was viewed as a protection for domestic well owners, should the state engineer order water curtailments because of plummeting groundwater levels.
Domestic wells do not have permitted water rights, but can pump 2 acre-feet of water annually. Under existing law, the state engineer could shut down domestic wells to protect the rights of senior water rights holders if there is not enough water to go around.
SB271 would have specified in law that if curtailments are ordered, domestic well owners would still be allowed water for indoor domestic use, pets and livestock — provisions they are not currently afforded.
It was passed by committee but never brought up for vote on the Senate floor.
Senate Bill 463 dealt with business license fees set by local governments. It provided that local governments could not impose or increase a business license fee calculated on the size of the property unless a public hearing was held and a finding made that it is necessary to provide services to the property and existing revenues are insufficient.
Senate Bill 342 sought to tweak provisions in Nevada law over the 3 percent excise tax imposed on passenger carriers, including ride-hailing companies, taxicabs and limos.
Rural counties were denied the ability to impose a special tax on diesel fuel of up to 5 cents per gallon with the defeat of Senate Bill 439. Those counties, which include all Nevada counties except Clark and Washoe, are currently allowed only to impose local taxes on gasoline.
Joint resolutions
A proposed constitutional amendment initiated two years ago to change how salaries are set for some elected officials also died.
Assembly Joint Resolution 10 of the 2015 Legislature would have created an appointed citizen commission to evaluate and set salaries for legislators, constitutional officers and judges.
It was passed by lawmakers two years ago, but failed to make it out of the Assembly this year. A proposed constitutional amendment must be approved by lawmakers in two consecutive legislative sessions before it goes to voters for ratification.
Contact Sandra Chereb at schereb@reviewjournal.com or 775-461-3821. Follow @SandraChereb on Twitter.
End of discussion
Nevada Legislature bills that failed to meet the Tuesday deadline:
Assembly Bills
AB149 — Revises provisions relating to non-compete provisions in employment contracts.
AB174 — Urges the Reno City Council to take steps to protect the Grand Army of the Republic Cemetery.
AB217 — Provides for the revocation of the business license of a place of transient lodging where repeated acts of prostitution have regularly occurred.
AB226 — Revises provisions relating to elections.
AB242 — Revises provisions relating to certain loans secured by a lien on real property.
AB360 — Revises provisions governing transportation.
AB368 — Revises provisions governing total loss vehicles.
AB419 — Creates provisions governing casualty insurance.
AB433 — Revises provisions relating to public works.
Senate Bills
SB271 — Makes various changes relating to water.
SB342 — Revises provisions relating to the collection of certain taxes on passenger carriers.
SB395 — Makes various changes relating to the cybersecurity of critical infrastructure.
SB439 — Authorizes certain local governments to increase diesel taxes under certain circumstances.
SB463 — Revises provisions relating to business license fees.
Assembly Joint Resolutions
AJR10* — Proposes to amend the Nevada Constitution to revise provisions relating to the compensation of certain elected officers.
AJR8 — Urges the United States Senate to protect a woman's reproductive rights as it undergoes the process of vetting a nominee for the United States Supreme Court.