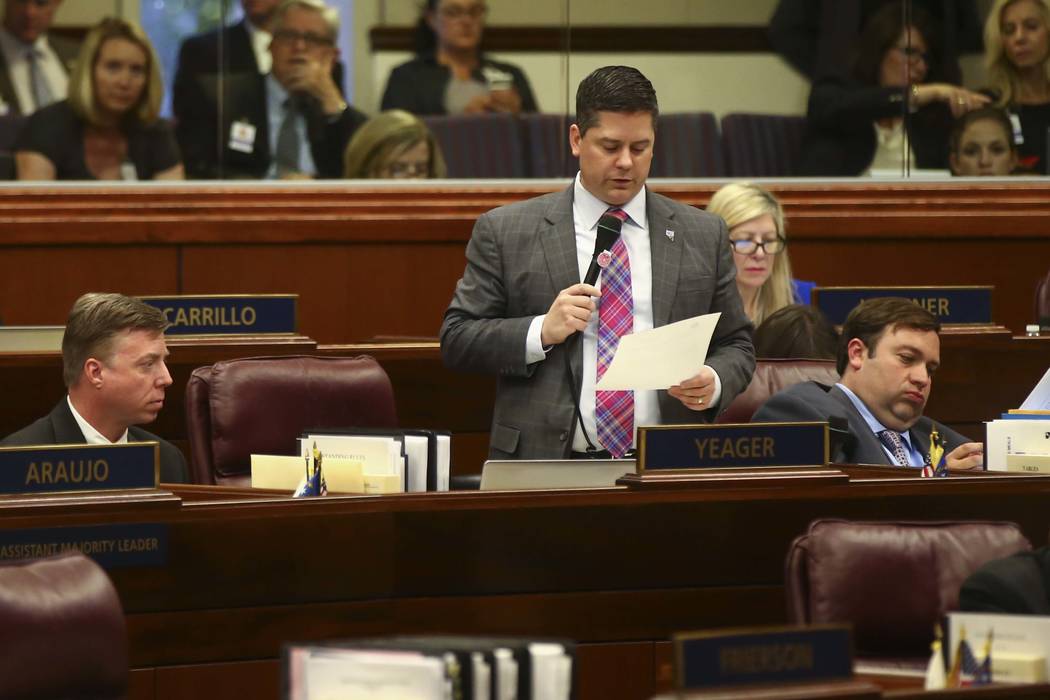 Nevada legislators passed a comprehensive law to mandate the testing and tracking of sexual assault forensic examination kits, but questions remain about the law signed by the governor Thursday.
The final version of the law, sponsored by Assembly Democrats Teresa Benitez-Thompson of Reno and Steve Yeager of Las Vegas, requires the Nevada attorney general's office to create a an administrative team to track all of the state's rape kits by 2021 and to allocate $3 million to help forensics labs reduce the backlog.
"I think we have a really good bill in the end," Yeager said Thursday. "Everyone seems really happy with it."
The bill requires law enforcement agencies to send all rape kits for testing within 30 days and forensic labs to complete the tests within 120 days. Law enforcement groups were supportive of the measure's intent, but there are concerns that the state's crime labs may not have the resources to adhere to the deadlines.
Kim Murga, the director of the crime lab in Las Vegas, said through a Metropolitan Police Department spokeswoman that she was concerned the lab may not have the resources to comply with the 120-day deadline. Murga deferred to the attorney general's office and declined an interview request this week.
First Assistant Attorney General Wes Duncan said the crime lab in Washoe County, which also services its rural county neighbors, takes more than 200 days to complete testing on a sexual assault kit.
"The big concern was, are these local jurisdictions going to be able to comply?" Duncan said Wednesday. "They need manpower."
The attorney general's office is looking at what it can do with the $3 million appropriation, which the law specifies is "to reduce the backlog of sexual assault forensic evidence kits that have not been tested."
It is not clear if the appropriation will cover anything besides testing on the backlogged kits or allow for grants to crime labs to hire additional technicians. Benitez-Thompson, who oversaw the appropriation provision as a member of the Assembly Committee on Ways and Means, did not return a call seeking clarification.
"My hope would be they use it wherever it's needed," said Yeager, who also is a public defender.
He said legislators were shocked to hear that it has been a common police practice to leave kits untested in cases where a suspect was apparent. There may be other victims police do not know about.
"That's a public safety issue," he said. "A lot of us on the (judiciary) committee were stunned by that revelation."
Duncan and other leaders on this issue still view the new rape kit provisions as a big step forward for Nevada.
"It is exciting to see the culmination of over two years of hard work result in a victim-centered bill that addresses a decades-old problem," he said.
For the last several months, a working group created by Attorney General Adam Laxalt has been working on a manual for police agencies of best practices on victim notification issues and protocols for testing anonymous kits that take into account the resources of local jurisdictions, he said.
Contact Wesley Juhl at wjuhl@reviewjournal.com and 702-383-0391. Follow @WesJuhl on Twitter.
Progress on rape kit backlog
Attorney General Adam Laxalt led the charge to put an end to the backlog of sexual assault kits. He has helped secure about $8 million in grant and settlement funds beginning in 2015 to tackle roughly 8,000 backlogged kits dating back as far as 30 years.
The bulk of the backlog comes from Southern Nevada, where Las Vegas police had 6,473 untested kits. As of May, 1,345 of those kits had been sent out for testing, and 349 DNA profiles were uploaded to a national database leading to 84 matches.
Police agencies in Northern Nevada had 1,179 untested kits. As of May, 216 kits have been sent out for testing, and 57 have been completed. Twenty DNA profiles were uploaded to a national database leading to eight matches.
"Upon taking office, I promised that if I saw problems I would work hard to find solutions," Laxalt said. "I am proud to have created this statewide working group to address Nevada's decades-in-the-making backlog… We are pleased that our efforts and recommendations have been adopted by the Legislature and will become a part of a statewide solution moving forward."