Same-day voter registration gets OK in Nevada Senate
Updated April 25, 2017 - 5:39 pm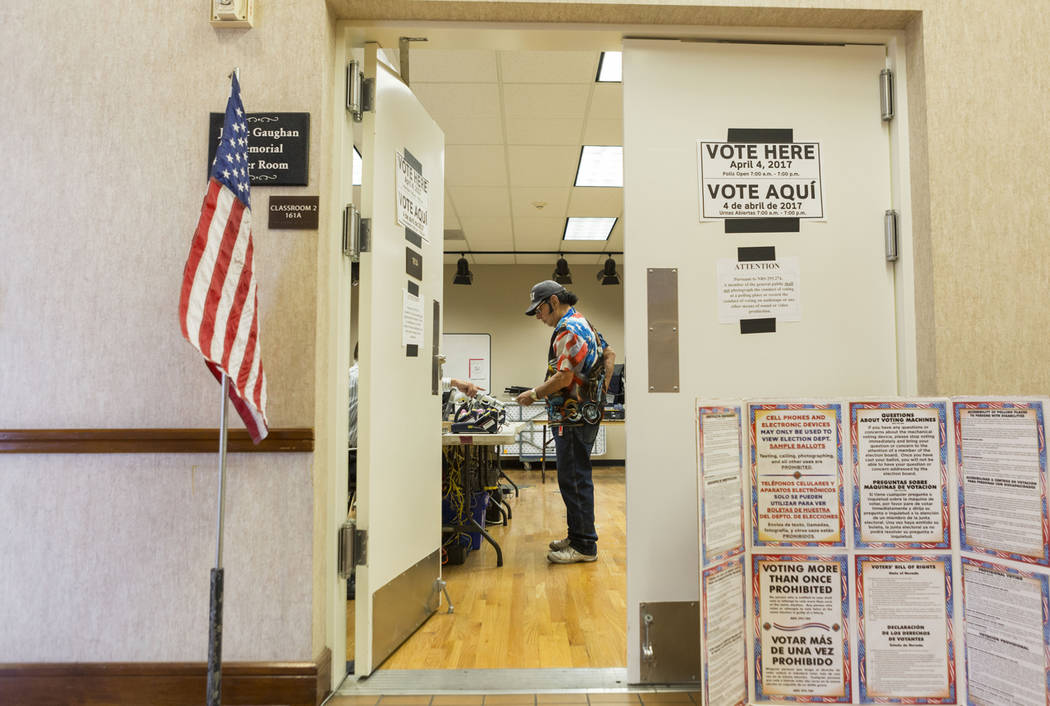 CARSON CITY — The Nevada Senate approved a bill Tuesday extending voter registration before Election Day, in some cases allowing same-day registration, and expanding voting hours in some jurisdictions.
Senate Bill 144 was one of several election-related bills voted on as the Nevada Legislature faced a deadline Tuesday to pass bills out of their house of origin.
SB144 was approved on a 12-9 partisan vote, with state Sen. Patricia Farley, I-Las Vegas, voting with Democrats to approve it.
Specifically, the bill extends voter registration until the last day of early voting, which is the Friday before a Tuesday election. Under existing law, voter registration closes on the third Tuesday before the election.
The bill also allows same-day registration at designated locations, providing the voter provides proof of identity and residency. They would have to vote at the same location.
The bill further authorizes counties to set up voting centers, where any eligible voter can cast a ballot. Another bill allowing voting centers was previously approved by the Senate.
Teen voters
Teenagers who will be 18 by Election Day would be able to preregister to vote under SB144. Also, the bill requires a permanent polling place in Clark and Washoe counties be open for voting for at least four hours on Sundays during the early voting period, and to remain open until 8 p.m. on Saturdays.
State Sen. James Settelmeyer, R-Minden, said he agreed with some aspects of the bill, such as preregistration for 17-year-olds.
"However, I'm a little concerned with the concept of moving up the days on which an individual can register to vote," he said.
Settelmeyer said it would be "problematic" to verify someone's authenticity or eligibility to vote so close to election day.
The bill moves to the Assembly.
Related bills
The lower house, meanwhile, unanimously passed Assembly Bill 21, which addresses residency of candidates. The bill requires election officials to remove the names of disqualified candidates from the ballot or post signs at election locations alerting voters that the person is disqualified from office. The bill goes to the Senate.
Assembly also passed Assembly Bill 45 reforming campaign finance laws. It requires candidates to itemize expenses paid with a credit or debit card, and include the balance at the end of the reporting period when filing campaign finance report.
The bill passed 41-1, with Assemblywoman Dina Neal, D-North Las Vegas, opposed.
People with disabilities and seniors 65 and older could request absentee ballots for all subsequent elections under Senate Bill 447, approved unanimously by the Senate.
Senate Bill 491 allows rural counties — all except Clark and Washoe — to lease mechanical voting machines from the secretary of state.
And Assembly Bill 272, passed 31-11, also requires counties and cities to establish vote centers for all eligible voters to cast ballots on Election Day. It also requires electronic poll rosters and authorizes clerks to extend early voting to the Sunday before Election Day.
Contact Sandra Chereb at schereb@reviewjournal.com or 775-461-3821. Follow @SandraChereb on Twitter.