Sandoval veto pen hits five bills
Updated June 1, 2017 - 7:19 pm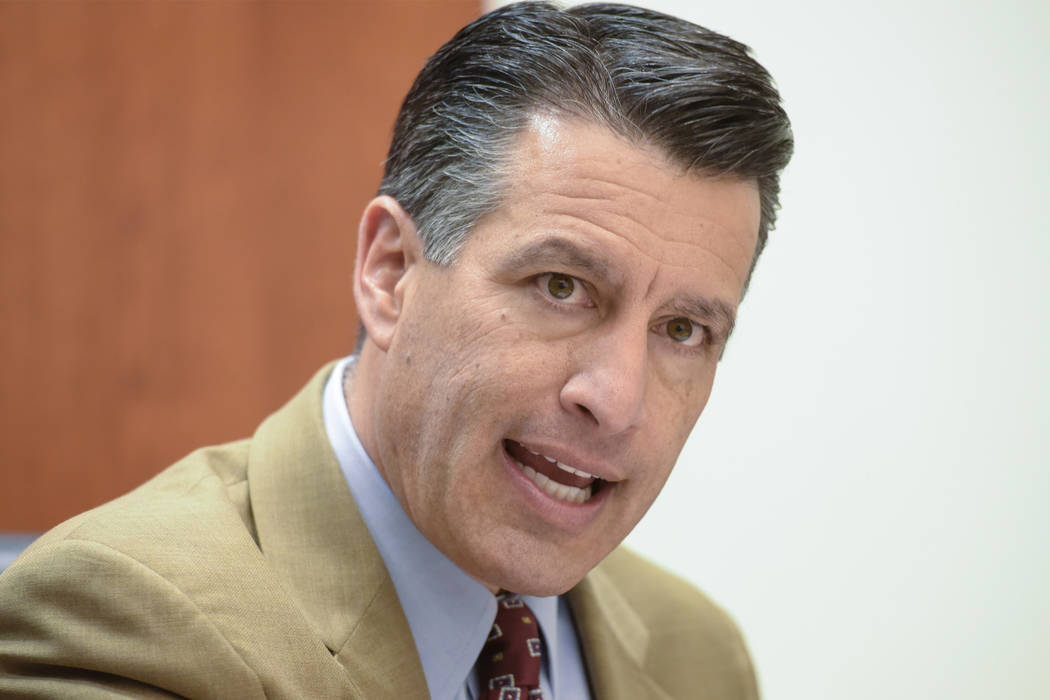 CARSON CITY — Don't plan on that medical marijuana apprenticeship just yet. If you're applying for a state college scholarship program, plan to go to class full-time. And Nevada business owners won't be forced to provide sick leave to workers.
Gov. Brian Sandoval on Thursday issued five vetoes and signed dozens more bills into law as the 2017 Nevada Legislature winds down. Sandoval has issued 19 vetoes this session, including:
Senate Bill 469, which would have made more of a local government agency's ending fund balance at the end of a fiscal year subject to negotiations with labor unions. In his veto message, Sandoval said the Great Recession showed the need for government to have healthy reserves.
Senate Bill 196, which would have required employers with at least 25 workers to provide paid sick leave to full-time workers. Sandoval expressed concerns about this burdening small businesses.
Assembly Bill 188, which would have made college students taking fewer than 15 credit hours eligible for the Silver State Opportunity Grant Program. Sandoval noted research that shows students are more likely to succeed when they are enrolled full-time and the need to avoid creating a waiting list of students. His budget doubles the program's funding to $10 million.
Assembly Bill 277, which would have put more requirements in place for developers who want to build inside or within a one-half mile of national conservation areas.
Senate Bill 356, which would have change collective bargaining between unions and local government, including removing a provision that pay raises are frozen when a collective bargaining agreement expires.
Marijuana veto
The two-term Republican governor late Tuesday vetoed Senate Bill 416, which would have allowed apprenticeship programs for the medical marijuana industry.
In his veto message, Sandoval said while the bill is not without merit, "it threatens to do more harm than good by authorizing the state to certify apprenticeship programs within an industry for which the federal government has not signaled clear approval."
California is the only state to have apprenticeships in the medical marijuana industry.
Bills signed
Sandoval signed 29 bills late Tuesday, including measures designed to bolster the state's renewable energy options.
Senate Bill 204 came out of recommendations from the Governor's New Energy Industry Task Force and sets an Oct. 1, 2018, deadline for the Public Utilities Commission to determine if it would serve the public interest for utilities to purchase energy storage.
Senate Bill 145 establishes the Solar Energy Systems Incentive Program to encourage installation of energy storage systems. It also creates state policy to expand and accelerate the use of electric vehicles in Nevada and support EV infrastructure throughout the state.
Sandoval also signed Senate Bill 125, sponsored by Democratic Majority Leader Aaron Ford, which reduces wait times for when some convicts can petition a court to have criminal records sealed.
Assembly Bill 177 extends the time period for temporary protection orders when the target of the protection order avoids service or cannot otherwise be found.
Senate Bill 305 requires court-appointed attorneys for children alleged to have been abused or neglected in some civil proceedings.
Contact Sandra Chereb at schereb@reviewjournal.com or 775-461-3821. Follow @SandraChereb on Twitter.
Ben Botkin contributed to this report.