School background checks bill gets unanimous OK in Nevada Assembly
Updated May 25, 2017 - 9:12 pm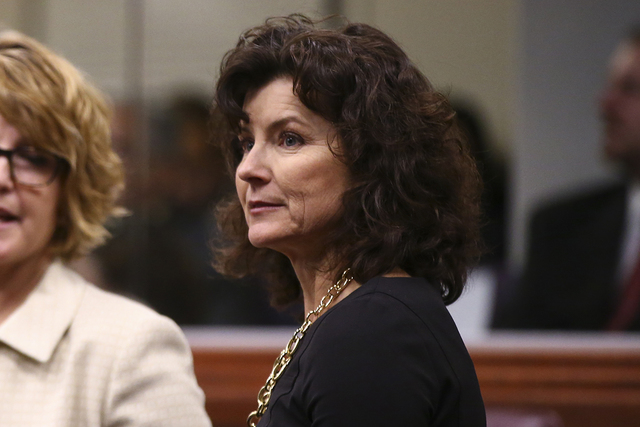 CARSON CITY — The Nevada Assembly unanimously passed a bill that would expand the mandatory reporting and background check requirements for public school employees.
Senate Bill 287 would require school districts to conduct background checks on employees at least once every five years. Additionally, the bill would authorize school districts to access the state's child welfare database to see if the agency has investigated applicants.
The measure now goes back to the Senate — which previously passed the bill unanimously — to consider a minor amendment.
Even so, bill sponsor Sen. Heidi Gansert, R-Reno, said Thursday after the vote she felt like she had crossed the finish line.
"I was pleased by the broad support and collaboration on this bill," she said. "Everyone was very supportive of this measure. I think it will serve as potentially model legislation across the country."
The bill requires all employees, not just teachers, to call the state hotline and report suspected abuse of children. Employees would be required to report if they suspect other employees are abusing children. Current statute requires reporting if employees suspect a parent or guardian is abusing a child.
The legislation comes amid heightened scrutiny of the Clark County School District, which has seen 11 employees arrested since July on charges tied to alleged sexual misconduct with students.
A Las Vegas Review-Journal investigation revealed that background checks conducted by the state Department of Education and the school district are mostly repetitive, using three databases that show the same background information.
However, the system has loopholes: Prior accusations that did not lead to an arrest and other school district investigations of potential misconduct are not captured in background checks completed by the Clark County School District and the state.
Assembly Bill 362, which is intended to address other shortcomings in the system, is scheduled to be heard in a money committee on Friday. It would require applicants for school district jobs to allow the district to access any information about sexual misconduct allegations from a prior employer. It also would require school districts to contact an applicant's former employers for the information.
Additionally, the bill would require the Nevada Department of Education to keep a list of people who have had their applications for licensure denied because of a sexual offense with a minor.
Review-Journal staff writer Meghin Delaney contributed to this report.
Contact Ben Botkin at bbotkin@reviewjournal.com or 775-461-0661. Follow @BenBotkin1 on Twitter.