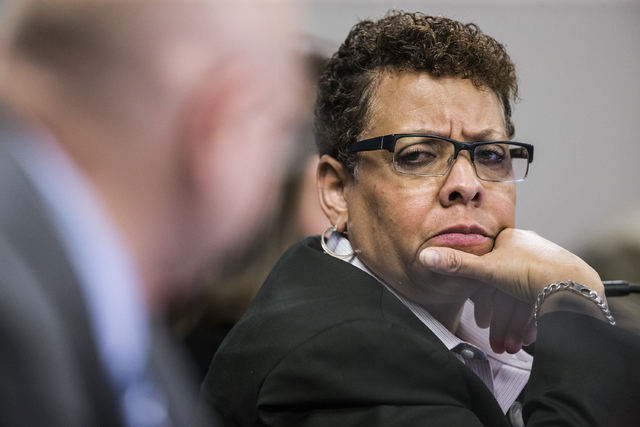 The Senate Judiciary Committee heard a number of bills dealing with sex crimes Tuesday afternoon.
State Sen. Patricia Spearman, D-North Las Vegas, presented a bill that would expand laws against sex trafficking to include "facilitators."
Senate Bill 488 would make it a crime to facilitate sex trafficking or child porn by making travel arrangements, for example. The bill would also increase the minimum sentence for those convicted of sex trafficking and establish a Medicaid program for victims.
"In Nevada we don't have statutes that protect children who are exploited at this level," Spearman said.
Clark County Deputy Public Defender Nadia Hojjat opposed the measure, which she called "overbroad and vague."
"These provisions are ripe for constitutional challenge," she said, adding that the law could ensnare adults engaged in consensual prostitution.
"The mere act of paying for a plane ticket makes a person a sex offender," she said.
State Sen. Scott Hammond, R-Las Vegas, presented three bills adopted from the interim recommendations of the Legislative Committee on Child Welfare and Juvenile Justice:
Senate Bill 470 would allow Nevada schools to enter into a memorandum of understanding with juvenile probation officers in order to share information about the school attendance and grades of youths in the system.
Senate Bill 473 would "clean up" a state law against indecent exposure in front of a minor. The bill would exempt other minors from being charged under that statute.
Senate Bill 472 would change state law to exempt some juveniles convicted of sex crimes from having to register as a sex offender or appearing on public notification sites. Critics of the current law's juvenile provisions have argued that public notification disenfranchises juveniles who could be reformed.
The juvenile provisions were cut from a 2015 bill that was vetoed by Gov. Brian Sandoval.
The committee did not take action on these bills.
Contact Wesley Juhl @wjuhl@reviewjournal.com or 702-383-0391. Follow @WesJuhl on Twitter.