2nd District candidates anti-Washington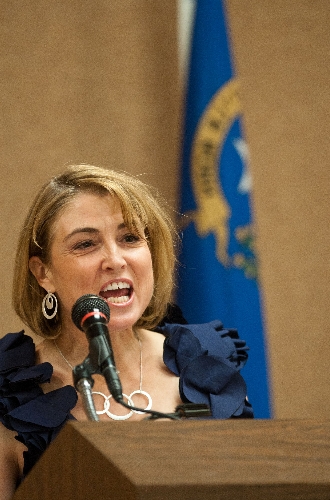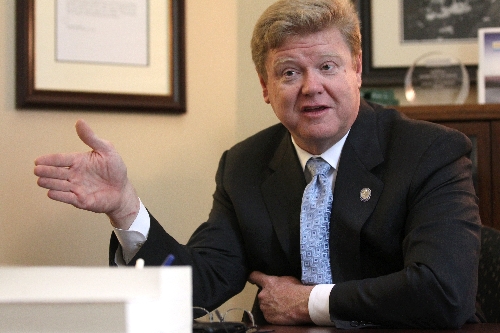 Washington doesn't get it.
Just ask Mark Amodei and Kate Marshall.
"Are you better off now than you were two years ago? Nevada's not, but Washington is," Amodei says in his latest TV campaign ad in the Sept. 13 special U.S. House election.
Marshall also slams Congress in her new bio-heavy campaign video on YouTube.
"Washington could use a little bit of practical common sense like we have in Nevada," she says.
The anti-Washington message is a popular one now with President Barack Obama and his Democratic backers at constant loggerheads with Republicans over the U.S. debt, spending and taxes.
It's also popular in these hard economic times to talk about belt-tightening, especially in the conservative 2nd Congressional District covering Northern and rural Nevada and a slice of Clark County.
That's why Amodei and Marshall might sound a bit alike to the casual listener, although Amodei is the Republican in the race and Marshall is the Democrat trying for an upset. The state treasurer wants to win the seat from the GOP for the first time since the district was created three decades ago.
Democrats have tried and failed before, most recently in 2006 when Jill Derby ran against Dean Heller, the Republican who vacated the seat in May to finish disgraced U.S. Sen. John Ensign's term.
"Marshall's taking a page from Jill Derby, who called herself a common sense Nevadan and never mentioned she was a Democrat," said Eric Herzik, a political science professor at the University of Nevada, Reno. "So it's no surprise that Marshall is doing the same thing and Washington is a target."
Amodei doesn't even mention Marshall in his new TV ad running in Reno. Instead, the former state senator and head of the Nevada Republican Party accuses Obama and Senate Majority Leader Harry Reid, D-Nev., of running up the U.S. debt with "out-of-control spending" and of pushing "job-killing taxes."
"Obama and Reid have failed us," Amodei says in the 30-second spot, which features images of the president and Nevada's senior senator, who has become the GOP bogeyman.
Amodei said, if elected, he would cut taxes and not increase the "Obama debt limit."
Marshall's YouTube video doesn't mention Amodei either, but portrays herself as a woman from working-class roots who "learned the value of a dollar at a very early age."
Marshall also notes that she has earned money for the state while investing its money during the worst economic times since the Great Depression.
"Nevadans want someone who cares about them," she says as images play of her as a child and singing in a choir. "Who remembers them. Who doesn't get caught up in the partisan politics."
REPUBLICANS HAVE EDGE
But highly partisan the race is.
The special election promises to get a lot of attention from the two political parties because it's the next open seat contest. If Republicans hold the seat, it will be seen as a victory for the GOP push for tax and spending cuts ahead of the 2012 presidential election and fight for control of Congress.
A surprise Democratic upset would have a much greater impact, however, sending a signal that Republicans are failing to wound Democrats and Obama's powerful re-election machine.
By sheer numbers, the district favors Republicans, and Amodei has the advantage with early voting set to begin Aug. 27, less than six weeks away. There are 31,000 more registered Republicans than Democrats in the district. And even in Washoe County, the GOP has a 2,000 registered-voter edge.
"It's not a fair fight because Mark Amodei goes in with 30,000 extra votes," said Herzik of UNR.
Marshall and the Democrats are trying to even the playing field by firing up the well-organized get-out-the-vote machine the Democrats have built over the past decade.
She also has a money advantage, more than $200,000 cash on hand as of June 30, compared with nearly $100,000 for Amodei, according to their most recent campaign contribution filings.
Both candidates have brought in top-flight campaign and communications teams from out of state.
James Hallinan, Marshall's new communications director, said Marshall has won statewide races twice so she has shown she knows how to win.
"We've got volunteers hitting the phones and hitting the streets and people driving up from other counties," said Hallinan, a veteran operative in New Mexico. "It's going to be a sprint to the finish."
Peter DeMarco, an experienced GOP player in California, is handling communications for Amodei.
"Marshall, it's like she's running away from being a Democrat, trying to distance herself from Obama and Reid," DeMarco said. "And I think the voters are too smart to fall for that."
PRESIDENTIAL RACE
The U.S. presidential race in Nevada seems to be on the back burner compared with all the candidate activity in Iowa and New Hampshire. Behind the scenes, people in Nevada and nationwide are watching to see if Texas Gov. Rick Perry jumps in and shakes up the GOP field.
Perry has been reaching out to Republican leaders in early voting states such as Iowa, New Hampshire and Nevada, speaking recently with Gov. Brian Sandoval.
Sandoval has met or spoken with other hopefuls, too, including former governors Mitt Romney of Massachusetts, Tim Pawlenty of Minnesota and Jon Huntsman of Utah as well as former House Speaker Newt Gingrich. Mike Slanker, a Sandoval adviser, confirmed the conversations, including with Perry.
For now, Romney remains the GOP front-runner, including in Nevada where he won the GOP presidential caucuses in 2008.
He also has some high-profile backing with Lt. Gov. Brian Krolicki and U.S. Rep. Joe Heck, R-Nev., supporting him as they did during the last White House race.
Former Nevada Gov. Robert List, a national Republican committeeman, said Perry seems to be giving a presidential run "serious consideration" as the GOP field sorts itself out.
"I think Republicans are motivated to defeat Obama, and they want to be certain to get on board with a person who could go all the way," List said. "Some people don't want to make a decision too early before the candidate is tested, to see how they weather the political storm."
List said he learned his lesson in 2008. Early on, he backed former New York Mayor Rudy Giuliani for president and then saw the Republican get out of the race fairly quickly.
"He just burned out," List said of Giuliani. "He put all that effort into Florida and then didn't spend any time in Nevada, then went away. It was a mistake."
Contact Laura Myers at lmyers @reviewjournal.com or 702-387-2919. Follow @lmyerslvrj on Twitter.
Political Eye blog