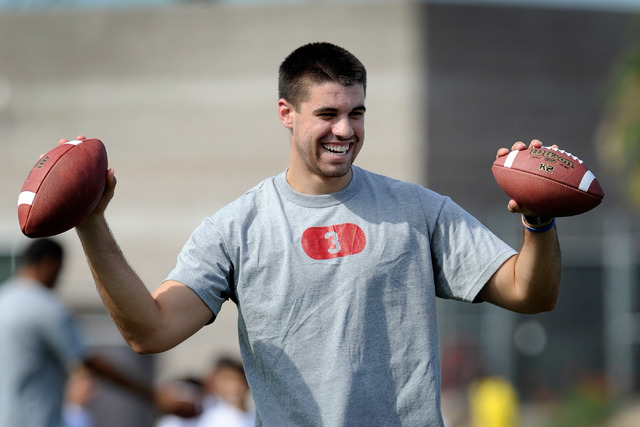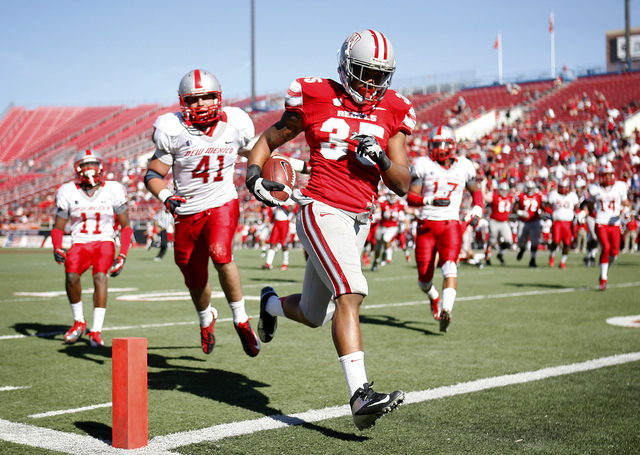 With UNLV set to open its fourth football season under coach Bobby Hauck this week, we";re taking a quick glance at some things to keep an eye on as the season progresses.
Here are five UNLV players to watch this season:
1. Nick Sherry, QB
Sherry was set to blow past a number of Mountain West freshman quarterback records last season before a big hit at Boise St. on Oct. 20 knocked him off his game. Limping through the second half of the season, Sherry still managed to finish with 16 TDs and 2,544 yards — only 188 yards off the Mountain West freshman record. With Sherry back to full health, and six offensive starters returning, the Rebels are expecting big things out of their sophomore signal-caller.
2. Tim Cornett, RB
One of the most dependable pieces of the UNLV offense since setting foot on campus, Cornett has led the Rebels in rushing for each of the past three years. If he can do that again, he will become the first Rebel in history to lead the team in rushing for four straight years. Also coming off a season in which he battled injury, Cornett should be near the top of the rushing list in the run-heavy Mountain West when all is said and done.
3. Tau Lotulelei, LB
He may not have the hair, but by all accounts, Tau has the style of his big brother John, who led the Rebels in tackles in 2012 and is now starting his NFL career with the Seattle Seahawks. The redshirt freshman has impressed in spring and is projected as the starting middle linebacker for the season opener.
4. Nolan Kohorst, K
Kohorst is 72 points away form becoming UNLV";s all-time leading scorer. If he reaches that mark (he scored 68 points last season), it probably does not bode well for the Rebels"; offense. Either way, Kohosrt can kick with the best of them. Coach Hauck has gone on record saying he";s comfortable using him from 50 yards out, and even longer in high altitude.
5. Devante Davis, WR
With 61 catches last year, this Junior wideout stands to benefit the most from having a healthy Nick Sherry under center. Davis ranked 2nd in the Mountain West with an average of 65.7 yards per game in 2012. The former track star adds a bit of explosiveness to the offense and serves as a nice complement to his high school teammate, RB Tim Cornett.