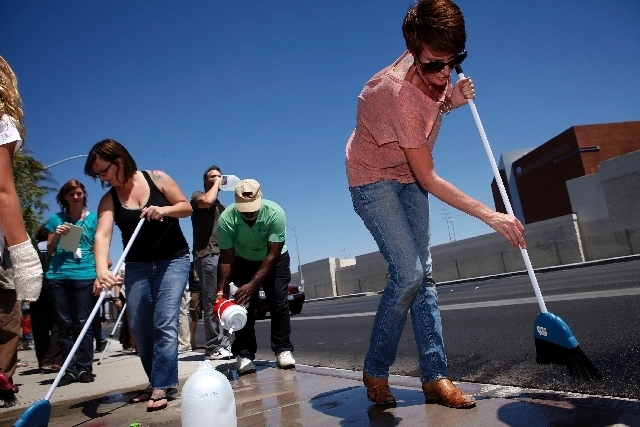 "Chalking not a crime, killing is!" read one sign at Saturday's peaceful protest outside the Metropolitan Police Department headquarters.
About 50 people gathered at noon to show that chalk is washable, cheap to remove and doesn't require the full amount of $1,500 that the city's graffiti abatement team estimated it took at a similar chalk event in July when four protesters were cited on misdemeanor graffiti charges.
Protesters also wanted to stand up for their right to free speech, which they said was violated when the four people were arrested on outstanding warrants after writing accusatory statements in chalk on sidewalks near police headquarters in July.
In contrast to July's protest, there was no police presence on Saturday, and things went smoothly; there is definitely no one facing up to a year in jail.
"Ladies and gentleman — prepare your brooms, prepare your chalk!" said Tod Foley, who helps run an Occupy Las Vegas website and helped market the protest.
Protesters got to drawing, and within minutes the sidewalks filled up with phrases about the right to free speech.
Some children attended with their parents, such as 10-year-old Cassie and a 3-year-old scribbling with purple chalk in the shade.
After protesters were finished chalking, an "auction" was held by Foley to see who would clean the chalk for the lowest price. Bidding began at $1,500 and quickly went lower. His daughter Cassie bid $2, and eventually everyone cleaned for free.
"We're going to grow some second-generation activists in this town," Foley said.
Tap water in recycled containers was poured onto the area and dollar store brooms were used to sweep the chalk away.
Jennifer Harney, who provided the event's supplies, showed her $8.65 receipt.
"Not quite $1,500," she said.
Harney thought the group calling themselves the "Sunset 4" — Kelly Wayne Patterson, 44, Brian Ballentine, 31, Hailee Jewell, 18, and Catalino de la Cruz Dazo Jr., 20 — were singled out just because they were criticizing police.
"My kids draw with sidewalk chalk on our driveway and sidewalk all the time," Harney said with a shrug. "They've certainly never been cited or arrested."
Contact reporter Annalise Porter at aporter@reviewjournal.com or 702-383-0264.