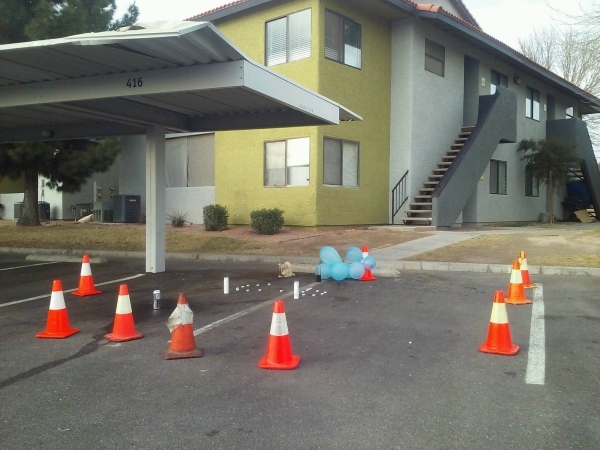 After a man was gunned down in a northeast valley apartment complex Thursday night, his 7-year-old daughter walked out of her mother's apartment, saw his bloody body and called for help, a neighbor said Friday.
Before the shooting, the daughter was playing outside with her two young siblings, said neighbor Jeremy West, who lives above the mother's unit. That's when the father, Kelvin Travis Johnson, 28, pulled up, got out and met the mother at the door to pick up some food.
West was on his upstairs balcony when the children went inside and the father retreated to his car to wait for the food. Metropolitan Police spokesman Officer Larry Hadfield confirmed Johnson was standing by his car before the slaying.
In those moments, while the mother gathered food inside, another man confronted the father and shot him "several times," Hadfield said.
Just as the man fell from the shots, "the little girl came out to bring him the food," West said. "The girl goes running inside screaming, 'Mom, Dad's on the ground!'"
The shooter was described as a thin, black male in a black hoodie, Hadfield said. West, 45, did not see him but heard nine shots ring out and called police.
"Cops were there in three minutes," West said of the 9:24 p.m. response to the Liberty Village apartment building at 4870 Luxor Way, near Cheyenne Avenue and Nellis Boulevard. "There were cops everywhere. Ten to 12 police cars. Caution tape."
After the shooting, the suspect ran to the right of the building and hopped a wall out of the complex. Hadfield said the man reportedly fled in a large, white SUV.
Johnson was taken to University Medical Center, where he died. As of Friday, the motive behind the shooting was still unknown.
When police began talking to the mother, she was distraught, West said.
"She was screaming hysterically, unable to function," he said.
West said his thoughts immediately went to the children. A relative of the mother came and picked them up minutes after police arrived, escorting them past the scene, he said.
"The daughter was going, 'I'm scared, I'm scared,'" West said. "(The relative) said, 'Just keep looking straight, just keep looking straight,' carting the kids away."
Outside the apartment building Friday morning, blood still stained a small area of asphalt. Pocked with bullet marks, the vehicle the father was waiting next to before the shooting still sat in the parking lot. Next to the scene, a handful of tea-light candles, a small stuffed puppy and about eight blue balloons served as a makeshift memorial.
This is the sixth homicide that Metro has investigated this year. Anyone with information is asked to call the department's homicide section at 702-828-3521 or email at homicide@lvmpd.com.
Contact Rachel Crosby at rcrosby@reviewjournal.com or 702-387-5290. Find her on Twitter: @rachelacrosby.