$8.25 million answer to prayers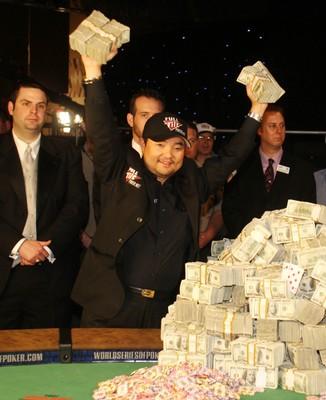 Jerry Yang is a different kind of World Series of Poker champion.
Vastly different.
The diminutive 39-year-old psychologist, a Laotian immigrant, a married father of six small children and a born-again Christian from Temecula, Calif., honed his poker skills inside American Indian casinos around Riverside County. But he has played the game for only two years.
Before entering the World Series of Poker, he had never set foot inside a Las Vegas casino's poker room. He won his entry into the $10,000 buy-in no-limit Texas Hold'em world championship event through a satellite tournament at his hometown Pechanga Casino. His total investment was $225.
Shortly before 4 a.m. Wednesday, Yang became the latest World Series of Poker champion, outlasting a field of 6,358 players over the 11-day event at the Rio and collecting a prize of $8.25 million.
He mowed through the nearly 16-hour final table of nine players that began Tuesday afternoon, personally eliminating seven of his eight competitors. Yang started out at the final table in eighth place but took over the chip lead two hours into play. He never relinquished that lead through the early morning.
More than several times, though, Yang said he sought divine intervention.
"I asked God to help me win. I told him that I could make my family and others that are less fortunate happy with this money," Yang said, admitting that he often dropped to his knees in prayer in the restroom during breaks. "I give thanks to God. I won because He believed in me."
The 5-foot-3-inch Yang would sometimes kneel on his chair to see the cards. While contemplating a wager, he almost seemed prayerful with his hands clasped in front of his face. "I asked God for the cards to help me win that would help my family. I asked the Lord to help me make a straight."
On the 205th hand of the night, his request paid off.
Yang and runner-up Tuan Lam of Toronto played heads-up for about two hours, when Lam went all-in with an ace-queen. Yang had a pair of eights, but the flop gave Lam a pair of queens. The other two cards were a five and a nine. The turn card was a seven, and the river card gave Yang a six and the win.
"I held my kids' picture in my hands, and I asked the Lord to let me do good for others," Yang said.
Before the final table began, Yang said he would donate 10 percent of his winnings to three charities, the Make-A-Wish Foundation, Feed the Children and the Ronald McDonald House. Later, he said he would give money to his alma mater, Loma Linda University.
After the event, Yang said his wife, Sue, won't need to work anymore. He was uncertain if he would discontinue his work as a psychologist to devote more time to poker. Yang received backing from the Pechanga casino, the Lake Elsinore Casino and the FullTilt.net online poker Web site.
He admitted concentrating on poker would seem to fly in the face of his Christian values. Yang said his parents never approved of his gambling. But he saw poker as a way to earn a few dollars to help his family and others.
"This money will go toward helping many in need," Yang said, pointing to piles of $100 bills. "I know what it is like to be poor. I want to help others."
Those watching the play called Yang "Jamie Gold Junior," in reference to last year's world poker champion who dominated the field, holding the chip lead for more than 70 percent of the tournament.
Yang won 60 pots in the tournament's first 153 hands. At one point, he held more than 57 percent of the tournament's chips. When he entered heads-up play with Lam, he had a better than 4-to-1 lead in chips.
Five of the final table's nine players were eliminated by 6 p.m. Tuesday. But the remaining four players played 107 hands over seven hours, with second, third and fourth places switching around.
Around 1 a.m. Wednesday, Russian Alex Kravchenko became the sixth player ousted, eliminated by Yang's three eights. Two hands later, the field of three fell to two when Yang knocked out Raymond Rahme of South Africa with a pair of aces.
Kravchenko, who won several all-in calls with Yang and Rahme, said the champion's aggressiveness surprised him.
The tournament's last two players had similar upbringings and backgrounds.
Both grew up in war-torn Southeast Asia; Yang in Laos and Lam in Vietnam. Both immigrated to North America; Yang to Southern California and Lam to Canada. Both picked up poker as way of supplementing their income; Yang in the American Indian-run casinos in Riverside County and Lam through poker games with friends on online through PokerStars.com.
Yang was aggressive early, hoping to move out of his eighth place position. It paid off when he knocked the initial final table chip leader out of the tournament.
"I meditated on it the night before, and that was my game plan going in," Yang said. "I had faith that I could put myself in the position to win this tournament. That's what I set out to do. I've seen the miracles of God with my own eyes. I also did a lot of bluffing."
Lam, who entered the final table in second place, never dropped below fourth place.
"I saw how aggressive Jerry was playing and just sat back and waited for my moment," Lam said. "When we got to heads-up, I needed to find my spot. I was patient and waited for the big hand, but the cards came out different. If I had won that last hand, it would have been a whole different game."
Lam, who collected $4.84 million for second, said he would return to his village, Bao Trinh, to help those in need.
Rahme won $3.048 million for third place, while Kravchenko's fourth place finish was worth $1.85 million.
The tournament had 55 events and attracted 54,288 registrants, the most in its history. The total prize pool was $159.8 million, funded by player entry fees. Harrah's Entertainment, which owns the World Series of Poker brand, takes a percentage of the entry fees. Harrah's took a 6 percent rake on the world championship event.
2007 World Series of PokerNews, information
INTERNATIONAL FLAIR The nine finalists at the World Series of Poker came from five nations: the United States, Canada, Russia, England and South Africa. Three had birth connections to Laos, Vietnam and Denmark. Friends and family of Raymond Rahme were draped in South African flags and wore green T-shirts. Alex Kravchenko's fans carried Russian flags and shouted out encouragement in Russian. Tuan Lam's supporters waived small and large Canadian flags and sang stanzas of "O Canada" anytime the Toronto resident won a hand. Not to be outdone, fans and family of eventual champ Jerry Yang, an immigrant from Laos who lives in Temecula, Calif., would chant "USA, USA,"when he won a pot. HOWARD STUTZ REVIEW-JOURNAL