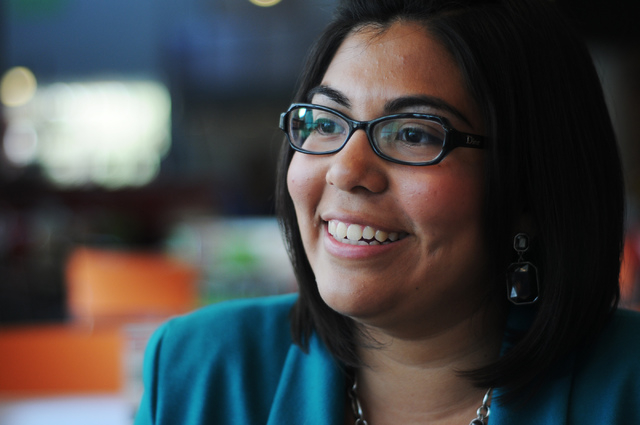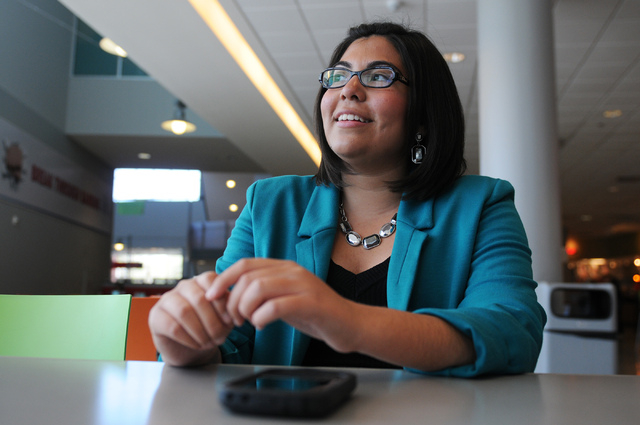 Blanca Gamez felt like her life started all over again last April.
That's when the 24-year-old was approved to stay in the country and work legally under President Barack Obama's Deferred Action for Childhood Arrivals. In 2012, Obama used his executive power to allow young undocumented people, known as DREAMers, to stay in the United States without the fear of deportation.
"It has completely changed my life," she said on Wednesday afternoon. "Now, I have somewhat of an identity."
Gamez, who was born in Mexico and brought to the United States when she was 7 months old, is among the 9,988 young undocumented immigrants in Nevada who have applied for the benefits of the Deferred Action for Childhood Arrivals. Of the 9,988, a total of 8,654 have been approved, according to the most recent statistics from the U.S. Citizenship and Immigration Services that include the first quarter of fiscal 2014.
On Monday night in North Las Vegas, at a congressional hearing on immigration, Rep. Luis Gutierrez, D-Ill., said he had asked Obama to extend the deferred action benefits to the parents of the young undocumented immigrants. But during that recent meeting, Obama said he already had done all he could within his power.
Gamez, who earned a degree in political science from the University of Nevada, Las Vegas in May 2012, is working full time with the nonprofit Mi Familia Vota, which works to unite the Latino community. She is working toward a second degree, this one in English.
"My ultimate goal is to go to law school," said Gamez, who aspires to become a civil and human rights lawyer.
To be eligible for the deferred action plan, young undocumented immigrants must have come to the United States as children, must be at least 15 and younger than 30 and have no criminal record. Those who are approved receive a two-year permit that allows them to stay and work legally in the country. The permit must be renewed every two years.
State Sen. Ruben Kihuen, D-Las Vegas, said the program is serving its purpose.
"It's turning people's lives around for the good and it's helping our economy," he said last week.
These young people are now working or going to school. Those who are working are contributing to the local economy, Kihuen said. He knows of at least two who have recently bought new cars because they are now able to get a driver's license.
U.S. Rep. Dina Titus, D-Nev., also praised the program.
"Young people are now being able to see a brighter future," she said last week.
Young immigrants are now more likely to stay in school, go to college and get a high-skilled job, she said. It gives them something to strive for.
"There're more people who are working and contributing to the community and coming out of the shadows," she added.
But there might be many more out there who are reluctant to apply because they fear deportation for themselves and their families, Kihuen said.
The other issue with deferred action that has people like Morales anxious is the fact that the U.S. Citizenship and Immigration Services hasn't yet established procedures for the permit renewal process.
"We are waiting to hear what they are going to do," he said. "They have three months to figure it out."
A spokesperson with U.S. Citizenship and Immigration Services on Monday said the agency will be providing guidance on the renewal process in the next couple of months, but couldn't speculate on what could happen to the program.
Earlier this month, the U.S. House of Representatives passed a bill known as ENFORCE the Law Act by 233-181 votes. The bill would make it more difficult for the president to issue executive orders, such as he did to enact the deferred action program, Titus said.
"It's been a long tradition that the president has been able to issue these executive orders," she said.
Even after passing the house, the bill won't go anywhere, Titus said, and if it did, the president would veto it.
The deferred action program is very important, Titus said, but it's just a small piece of what's needed to solve the broken immigration system.
"We can't just say this is enough," she said.
Titus is co-sponsor of two House bills that would offer comprehensive immigration reform. U.S. Rep Joe Heck, R-Nev., also has said he supports immigration reform. He voted not to fund the implementation of the deferred action program because he believed it was a political move by Obama to gain support before the 2012 presidential election. However, he said in a December 2013 letter to the Review-Journal that he does support giving young undocumented immigrants a chance to make lives for themselves in the U.S.
A comprehensive reform is what's needed, Gamez said. The deferred action is just a temporary fix and her permit is set to expire next April.