82 child abuse cases reviewed
September 8, 2010 - 11:00 pm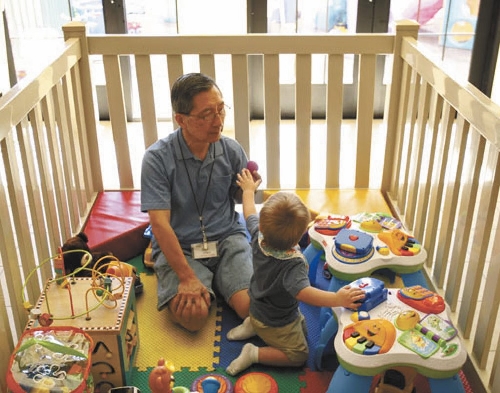 In 82 cases of severe abuse and neglect, the Clark County district attorney's office claims it had to intervene in the actions of the Department of Family Services for the sake of the safety of the children involved.
Clark County Manager Virginia Valentine has been reviewing the cases red-flagged by District Attorney David Roger since June, and her findings are expected to come out later this month.
County officials won't discuss the possible outcomes of the process or the impact the review might have on the Department of Family Services, but commissioners are making clear that abused children shouldn't be made a battleground for county entities often at odds over how resources and cases should be handled.
"I really hope that these children aren't being used as a turf battle," County Commissioner Rory Reid said. "I won't stand for children being used as a tug-of-war between government agencies. I hope this is about what's best for the children. I'm sure everyone involved believes they're doing what's in the best interest of the children."
Last year, 8,368 child welfare cases were referred to the county, resulting in 7,239 investigations by child protective services, a county spokeswoman said. In the 82 cases under review, 24 began or were ongoing in 2009, which represents less than one percent of what county child welfare officials saw last year. Some of the case summaries under review date to the late 1990s.
Reid, who has criticized the county's child welfare system in the past, said the review shouldn't be an outgrowth of a jurisdictional disagreement between Roger and Tom Morton, director of the Department of Family Services.
County Commissioner Chris Giunchigliani also alluded to the contentious relationship between Roger and Morton.
"With this infighting going on, that doesn't serve anybody well," Giunchigliani said. "As a social worker, you're scared to go into court because you've got a colleague second-guessing and not arguing for you. We have to trust at some point the folks working with these children do know what they're talking about."
Roger said politics is not driving the review.
"County management is very sensitive to these issues," he said. "They have promised to take a critical review of the cases and policies at DFS and work with me to make appropriate changes to make sure children in Clark County are safe."
But Giunchigliani said part of the review is political.
"Why not sit down and fix it rather than sensationalizing it? This may call attention to problems within the system, but it will take too long to fix what needs to be fixed with the polarization and politicizing of it."
The county review of the cases will be presented to state legislators during the first week of the 2011 session in February.
"We are in the process of researching each cited case to determine the outcome and whether any policy change would have brought about a more favorable result," Stacey Welling, the county public information officer, said in a statement. "If the review finds opportunities for improving any processes, we will include those recommendations in our report."
Morton would not comment on the review or his relationship with Roger.
Two years ago, Morton criticized the use of county and state funds for juvenile justice services rather than programs to keep children from being incarcerated.
"If you really care about kids, you wouldn't want to move here," Morton said in 2008. "We do have the money. We're spending it somewhere, but let's spend it on child well-being."
At this point, state officials are not involved in the review, though they have offered to help, said Ben Kieckhefer of the state Department of Health and Human Services.
At least 10 children died after being returned to homes where abuse and neglect continued, according to summaries of the red-flagged cases given to the state Legislative Committee on Child Welfare and Juvenile Justice in late June.
"No matter how diligent caseworkers are, there will still be some cases that will fall through the cracks," Roger said. "We want to be there to protect children."
Giunchigliani said the commission has not given the county's child welfare system the attention it needs.
"We share part of the blame. We haven't been as thorough on oversight as we should."
A 2007 internal audit of 55 child welfare cases found half lacked proper documentation, though county officials said every child was safe and accounted for.
A county consultant in 2006 determined that in 23 percent of 1,352 open abuse cases, children had gone more than two months without being seen by a caseworker.
The California-based National Center for Youth Law has sued Clark County, alleging systemic failure to care for abused and neglected children.
Bill Grimm, an attorney for the group, said the ongoing review bolsters his case.
"This suggests there continues to be an absence of informed and professional judgment for risks and children's safety," Grimm said. "I think it's a good thing that they're looking at this closely. This is a system not routinely taking care of children it's charged (with) protecting."
But Giunchigliani said Roger is hurting the county.
"We're being sued as a county, and he's arguing that case on our behalf and then turns around for this review. That does do damage, in my opinion."
Assemblywoman Shelia Leslie, D-Reno, who chairs the Legislature's child welfare committee, said she wants to know why Roger lacks confidence in the agency.
"The huge issue is communication and a willingness to work together," Leslie said. "You have the agency on one track and the DA on another track, and they're not working together. The big loser in all of that is the kids, and that needs to stop, immediately."
In one case under scrutiny, a physically and mentally handicapped 4-year-old died in 2007 after being left in a hot car for 17 hours.
More than 20 complaints against the parents were never relayed to the district attorney's office.
In another case, a mother strangled her child to the point that foam appeared around the child's mouth. According to the summary, family services officials left the child with the mother and took the matter off the court calendar.
One case summary involves Harold Montague, who authorities said stabbed his sister-in-law, hacked a woman with a medieval ax and bludgeoned her baby to death in the street.
Montague's three children were taken into protective custody but were returned to the home the next day, even though old food containers and cigarette butts soiled the main living area, some of the children slept on a feces-stained mattress on the floor and toilets were clogged.
The Department of Family Services indicated that the children were safe but agreed to intervene after the state showed concern about the mother's mental health.
Richard Wexler, executive direction of the Virginia-based National Coalition for Child Protection Reform, said the case summaries "should be taken with a grain of salt, in fact, the entire shaker."
"Let's assume those are accurate representations of the files," Wexler said. "If you give me access to every file DFS handles, I will find 82 other cases of children who were needlessly torn from everyone they know or love. If you've got enough cases, anybody can build a case about anything. That's what this proves."
Leslie agreed that the summaries presented by the district attorney's office do not fully portray information in case files under review.
"I'm not taking the DA's synopsis of each case as the facts," Leslie said. "There aren't just two sides; there are probably 10 sides to this story. It's very complicated. We don't have all of the information the social worker had or maybe there was an incompetent social worker. I don't know."
Contact Kristi Jourdan at kjourdan@review journal.com or 702-383-0279.