A bad night at the Minxx during NBA weekend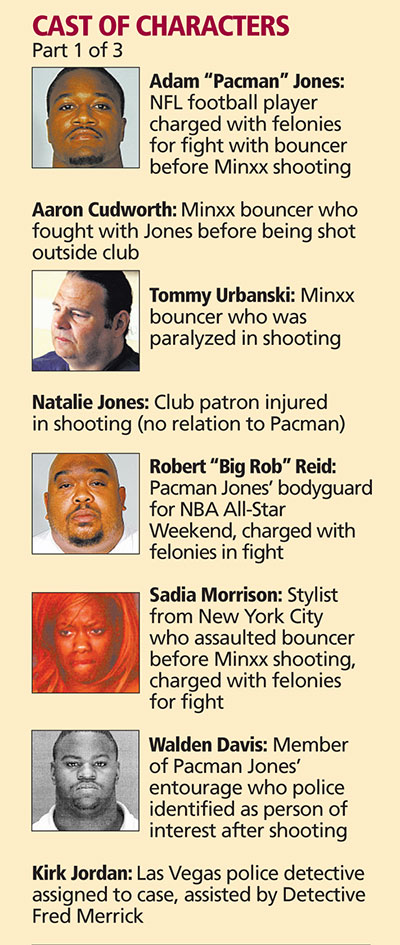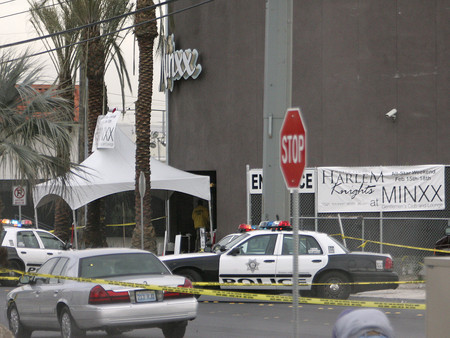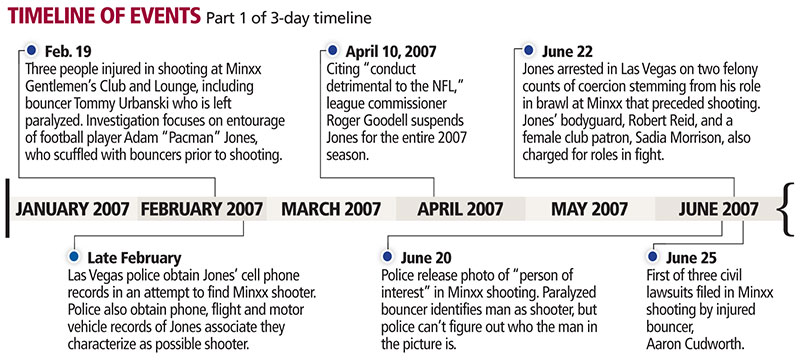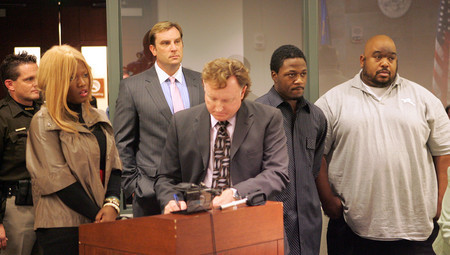 In February 2007, at the tail end of a chaotic NBA All-Star Weekend in Las Vegas, a shooting outside the Minxx Gentlemen's Club and Lounge paralyzed a bouncer and injured two others. As the accused Minxx shooter awaits trial, the Review-Journal, in a three-part series, revisits the crime and explores the ups and downs of the police investigation that followed the shooting. Through the use of interviews, witness statements, police notes and other materials from the investigation, the newspaper reconstructs the events that eventually led authorities to the man they believe opened fire at the Minxx.
The excesses of the February weekend in 2007 caught even the most seasoned party town off guard.
Along the Strip, bands of young men had run wild over tourists and workers, resulting in dozens of arrests and fevered debate over whether Las Vegas should ever again host an NBA All-Star Game.
But in the pre-dawn hours of Monday morning, it appeared the weekend had passed without real and lasting damage.
Then came the 5 a.m. call to police.
Three people were shot, badly wounded after a melee at the Minxx Gentlemen's Club and Lounge on Wynn Road. A gunman was on the loose.
Outside the club's double glass doors, lying in a pool of blood, was real and lasting damage.
Tommy Urbanski, a club bouncer who arrived early for work and got caught in the middle of a dispute that started earlier, was one victim. Struck by four bullets, Urbanski soon learned he would never walk again.
"There were a lot of days of crying before I realized this is the way it is," Urbanski said recently. "I had to learn how to function as a paraplegic for the rest of my life."
Urbanski, the working joe condemned to a wheelchair, became the face of everyone's All-Star Weekend grievances.
This crime needed to be solved, for Tommy and everyone else who felt victimized that weekend.
The investigation got off to a promising start.
Within hours, police had a pretty good idea of the motive for the shooting and for whom they might be looking. Las Vegas detectives wasted no time before talking to the man they believed would lead them right to the shooter.
Adam "Pacman" Jones, a National Football League player with a history of problems at nightclubs, had not only been at the Minxx, but minutes before gunfire erupted, he and his friends were kicked out of the club for fighting.
Several of the 150 or so people in the parking lot after the incident told police they heard Jones threaten to kill one of Urbanski's colleagues, a bouncer named Aaron Cudworth, who also was wounded in the shooting.
It was just a matter of time, detectives thought, before they identified who in Jones' entourage had followed through on the football player's threat.
If only it had been that simple.
'VERY, VERY MELLOW'
The party at the Minxx after the All-Star Game that Sunday night had an impressive guest list: hip-hop artists Jermaine Dupri and Nelly, boxer Zab Judah, and football stars Pacman Jones of the Tennessee Titans and Andre Johnson of the Houston Texans. A slew of exotic dancers from all over the country joined the athletes and entertainers for the last blowout of the weekend.
Jones, only 23 years old at the time, was coming off a breakout season in which he intercepted four passes and returned three punts for touchdowns. Two years after the Titans made him the sixth overall pick in the 2005 NFL draft, Jones appeared on his way to stardom.
His behavior off the field was a different story.
In the weeks before his trip to Las Vegas, Jones appeared as a defendant in two separate criminal matters in Tennessee, the latest in a string of legal troubles since he entered the NFL. It didn't matter so much that the misdemeanor assault and disorderly conduct cases were both dismissed; Jones had already built a reputation as a troublemaker.
His self-control would be put to the test over NBA All-Star Weekend in Las Vegas. His mother, Deborah, came along to help keep an eye on him.
On the day of the big basketball game, Jones made the rounds, hanging out with Titans teammate LenDale White at Mandalay Bay and attending a party at The Palms thrown by basketball legend Michael Jordan. While at The Palms, Jones smoked marijuana, police believe. He also won $40,000 gambling at Caesars Palace, his hotel for the weekend.
So far, no major problems.
At about 2:30 in the morning on Feb. 19, 2007, Jones went by limo to the Minxx with a group that included his business manager, Chris Horvath, and a bodyguard he hired for the weekend, Robert "Big Rob" Reid.
As the group entered the club, they walked through a portable metal detector, which was installed for the weekend to help keep weapons out.
"Pacman's in the house!" Horvath shouted as they cleared security.
It was doubtful anyone heard him.
Harlem Knights, a Houston strip club, had leased the Minxx for the weekend, organized the events and recorded them on video. The video from that night shows a lively party with loud hip-hop music and male partygoers enjoying the attention of nearly naked dancers. Champagne was flowing and the smell of marijuana was thick, several Minxx employees later said.
"They were very, very mellow," club employee Leon Malanowski said of the crowd. "Everybody was cool. We had the right kind of music. They had enough girls there, so it was all smooth. … No tension whatsoever."
'MAKING IT RAIN'
The relative calm at the party ended abruptly, and Pacman Jones was a main reason why.
Jones, dressed in a white jersey-style shirt and wearing a large gold chain supporting a medallion depicting the "Pacman" video game character, had walked into the club with about $100,000 in cash inside a Louis Vuitton backpack. He exchanged $40,000 of that with a club manager for singles. This was in preparation for the celebrities gathering on stage to toss money into the air and in the general direction of dancers — a practice in the nightclub world known as "making it rain."
A little after 4 a.m., the VIPs began the money-throwing ritual, triggering events that led to the bloodshed outside the club.
The problems began when some of the dancers started scooping up money from the floor and putting it in big buckets.
Jermaine Dupri, the hip-hop artist from Atlanta, took the microphone and scolded the women: "Keep dancing. Don't bend down and try to get your money. I'll tell y'all to get off the stage."
That warning, which contradicted orders the dancers were getting from others in the club, only accelerated the scramble on the rectangular stage in the middle of the club.
A fight broke out between two dancers, one of whom was friendly with Jones from their encounters at a Florida strip club. That tussle grew into what Minxx floor host Henry Jenkins later described as a major "girl ruckus" around the stage. Some witnesses later said Jones punched a dancer and his own business manager during the fight.
No useful video of the fight has emerged.
Amid the chaos, a black trash bag, now holding more than $60,000 of Jones' money, went missing. It would later surface in the hotel room of Harlem Knights promoter Christopher Mitchell.
Jones was livid, and in the opinion of club bouncers, a danger to everyone around him. They set about getting him and his entourage out of the club.
Cudworth, a 265-pound bouncer, muscled his way through the crowd toward Jones, only to find himself face to face with Jones' bodyguard, Reid, who weighed 400.
Club manager George Petraski later told police: "The bodyguard, I don't know what the hell he was doing. He was holding Pacman like somebody was trying to assassinate him."
As Cudworth wrestled with Reid, Jones bit him in the ankle. A woman in Zab Judah's group then smashed a glass bottle over Cudworth's head.
Now, Cudworth was upset, too, and the battle inside the Minxx intensified — and became racially charged.
In his fury, Cudworth started calling Jones a racial epithet, according to Jones and others who were with him. Several witnesses, including colleague Jenkins, said Cudworth threatened to hit Jones in the knee or shoulder with a baton.
Jones wasn't backing down, club patron Starr Simmons said when deposed in a civil lawsuit that was later filed against Jones and others: "I didn't see any punches thrown, but I did see him pushing back. He was acting pretty wild."
By the time Cudworth and other bouncers pushed Jones and his friends out a back exit, Cudworth feared for his life.
"Once we got outside, he started running his mouth and saying, 'I'm going to shoot you. I'm going to shoot you,'" Cudworth told police. "He kept putting his hands in his pants pocket or up front down by his pants. … I could distinctly say Pacman was the one who threatened to kill me."
About 15 minutes later, Cudworth, Tommy Urbanski, and a female club patron were bleeding on the ground. Five empty 9 mm cartridges lay not far from the victims.
'WE HATE VEGAS'
One of the first calls police made after the shooting was to Tennessee Titans head coach Jeff Fisher, to tell him Jones was wanted for questioning in the Las Vegas nightclub shooting.
Fisher contacted Jones and said the police believed somebody in his entourage was the triggerman.
He had a simple message for his player: Talk to the police. Tell them everything you know.
At 10 p.m. the night after the shooting, Las Vegas police Detective Kirk Jordan went to room 3361 at Caesars Palace to visit with Jones. Also in the room was Jones' mother, who was furious that her son was being treated as anything other than a victim in what had transpired at the Minxx.
Jordan asked Deborah Jones if there was anything he should know about what had happened.
"Just that we hate Vegas," Deborah Jones replied. She wanted her son to press charges against the club for the way he was manhandled by bouncers.
For much of Pacman's life, growing up poor in Atlanta, his mother and grandmother were constant, if not always steadying, presences. Jones' father was murdered in Atlanta when his son was just 4 years old. His grandmother died when he was a freshman in college. Now, his mother was a regular companion, on trips to places such as Las Vegas and, later, to alcohol rehabilitation, which Jones attended in 2008.
Horvath, a friend of Jones since their days at West Virginia University, opened up to police about what he perceived as Pacman's anti-social tendencies.
"I think he doesn't make the best decisions at times," Horvath said. "I can tell the difference between somebody who's had a father figure in their life all the time and somebody who hasn't. And I don't know, man. I wish he would have had one."
Horvath knew his friend's bad boy reputation and saw firsthand what had occurred inside the Minxx. He warned Jones after the shooting: "They're gonna tie you into this just for being there."
Detective Jordan asked Jones what he had seen outside the Minxx, and more important, who had been with him.
Jordan was interested in someone in Jones' group, but, as he soon found out, you can't find someone if you don't know who you're looking for.
NO CAMERAS, LIGHTS OR ACTION
It wasn't hard for police to identify a motive for the shooting. They figured the racially charged fight inside the Minxx made Jones or someone close to him mad enough to want to hurt Cudworth. It looked like the other victims, including Urbanski, simply were in the wrong place at the wrong time.
Jordan asked Jones what he knew: "We heard racial slurs were going back and forth. … I heard a rumor that when you guys got out the back door, somebody was 'Mf'ing' the security guy. Maybe with due cause. … Maybe he deserved it. Was that you? Was that Rob? Was that somebody else in the entourage?"
Jones played it cool: "I might have said some words."
Jones said he didn't see the shooting but did observe a black man in black clothes running off after shots were fired.
He was clear on one thing: It was no one he knew or had talked to.
Months later he would tell police a different story that identified the shooter in a way no one else ever would.
For now, police tried to work the case with the limited information they could get from the dozens of witnesses outside the club.
The accounts of the fight inside the Minxx were strikingly similar, but statements of what went on outside were inconsistent.
Trying to get anything close to a complete inventory of people who were at the Minxx proved a major challenge. It didn't help that video cameras outside the club weren't working that night.
The fight inside, a separate skirmish outside, and the shooting had all happened in a blur, most witnesses told police.
Urbanski, in the moments before he fell to the ground, said he saw a black man in dark clothing step out from behind a palm tree with a gun. The man he saw was large and rather well built, Urbanski said.
Others saw a man in similar clothing, but described him as slender and on the short side.
Still others saw a shooter in a white or light pink jersey.
Some saw a man with corn rows. Some saw dreadlocks.
He was light-skinned, according to some. Others claimed he was dark-skinned.
It was still dark outside, so nobody was really sure what they saw.
After sorting through all the statements, police concluded the shooter was about 5 feet 9 inches tall and weighed approximately 170 pounds. He was wearing a black T-shirt, blue jeans, and had his hair in tight braids.
"Statements indicate the shooter was with Adam Jones during the evening," police wrote in an affidavit requesting a search warrant for Jones' cell phone records.
"These communications may disclose the whereabouts or discovery of the firearm that was used during this incident as well as the clothing that was worn," the application for the search warrant read. "It may also reveal details or admissions, in the form of text or voice messages about the shooting."
Police also got surveillance video from Caesars that showed Jones and some unidentified men prior to and after the shooting.
Despite what Jones' lawyers were saying at the time, Jones was very much a suspect in the crime.
But he wasn't the only person of interest.
WHERE'S WALDEN?
A couple months after the shooting, Jordan expressed frustration at how the investigation was progressing.
"We're just as confused as anybody," the detective said in April 2007 as he struggled to identify all the people who had been at the scene of the shooting.
Adding to the challenge of solving the crime were false alarms from Tennessee, one from a jail inmate there who falsely confessed to the shooting.
Amid the frustration and confusion, an Atlanta man in Jones' entourage caught the eye of authorities.
The name of Walden Davis had popped up several times during witness interviews but never in a way that indicated he had been aggressive or threatening inside or outside the club. It appeared his only interaction with Jones outside the club came when he told Jones he could help him recover the bag of money that went missing inside.
But Davis, the owner of an Atlanta record company called "Dee Money Records," was with Jones at the Minxx, and police couldn't account for his exact whereabouts outside the club at the time of the shooting.
Police might have written the words "possible shooter?" beside Davis' name in their case file because they lacked information about him and wanted to know more.
Davis tried to intervene on Jones' behalf with his money problem. Did he also offer to do another favor for Jones?
Jordan and Las Vegas Detective Fred Merrick went to Georgia at the end of April to find out.
Before going to Atlanta, Jordan and Merrick examined Davis' recent flight, cell phone and motor vehicle records.
The cross-country trip yielded nothing, however.
Jordan's notes of the trip read: "At Davis' recording office, we were told he was out … Through several telephone calls we were instructed to contact his attorney who we met in mid afternoon … The attorney refused to let us meet Davis that day and attempted to gain as much information from us as possible."
Jordan and Merrick never ended up talking to Davis, partly because they were stonewalled in Georgia but also because they were pulled in a different direction in July 2007.
Still very much in pain, Urbanski called from a hospital bed to make a positive identification of the shooter, a man whose picture he saw in a media release. The picture came from surveillance video taken inside the Minxx.
"Urbanski is certain that the subject on the press release is the subject who shot him," Jordan noted in his investigative file.
That man was also never questioned by police.
In fact, to this day, police don't know who he is, Jordan said.
GETTING COLDER
The Minxx shooter was still at large, and Pacman Jones was still under scrutiny.
In June 2007, Clark County prosecutors charged Jones and two other people in connection with the brawl at the Minxx that preceded the shooting.
Jones was indicted on two counts of felony coercion for his role in the fight. His bodyguard, Robert Reid, was charged with one count of coercion. And Sadia Morrison, the woman who broke a bottle over bouncer Cudworth's head, got hit with five felonies, including battery with a deadly weapon.
Jones hired Las Vegas attorney Robert Langford to represent him. Langford also agreed to defend Reid and Morrison at no cost. All the defendants entered initial pleas of not guilty.
A few days after the criminal charges were filed, Aaron Cudworth became the first Minxx shooting victim to sue Jones, the owners of the now shuttered Minxx and others for civil damages. Tommy Urbanski and Natalie Jones, the third shooting victim and no relation to Adam Jones, filed lawsuits later that year.
The NFL also weighed in on Jones' conduct. Commissioner Roger Goddell, citing the player's frequent arrests around the country, suspended Jones for the entire 2007 season.
So far there had been some mostly lower-level felony charges, an NFL suspension and several civil lawsuits.
None of those developments brought police any closer to the ultimate goal of finding the Minxx shooter. By late summer 2007, the investigation had hit a dead end.
That same summer, Jones walked into another nightclub in his native Georgia, and the night ended much as the one at the Minxx did — with gunfire and allegations against Jones.
Contact reporter Alan Maimon at amaimon @reviewjournal.com or 702-383-0404.
PART 1: Today
A VIP party ends in gunfire
Part 2: Thursday
Atlanta outlaw enters picture
Part 3: Friday
Sorting out the gunslingers with interactive multimedia with timeline and video from inside the Minxx
ADAM JONES' LEGAL TROUBLES
July 2005: Jones is arrested and charged with a misdemeanor and a felony stemming from an incident at a Nashville nightclub. The charges are later dismissed on request of complaining witnesses.
Feb. 2006: Jones is charged with felony obstruction of police after fight with police officers in Fayetteville, Ga. Jones pleads guilty and is sentenced to probation for three years.
March 2006: Jones is charged with possession of marijuana in Fayetteville, Ga. The charge is dropped because of lack of evidence.
Aug. 2006: Jones is charged in Murfreesboro, Tenn., with public drunkenness and disorderly conduct after an incident at a bar. The misdemeanor charges are later dismissed at the request of the district attorney.
Oct. 2006: Jones is cited for misdemeanor assault after a college student accuses him of spitting in his face. The charge is later dismissed.
Feb. 2007: Jones incites a brawl at the Minxx Gentlemen's Club and Lounge in Las Vegas. A bouncer he scuffles with and allegedly threatens is one of three people shot outside the club. Jones is eventually charged with two felony counts of coercion stemming from the fight. He later pleads no contest to a gross misdemeanor charge of conspiracy to commit disorderly conduct.
June 2007: Jones gets into a dispute at a suburban Atlanta nightclub with a man who a short time later is the victim of a drive-by shooting. Jones is named as a suspect in the case, but no one is ever charged in connection with the shooting.
May 2008: Jones pays $20,000 to Caesars Palace to settle criminal bad check case.
Oct. 2008: Jones gets into an altercation with his bodyguard in a restaurant bathroom at a Dallas hotel. No criminal charges filed, but Jones is suspended by NFL Commissioner Roger Goodell and ordered to attend alcohol rehabilitation.
LAS VEGAS REVIEW-JOURNAL