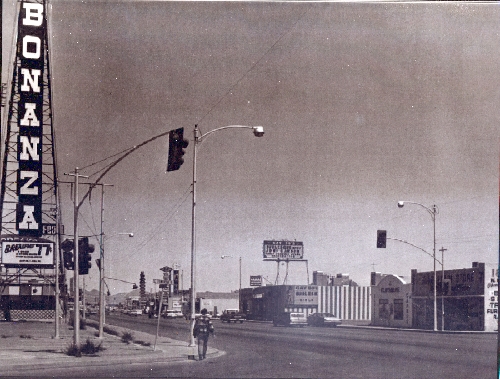 When Jerry's Nugget in North Las Vegas opened in 1964, there were other nuggets in the valley – the Golden Nugget and the Silver Nugget. But Jerry's Nugget was not named for one person but both of its original owners: Jerry Stamis and Jerry Lodge.
Much has changed since Jerry's Nugget opened its doors, and not just the price of its 49-cent breakfast from the early 1970s, said Angelo Stamis, son of co-owner Jerry Stamis.
"Everything has changed except for the tower," Stamis said.
The original Jerry's Nugget was located across the street from its current location at 1821 Las Vegas Blvd. North from 1964 until 1970 and moved across the street after acquiring the Bonanza Club. The original location was only 6,400 square feet, Stamis said. In 1983, the casino underwent major renovations, leaving only a few walls up and expanding the property. Then in 1996, the casino added another restaurant, a lounge, a gift shop, a fountain and more machines. The oil rig has been there since the beginning, although it first belonged to the Bonanza.
Stamis said his casino still stands out among the big names in Las Vegas because it makes every part of the 40,000 meals a month from home. He said it is famous for the prime rib because it slow cooks for 10 hours.
He also urges guests to try the eclairs. Stamis grew up in California working on his father's flower farm and would stop in a local bakery for an eclair after a long day.
Stamis and his two brothers grew up picking flowers on their farm in Hermosa Beach, Calif., and carting them to Los Angeles' flower market. It was a lot of work, and the family was ready for a change.
"Uncle Jerry Lodge said, 'Let's go to Nevada and open a gambling spot,' " he said. His father retired at 60 years old and moved the family to North Las Vegas to open the casino. Stamis, 25 at the time, said he and his brothers worked 20 hours a day, seven days a week.
"We went five years without taking a day off," he said. He had no time for girlfriends, and money was tight as they got off the ground.
One brother retired, another died, and both his uncle and father died. Stamis now runs Jerry's Nugget with his two sons, though Stamis has taken up a side project of producing his own olive oil in Greece. Stamatelatos and Avithos Extra Virgin Olive Oils from Kefalonia, Greece, recently began selling on jerrysnugget.com, and he plans to expand to its own website.
He named it for his family's authentic greek name, Stamatelatos, that was shortened to Stamis. He spends a quarter of the year in Greece caring for his olive trees.
The owners are not the only part of Jerry's Nugget that make it a family environment. Many of the employees have been there 15 to 25 years.
John Singleton, who works security, has been at the casino for 18 years and said he knew from the beginning that it was the right fit.
"When I walked in the first day, it felt like home," Singleton said. "I made up my mind the first day that I was going to be here 20 years."
He said he has watched the casino go through three major renovations, but it always felt comfortable.
"They care about people and treat us like family," he said. "It just feels like home."
Mamie Morris and Grace Jimenez have a competition: who will reach their 30th year at Jerry's Nugget first. Morris insists that while Jimenez started a month earlier, Jimenez took time off to have a child, so Morris should hold the title.
Both have been waitresses in the main restaurant for 29 years and said things only get better. Morris said the casino started to attract better tippers when it raised its prices on the 49-cent breakfast.
But they both said the owners are hands-on and helpful, even willing to jump in and help in the kitchen when things get busy.
Jimenez said she remembers Jerry Stamis coming into the kitchen during the lunch rush to stop everything and demand that the room get swept. She said she has always enjoyed working in a clean environment.
Contact Centennial and North Las Vegas View reporter Laura Phelps at lphelps@viewnews.com or 702-477-3839.