A few mayoral candidates leading the pack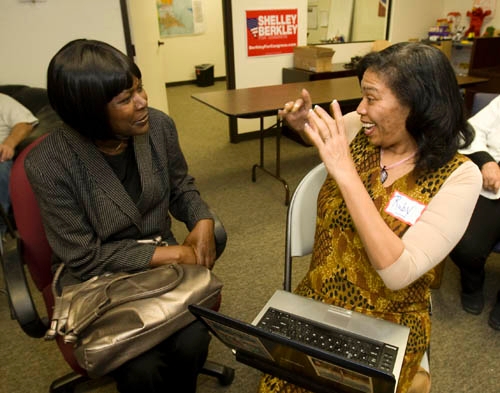 While politicians and legacy candidates soak up most of the attention — and money — in the Las Vegas mayoral race, there are more than a dozen other candidates running too, and a couple of them have managed to separate themselves from the pack.
George Harris, owner of the Mundo restaurant downtown and CEO of Alien Tequila, is running on a platform of lowering business and permitting fees and creating a more welcoming climate for businesses looking for a new location.
And Katherine Duncan, owner of Sales Force Hotel Furnishing and founder of Ward 5 and Green chambers of commerce, is pushing energy efficiency as a means of creating jobs, and says Las Vegas needs more diverse entertainment options.
They're among the 18 candidates in the nonpartisan race seeking to succeed Oscar Goodman, who cannot run again because of term limits.
Harris, 49, said all business licensing fees should be suspended for a year and that building permit fees should be cut in half. The Republican argued that revenue wouldn't really be lost because the people seeking the licenses and permits won't seek them under the current fee structure.
"That will kick-start a new revolution," Harris said, by making it less expensive to open a business or invest in a property. His restaurant, for example, needed $75,000 in liquor licenses.
He also complained that the city is stuck in a bureaucratic culture that makes it hard to do business efficiently.
"You have government interjecting itself into private business with all these complex fee structures," Harris said. "I'm trying to keep people employed, and every time I turn around they're either raising the fee or calling for an inspection."
"We have to have regulations. We have to have safety," he added, stressing that city employees work hard and try to do their best for businesses, but are stymied by the bureaucratic culture.
"We've got to make this government more user-friendly and get away from this culture that the customer is the enemy."
Harris is also active in the Tequila Party, a group founded to promote Hispanic involvement in the Republican Party.
For Duncan, 55, energy inefficiency is the enemy, and she thinks cities should be using available housing and weatherization funds to encourage people to install better insulation, windows and doors.
Some of the money she mentioned specifically — $10.4 million from the Department of Housing and Urban Development — can be used only on foreclosed properties, but she believes other funds are available.
"If I could get every building in the city to get an energy upgrade, we could employ all our tradesmen," said Duncan, a Democrat.
Las Vegas is taking steps toward energy efficiency — in city buildings, for example — but Duncan said it's not enough.
"There's not a lot of leadership," she said. "They don't realize the magnitude of encouraging everybody in the city to do it."
The city also needs to do more to promote diverse events, and she named country singer Garth Brooks and Pope Benedict as examples.
"I'd have a concert at Cashman every weekend," she said. "There are people in the world who have money who would come to Las Vegas if they could see something they haven't seen before."
The ballot also includes these lesser-known candidates:
A. "Duke" Breuer
Age: undisclosed
Occupation: semi-retired electronics importer
Party: nonpartisan
Breuer moved here six years ago following a career running fabric manufacturing operations in New York and Hong Kong and some time spent in commercial real estate. He wants Southern Nevada to be a manufacturing center for companies making solar panels, wind energy turbines and other green energy products.
"Some of them should be here," he said, and faulted current officials for not promoting well. "We have a clown as mayor. CEOs are not going to go to their company and say, 'Let's move to Las Vegas' when you see a guy with half-naked girls and a martini in his hand."
The state should have a lottery that's administered by the casinos, he said.
Joe Falco
Age: 67
Occupation: retired salesman, now in real estate and licensed for substitute teaching
Party: Democrat
Falco ran for mayor against the current occupant, Oscar Goodman, in 2003, and he decided to run this time because too many familiar faces — including Goodman's wife, Carolyn — were in the race.
"I don't believe that the same family should be running the city for 20 years or more," he said.
What the city needs are business roundtable groups to promote economic development.
"We need somebody to not only bring businesses here, but to keep the businesses here. We need somebody active, not somebody who's just going to talk about it."
He also promised to donate part of his mayoral salary to schools and charities.
Tim Gamble
Age: 28
Occupation: EMT and training officer, Caesars Entertainment
Party: independent
Gamble said average working people are not being represented by the leading candidates in the race.
"I am the average Joe candidate," he said. "I am the true working guy in the race."
A person like that in the mayor's chair "means a place for them to actually take their ideas to. That's what the mayor is," he said. The mayor then takes the best ones and makes them priorities.
He said he backs continued downtown development as well as a high-speed rail link between Las Vegas and Southern California.
Larry M. Jeppesen
Age: 72
Occupation: retired business teacher and cattle rancher
Party: Republican
Jeppesen has focused on criticizing firefighters. At one debate, he wore a plastic fire helmet festooned with fake money to make his point, and he says city firefighters should be checked out the same way Clark County firefighters have.
"Las Vegas city has all these really high-paid firefighters," he said. "If I was mayor, I would say, let's have the FBI do the city too. If there's no problem, that's great. If there's collusion, I think the people ought to know this."
Marlene Rogoff
Age: undisclosed
Occupation: Real estate agent
Party: Democrat
She created a splash (and annoyed the city clerk's staff) when she showed up to file for office with showgirls and Chippendale's dancers on her arms. She has run unsuccessfully for City Council before. She said the city needs to get involved in stopping foreclosures.
"I feel these foreclosures are spreading like wildfire through our whole city economy," she said. She suggested an ordinance similar to one in Philadelphia that requires banks and homeowners to meet before a foreclosure can proceed. Las Vegas Municipal Courts do not hear foreclosures, however.
The city also needs to market its residential neighborhoods better, because "many people don't know that there's a life outside the Strip," said Rogoff.
Abdul H. Shabazz
Age: 56
Occupation: owner, Mobile Denture Lab
Party: Democrat
The self-described former dice hustler turned businessman said education, small businesses and religious tolerance are the focus of his candidacy.
"Yesterday's traditions are today's lifestyle illusion," he said. "Politically, that means that political issues which were dealt with in a traditional way are not the answers for us today."
The mayor should use his or her influence to champion education, which is all the position can do, since the city is not directly involved in public education. Policies shouldn't restrict small businesses from starting and growing, and people of all faiths have a place in the public square, he said.
"I would be a great encourager of those things I just expressed," Shabazz said.
Ed Uehling
Age: 70
Occupation: real estate investor
Party: Democrat
His main point is that there are a lot of potential visitors, particularly in Asia, who aren't coming to Las Vegas because they have trouble getting visas.
What can a mayor do about that?
"Complain," he said. "Go camp out on the White House lawn. Talk to (Senate Majority Leader) Harry Reid."
He's also dismissed calls to diversify the area's economy, arguing that gaming and tourism are the mainstays and the focus should stay there.
Angel Vasquez
Age: 37
Occupation: founder, LEP hot line
Party: Democrat
Since last year, he has run a pro-bono Limited English Proficiency hot line that helps people who are denied interpretation services by government agencies, and for a time he was the director of Nebraska's Mexican-American Commission, a state agency that advocates for Latinos.
Although the Las Vegas mayor has no formal role in public education, he said the city should be involved in improving schools, perhaps by creating city-sponsored charter schools.
Deborah Love, Christine Montez and Anthony "little guy" Wernicke could not be reached for comment.
Contact reporter Alan Choate at achoate@reviewjournal.com or 702-229-6435.
The election, the job
Early voting in this year's Las Vegas municipal elections starts Saturday. The primary is April 5, and in races in which no candidate wins a majority, the top two finishers move on to the June 7 general election. Being mayor will be a full-time position, meaning whoever holds the seat cannot hold outside employment. The salary hasn't been officially set because it's measured against the Clark County Commission salary and subject to the Consumer Price Index. The salary will be around $130,000 a year.
BIO BOX
George Harris
Age: 49
Occupation: Owner, Mundo restaurant; CEO, Alien Tequila
Party: Republican*
BIO BOX
Katherine Duncan
Age: 55
Occupation: Owner, Sales Force Hotel Furnishing; founder, Ward 5 and Green chambers of commerce
Party: Democrat*
*Municipal races are nonpartisan.