A kinder Reid will return to Congress
November 20, 2008 - 10:00 pm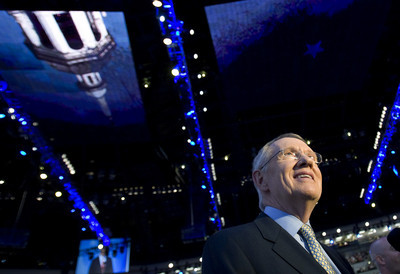 WASHINGTON — With a friend in the White House and substantially more Democratic senators at his back, look for a kinder and gentler Harry Reid to be running the Senate as majority leader next year.
"I will be able to be a different leader. I will have the votes," the Nevadan said in an interview Wednesday. "There will be a different, softer majority leader, not because of being afraid to continue to fight but there is no need to."
Not that Reid minded fighting, of which he did plenty during his first two years as Senate leader. Battles with Republicans and the White House helped draw distinctions between the parties and helped Democrats win the presidency and new majorities in Congress, he contended.
"Even though my fighting for two years at times was not very photogenic, at the end of it is a pretty good picture," Reid said.
Reid spoke a day after he was elected to a second term as Senate majority leader for the two-year session that will begin in January.
At the same time, he has begun positioning himself for a 2010 re-election campaign where Republicans already have indicated he will be a target for defeat.
Reid, who has been in Congress since 1983 and in the Senate since 1987, plans to tell Nevadans he has accomplished more for the state than any of his predecessors.
Most recently, tax breaks for Nevada's growing renewable energy industry, sales tax deductions for families, $250 write-offs for teachers, and full funding for federal payments to rural counties would not have become law "but for me," he said.
"As I look back on the years of knowing something about Nevada history, I know what others have been able to accomplish and no one has been able to do what I have done," Reid said. "That includes Pat McCarran, Howard Cannon, Alan Bible, Paul Laxalt, you name them. If that is boasting I don't mean it to be that way, but I am trying to be as factual as I can."
In the meantime, Reid said his job as majority leader will get easier "without question" when President-elect Barack Obama takes office along with an infusion of fresh Democratic senators.
Rather than managing only a one-seat majority that proved fruitless at achieving any legislation that was at all controversial, Reid next year will lead a Senate containing at least 58 Democrats, with the promise of being able to recruit a few Republicans here and there in order to gain 60 votes necessary to overcome filibusters.
As another example, Reid said he will no longer be solely responsible for filling Democratic slots on federal boards. He has several staffers working on that full time but those candidates will be vetted at the White House in an Obama administration.
And he compared his soon-to-end combative relationship with President George W. Bush to that of bighorn sheep that seek to establish dominance by running at each other and ramming their horns together.
"That is what George Bush and I have been doing, and we won't do that anymore," Reid said. "I will have nobody to butt heads with."
Contact Washington Bureau Chief Steve Tetreault at stetreault@stephensmedia. com or 202-783-1760.