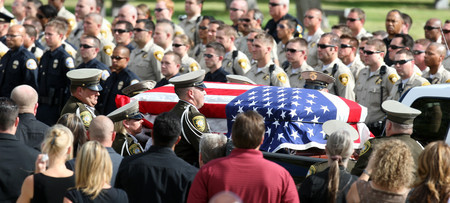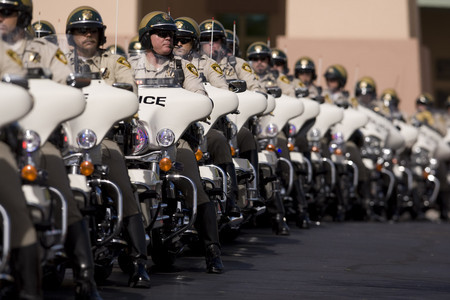 As Las Vegas police officer Milburn "Millie" Beitel lay dying at University Medical Center last week, James Bertuccini took what seemed to be the longest car ride of his life to be at his best friend's side.
"A wave of terror ran through my body," Bertuccini said Wednesday at Beitel's funeral. "I just said, 'Please, God, not my friend.'"
Bertuccini, also a Las Vegas officer, fought back tears as he spoke before a crowd of about 2,000 people that included law enforcement representatives and Beitel's friends and family. The 30-year-old police officer died after a single-car crash in east Las Vegas that happened while he was on duty Oct. 7. The accident investigation continues, but the press for facts was superseded Wednesday by the need to grieve a fallen comrade.
Bertuccini said he has had difficulty accepting Beitel's death, which was a stark reminder that things don't always turn out the way you would like.
"I'm standing before you with great pain in my heart," Bertuccini told mourners at St. Elizabeth Ann Seton Catholic Church in Las Vegas.
"I'm struggling to go on and to believe this really happened. But today, I'm forced to put him to rest."
The funeral procession was led by about 75 motorcycles from the Metropolitan Police Department.
A police truck transported Beitel's coffin, which was draped with a U.S. flag.
Officers saluted the coffin as the truck passed by, and family and friends watched as an honor guard carried the coffin into the church. The funeral was so well-attended that about 800 people had to view the service from an overflow room in a school gymnasium next to the church.
Members of the department's saturation team, of which Beitel was a member, entered the church immediately before the honor guard. They were followed by the coffin and Beitel's family.
Clark County Sheriff Doug Gillespie spoke at the funeral, praising Beitel as the go-to guy on the saturation team, which is a collection of officers from different sections and area commands targeting high-crime areas, usually at night.
He said when Beitel was asked to handle a difficult assignment, his reply to his sergeant was always, "Gotcha covered, boss."
Beitel was the type of officer any police department would be lucky to employ, Gillespie said, adding that the strong funeral turnout was proof of the contribution Beitel made to making the community a safer place.
"I think it's safe to say his good work was noticed and appreciated," he said. "Work was his life, and his life was his service. He was a true warrior."
Beitel was fatally injured when his patrol car struck a "fixed object" just north of the intersection of Nellis Boulevard and Washington Avenue.
Skid marks at the scene appeared to show that the driver had attempted to steer away from something.
A second officer in the car, David Nesheiwat, 25, a three-year veteran of the department, remains in serious but stable condition at UMC, police said Wednesday.
Police have not said at what speed the patrol car was traveling, whether the officers were wearing their seat belts, whether their emergency lights and siren were on, what happened in the moments leading up to the crash and who was at the wheel.
Gillespie said more information will be released after the investigation, perhaps later this week.
The night of the accident, Las Vegas police officer Michael Kinney, a friend of Beitel who also is member of the saturation team, was one of the first responders on scene.
Although Beitel wasn't conscious, Kinney told those at the funeral, he took his friend's hand, unbuttoned his shirt and put his other hand on his chest.
"He couldn't squeeze my hand back, but I felt him take a deep breath," Kinney said through tears.
Kinney and Bertuccini shared happy moments they said characterized their friendships with Beitel, who was a Silverado High School graduate.
Kinney and Beitel recently had purchased motorcycles together. Kinney recalled one of their first rides together — in a parking lot.
"I fell," Kinney said. "He picked me up and asked, 'Are you OK?' I said, 'Yeah, I'm OK, I'm just worried people saw.' And we laughed about it so hard."
Bertuccini remembered a time when he and Beitel were investigating a disturbance call.
After discovering a person "rocking out to Def Leppard" in a red Trans Am, Beitel decided to investigate. But when he got to the window, he noticed something funny, said Bertuccini.
The man was wearing a flannel shirt on his upper half and a French maid outfit on his lower half — complete with skirt, stockings and Birkenstock sandals.
When Beitel asked the man about the significance of the outfit, he replied, "Dude, it's laundry day," Bertuccini said.
"And the best part is, Millie says, 'Well, of course it is.'"
After the funeral, the police motorcade traveled to Palm Mortuary & Cemetery on Eastern Avenue for the burial. The mood remained somber as afternoon sunlight broke through dark clouds. As Monsignor Kevin McAuliffe spoke of Beitel moving on to eternal life in his final blessing, a powerful gust of wind pushed through the cemetery.
The police honor guard stood behind the casket, and a few officers clenched their fists tightly as bagpipers played the first strains of "Amazing Grace."
Gillespie placed his hand over the folded hands of Beitel's mother, Ann Beitel, as he knelt before her and presented small boxes containing the officer's badge and cap piece. He leaned in close when he spoke to her and offered a smile before standing.
Aaron Beitel, who is a Marine as his brother was, hung his head for a few moments after he accepted the folded U.S. flag that had draped the coffin.
The silence that followed the moment was broken by the sound of a dispatcher announcing Beitel's name and identification number to the department's stations.
Gillespie was the first to salute the casket. Every officer present did the same.
After a Scripture reading at the funeral, McAuliffe said the church was built on the blood of martyrs.
That's not unique to the church, but found in all service professions, police and firefighters included. And although the heart won't let the brain forget the painful emotions, McAuliffe said, it would honor Beitel to remember his service.
"The community depends so much on men like him," he said.
Bertuccini said he just misses his friend. When he was at the hospital during Beitel's final moments, Bertuccini hugged his former partner and said, "I love you, my friend."
"I told him then that I'm not going to say goodbye," Bertuccini said. "I said, 'I'll see you later.'"
Staff writer Maggie Lillis contributed to this report. Contact reporter Mike Blasky at mblasky@reviewjournal.com or 702-383-0283.
Video and slideshow