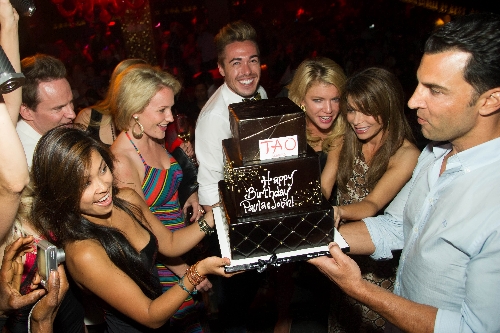 Pop music star Paula Abdul celebrated the big 5-0 in Las Vegas on Thursday at a joint birthday party with new boyfriend John Caprio.
They dined at Tao Asian Bistro in The Venetian with more than 30 friends and family before moving upstairs to the nightclub, where the DJ greeted her with "Straight Up," her first No. 1 hit.
Abdul and her 6-foot-6 boyfriend, a 40-year-old Rhode Island businessman, started dating this year.
Among those celebrating both Abdul's and Caprio's birthdays were her parents and "Extra" anchor Terri Seymour. Abdul's birthday was June 19.
Abdul, who served as a judge on "American Idol" for eight years before being replaced three years ago, was fired in January as a judge on "The X Factor," the "Idol"-like show created by Simon Cowell.
LUCK BE A LADY IN 10E
A lucky lady on a recent Atlanta-to-Las Vegas AirTran flight hit a jackpot before she even landed.
The plane was in descent mode when a male flight attendant announced he was going to prepare the passengers for Sin City with a little game of chance.
He invited anyone who wanted to participate to pull out a dollar bill and write their seat number on it.
"A stewardess strolled down the aisle with your basic white Hefty tall kitchen trash bag, and passengers slipped their dollar bills in it," Las Vegas author Rob Miech said.
Miech was flying back from Washington, D.C., where he was promoting his new book, "The Last Natural: Bryce Harper's Big Gamble in Sin City and the Greatest Amateur Season Ever."
About 65 percent of the passengers participated in the Vegas warmup.
A $1 investment paid $80 for an excited lady in seat 10E, Miech said.
SIGHTINGS
Mike Tyson, downing four orders of tomato soup at 35 Steaks + Martinis (Hard Rock Hotel) on Thursday. … At Tao on Thursday: Steven Gerrard, captain of Liverpool's Premier League club and England's national team, treating his girlfriend to a birthday celebration after Sunday's tough loss to Italy in the Euro Cup in Kiev, Ukraine. Italy won in a shootout after a goalless draw. … Alexis Bellino of "The Real Housewives of Orange County," rocking a red, white and blue bikini at Encore Beach Club at Encore Las Vegas. She was with her husband, Jim Bellino, and friends . … Sports broadcasting legend Dick Enberg , dining with sports producer David Dinkins Jr., on Thursday at Dom DeMarco's Pizzeria & Bar . Dinkins' father, David Dinkins, was mayor of New York City. … "Dancing With the Stars" co-host and author Brooke Burke-Charvet, with family at Siegfried & Roy's Secret Garden and Dolphin Habitat (Mirage) on Thursday. They were participating in the educational Trainer For A Day program. Later they checked out the big cats.
THE PUNCH LINE
"Pittsburgh Penguins star Jordan Staal was traded to the Carolina Hurricanes last weekend while he was getting married. Not good – you never want to find out on your wedding night that your husband's playing for the other team." – Jimmy Fallon
Norm Clarke can be reached at 702-383-0244 or norm@reviewjournal.com. Find additional sightings and more online at www.normclarke.com. Follow Norm on Twitter @Norm_Clarke.