Abuse of sick leave by firefighters detailed
February 1, 2011 - 3:46 pm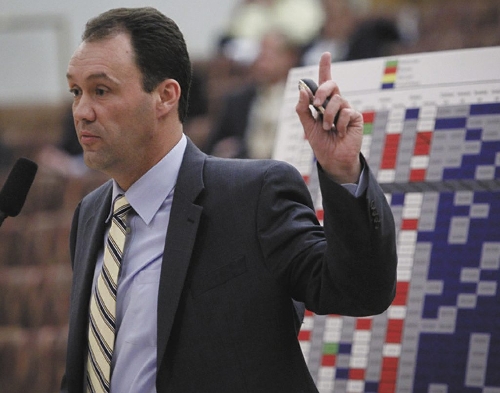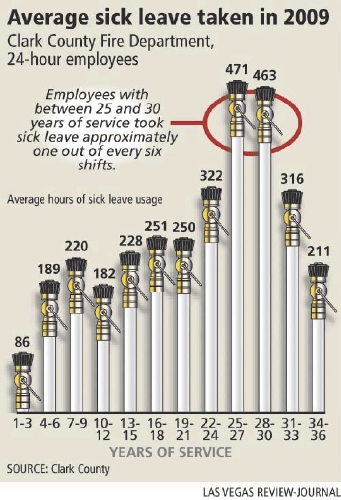 More than 230 Clark County firefighters took excessive sick leave in 2009, with some missing one out of every six shifts because of sick calls, according to data presented to county commissioners Tuesday.
Roughly 40 percent of about 600 firefighters who work 24-hour shifts took at least 10 sick days, the number of shifts they work in a month.
A dozen missed more than 30 shifts, three months worth of work.
The worst offenders coordinated vacation, sick days and regular days off to miss several weeks of work at a stretch.
The findings prompted county and union officials to call for closer monitoring of firefighters' sick leave. A few commissioners also want to change the contract to allow the county to punish abusers.
Even Chris Giunchigliani, a pro-labor advocate, acknowledged that the problem wasn't limited to a handful of firefighters.
"Many of us were under the illusion that it was just a few," Giunchigliani said .
Sick leave and overtime have helped push some firefighters' pay above $200,000 a year. County firefighters average $180,000 yearly in wages and benefits, compared with $80,000 for county workers in the Service Employees International Union.
Firefighters accrue 288 hours of sick leave a year — the equivalent of 12 shifts — and are capped at 2,304 hours. They don't lose any leave below the maximum amount and can cash it in when they retire or quit.
Newly appointed Assistant County Manager Ed Finger presented a shortened version of the report he gave during arbitration between the county and firefighters.
The arbitrator took note of firefighters' possible sick leave abuse when he chose the county's contract offer over the union's terms on Jan. 19. Commissioners on Tuesday ratified the contract, which could save the county as much as $7.4 million.
Finger described gathering e-mails that showed firefighters working with supervisors to use sick days for vacation instead of for illnesses, a breach of the labor contract.
He illustrated sick-leave patterns of the four most extreme users, saying that he discussed 18 cases in arbitration.
While most firefighters in the department took a reasonable amount of sick time, you can't characterize those who exploited the system as just a few, Finger said.
His report shows in 2009 that 178 firefighters missed 10 to 20 shifts; 41 called in sick 20 to 30 times; seven missed 30 to 40 shifts; and five missed more than 40.
In a normal rotation, a firefighter works five 24-hour shifts in a 15-day period, Finger said. Some firefighters arranged vacation and sick calls to coincide with normal days off, making them absent for weeks.
They also avoided calling in sick four shifts in a row, the threshold required for a manager to take action under the old contract, Finger said.
Ryan Beaman, head of the local firefighters union, said missing a month of shifts is "excessive" but not necessarily abuse.
However, he agreed there were some firefighters who misused the system, and he vowed to help stop the practice.
"We know there are problems, and we want to fix them," said Beaman, president of the International Association of Firefighters Local 1908. "I do intend to change the culture."
Beaman wrote a letter to commissioners last week, suggesting that union and county officials review sick-leave use every 60 days.
The fire chief must lead the way, and the changes must flow down the chain of command to the lowest-ranking members, Beaman wrote.
He also created a poster exhorting union members to not abuse sick leave because it detracts from their life-saving work and reflects badly on the department.
At Tuesday's meeting, Beaman said managers now can ask for a doctor's note if a firefighter takes five sick days in a year. That should give the fire chief a strong tool for curbing abuse, he said.
County Manager Don Burnette, who was the lead negotiator with firefighters, said he had proposed penalties such as freezing sick leave accrual for those who are red-flagged.
But he withdrew the proposals to get through the thorny arbitration, he said.
Giunchigliani said disciplinary measures should be revisited when the two sides negotiate the next one-year contract. The newly minted contract expires in July.
Two weeks ago, County Commissioner Steve Sisolak called for an audit and criminal investigation after the arbitrator made the decision. He said he is still waiting to hear from local, state, county and federal law enforcement agencies and the district attorney.
Sisolak lambasted Beaman for saying publicly last year that he knew nothing about sick leave abuse, even after county officials had shown him proof.
Sisolak later softened. He gave Beaman credit for appearing before the board and for pressing firefighters to play by the rules.
"I hope this is a new day," Sisolak said. "There's acknowledgment that there are more than an isolated few (wrongdoers)."
Commissioner Larry Brown said that most firefighters are responsible and hardworking.
A minority abused the system by using the contract as a guide, he said, adding, "If a contract allows this kind of abuse, then it's a bad contract."
Contact reporter Scott Wyland at swyland@ reviewjournal.com or 702-455-4519.
Sick leave poster
Letter sent to Clark County Commission from firefighters union