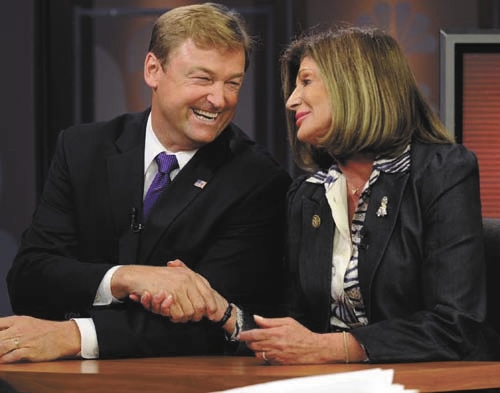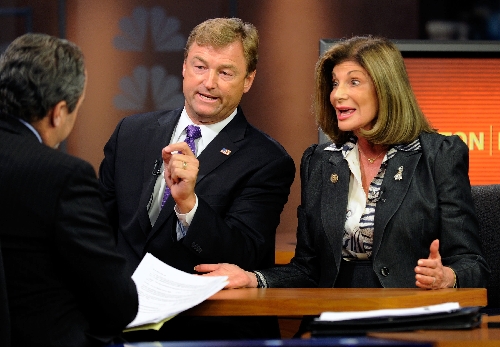 In their final Senate debate, U.S. Sen. Dean Heller and Rep. Shelley Berkley on Monday engaged in a feisty, elbow-to-elbow exchange, with the Republican accusing his Democratic challenger of "capitalizing on the misery of others" by selling foreclosed homes for profit and Berkley saying Heller has "no credibility" with the middle class.
In one of the most dramatic moments, Heller was asked whether he believes his TV ad calling Berkley one of the most corrupt members of Congress as she faces a House Ethics Committee investigation.
"I do. I do," Heller said, sitting at the same desk just inches from Berkley. "I don't know any other member of Congress that's capitalizing on other people's misery and flipping homes and making money the way she is."
Berkley defended herself, saying that leaving empty, bank-owned houses in neighborhoods devalues the properties, while buying houses and fixing them for rent or resale helps people. Heller's ad says Berkley got rich flipping houses, although she and her wealthy husband haven't made much money from home sales yet.
"Nobody works harder than me to keep people in their homes," said Berkley, who has supported an array of programs to offer homeowners mortgage relief. "It makes absolutely no sense to me that we have empty, bank-owned homes that are deteriorating. The banks have them now. They have nobody in them."
At one point in the debate, when the two clashed on energy policy – whether to halt oil subsidies in favor of clean energy tax credits – Berkley dismissed Heller as a protector of Big Oil and not the working class.
"I think my opponent has no credibility when it comes to middle-class tax cuts," she said.
Monday's debate was the third and final face-off between Heller and Berkley before early voting starts Saturday and continues for two weeks ahead of the Nov. 6 election. The two are locked in a tight Senate race that could help determine control of the upper house now led by U.S. Sen. Harry Reid, D-Nev., Berkley's mentor.
Jon Ralston moderated the hourlong debate on his "Ralston Reports" TV show. The first 30 minutes of the debate was broadcast live Monday. The second half of the debate is scheduled to air at 9:30 p.m. today in Reno and Elko and at 10:30 p.m. on KSNV-TV, Channel 3, in Las Vegas.
The third debate was far livelier than the first two more formal face-offs. Berkley and Heller frequently talked over each other Monday, although they traded banter during commercial breaks. During one break, Berkley slipped off her high heels under the desk and called for some lip balm and water.
On housing, Berkley accused Heller of coming to the issue late though Southern Nevada has been devastated by the crisis with about two-thirds of homeowners underwater in their mortgages.
Heller said he introduced the Keeping Families in Their Home Act to allow people to stay in their homes as renters and then buy them back a few years later if possible.
"I congratulate you for finally coming on board and doing something that is good for homeowners," Berkley said.
Heller, in turn, said Berkley supported legislation in 1999 that deregulated the banks and led to the financial collapse and housing crisis. He added that foreclosures have continued despite the mortgage programs she has backed.
Berkley refused to say whether she regretted voting to deregulate the banks.
She also refused to answer a question about whether she had asked for a formal opinion on whether it was ethical for her to advocate on kidney issues that could profit her husband, a prominent nephrologist. She refused to clarify the matter after giving different answers in the past related to the House Ethics Committee investigation.
Instead, Berkley defended her actions, saying she and Heller helped save the kidney transplant center at University Medical Center by urging federal authorities to keep it open for Southern Nevada patients.
"There is no doubt in my mind that it will be determined I did nothing wrong," Berkley said. "My only concern was the well-being of patients."
Heller said that he hadn't known at the time that her husband was a kidney doctor with a contract at the transplant center, a financial relationship under scrutiny by investigators. Berkley didn't disclose her husband's interests.
"I was unaware," Heller said, adding that if he had known, "we probably would have had a different discussion." He said he would have cautioned Berkley that "perhaps she ought to be more careful."
Berkley snapped, "Oh, thank you for that sage advice."
Berkley, addressing Heller, said it was a bipartisan effort to save the center.
"But I didn't know your husband would benefit," Heller said.
"There was no conflict," Berkley shot back. "You and I did the right thing. We saved lives."
The two candidates also clashed on Medicare, with Berkley reminding viewers that Heller twice voted for a GOP plan that would offer voucherlike reimbursements to buy private insurance to future retirees 54 and younger.
Heller said he twice voted for U.S. Rep. Paul Ryan's plan so that lawmakers would "have a real discussion" about reforming Medicare. Ryan, a Wisconsin Republican, is Mitt Romney's vice presidential running mate.
"I'm not saying Paul Ryan's plan is the best plan, but it's a good start," he said.
Berkley said that if the Ryan plan had passed, "it would have ended Medicare by turning it over to private insurance" companies, and it would have raised costs to senior by $6,400 a year.
Berkley also hit Heller for rejecting a bill for equal pay for women. Heller shot back that Berkley's own congressional office underpays her female staffers.
The Heller campaign said LegiStorm.com, a website that looks at congressional staff salaries, found that Berkley's male employees average about $26,000 more per year in salary than her female employees. Asked what the differential is for Heller's staff, his campaign said it was about $12,000.
Contact Laura Myers at lmyers@reviewjournal.com or 702-387-2919. Follow @lmyerslvrj on Twitter.