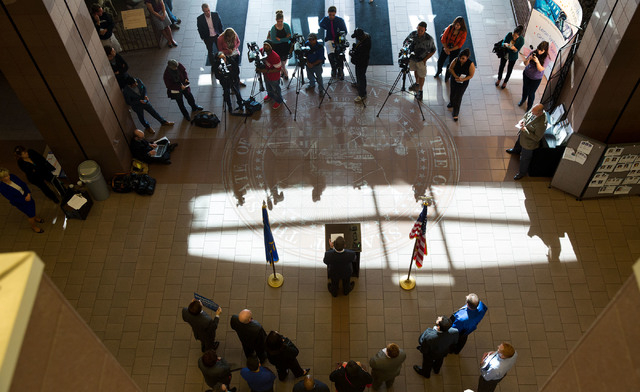 CARSON CITY — The ACLU has filed a legal brief supporting a challenge to Nevada's constitutional ban on same-sex marriage.
In its brief filed Friday with the 9th U.S. Court of Appeals, the group argues that Nevada's ban should be struck down because it improperly restricts the right to marry only to heterosexual couples.
"Marriage is not a right to be reserved for only select citizens, but a right that every loving couple in Nevada should be entitled to," said Tod Story, executive director of the American Civil Liberties Union of Nevada.
Nevada's constitution was amended in 2002 to say that only a marriage between a male and female person shall be recognized and given effect in this state.
The case challenging Nevada's ban, Sevcik v. Sandoval, was filed in U.S. District Court on April 10, 2012, by Lambda Legal. But in November 2012, Judge Robert C. Jones upheld Nevada's prohibition on same-sex marriage, finding that it does not violate the Equal Protection Clause of the 14th Amendment of the U.S. Constitution.
That decision has been appealed to the 9th Circuit.
In its "friend of the court" brief, the ACLU argues that the unmistakable intent of the marriage ban is to impose inequality on gay people and their intimate relationships.
The appeal was put on hold until the U.S. Supreme Court's decision in United States v. Windsor, which struck down the federal Defense of Marriage Act on June 26. The Nevada case will be heard on a parallel track with a case raising similar issues from Hawaii, Jackson v. Abercrombie.
Two of the plaintiffs in the Nevada case are Carson City residents Beverly Sevcik and Mary Baranovich, who met decades ago. They exchanged rings in 1971, but the appeal filed by Lambda Legal said they were turned away by the Carson City Marriage Bureau when they applied for a marriage license. They can and have registered as domestic partners under a law passed by the Legislature in 2009.
The Coalition for the Protection of Marriage in Nevada, which led the effort to win voter approval of the protection of marriage amendment more than a decade ago, is defending the constitutional language in the case.
While the legal challenge to the law moves forward, the Nevada Legislature is moving to ask voters to repeal the ban on gay marriage.
A constitutional amendment allowing gay marriage in Nevada passed in the 2013 legislative session. It must pass again in 2015 and then go to a vote of the people before it could take effect.
Polls by the Retail Association of Nevada show strong support for repealing the ban. A poll conducted Sept. 27-29 found that voters support legalizing gay marriage by a more than 20-point margin, 57 percent to 36 percent.
Contact Capital Bureau reporter Sean Whaley at swhaley@reviewjournal.com or 775-687-3900. Follow him on Twitter @seanw801.