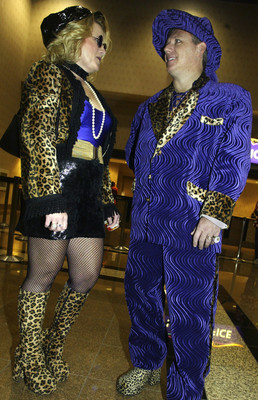 Billy Bob Thornton accidentally mingled over the weekend with some starched GOPers, and he found their way of dressing "kind of scary."
Thornton told me that Saturday he and his two band mates in the Boxmasters — playing the Hard Rock this Friday night — were prepping for their show in Minneapolis by getting Boxmaster tattoos.
"Today we're up there in this hotel room getting tattooed in a tattoo (place) where the Republican National Convention people are all staying," he said.
"We're sittin' up here, drinkin' beer and smokin' cigarettes and gettin' tattoos. And we're around all these people with powder blue leisure suits on."
"It is kind of scary sounding, isn't it?" he said, without going into any politicking.
I asked him whether he was inclined to perform a concert at the RNC.
"No, not really," he said quietly. "Not my bag."
The rest of my interview runs this Friday in the Neon section. (Norm Clarke and I are now writing extra columns for you in Neon.) The band is an entertaining, well-received group rooted in music inspired by 1960s mod-and-hillbilly vibes.
ON THE BUS
Thornton's band is a bunch of non-single guys, so they mostly just watch sports on satellite TV on their tour bus. Meanwhile, Billy Idol — playing Sept. 12 at the Hard Rock — mixes things up. What does he do on his tour bus?
"Music, movies, pornography," he tells me and laughs.
Is there a bevy of strippers on his bus?
"Ha. Yeah, sometimes," he says, quite possibly joking. It's hard to tell. He's a funny guy, that Billy Idol.
The last time I saw Idol, at Mandalay Bay Beach a few years ago, it was a sold-out show packed with attractive women, more so even than most Vegas shows. I don't mean that as sexism. As a newspaper sociologist, I just remember thinking so.
Idol wouldn't say how he pulls that off. But he's happy about it.
"That's a damn good reason to go. It's a beautiful view from the stage. Let's put it like that."
Do women still try to get with him backstage?
"Yeah, ladies get very excited."
Should fans let imaginations run wild about what goes on backstage?
"Please do. That's what I'm doing."
VEGAS GIRLS
This weekend's Strippers & Hustlers Ball at the Orleans Arena looked something like the Pimp 'n' Ho Ball with more onstage entertainment. Women wore crazy little outfits that barely covered much, while Orleans workers made sure everyone's certain bits were not exposed.
If I'm not mistaken, drinks cost nearly twice as much ($9 import beer) as they did when the arena hosted Sean Hannity's "Freedom Concert" a few months ago, when no young women in tiny clothes were in attendance and alcohol sales tanked.
The funniest part of the adults-only scene: As women slinked by in slivers of threads in the hallways, arena TV monitors ran ads for an upcoming family show — "Playhouse Disney Live!" Strippers and hustlers have kids, too.
ROCK IN THE HOUSE
Playing Caesars Colosseum on Friday and Saturday, Chris Rock altered his routine to include John McCain's 44-year-old, political-newbie running mate, Sarah Palin.
I took notes, but for the first time in my career, I lost my notebook. So to paraphrase:
McCain is 72! People don't start jobs at 72; they start sandwiches. I love my grandparents, but I don't give them anything to do. And now McCain just hired his nurse for his running mate.
Rock joked at length about Barack Obama's "black" name, saying he might as well be named Dikembe Mutombo. Rock's next HBO special runs Sept. 27.
RIDERS OF THE STORM
Most of my family fled New Orleans once again, this time to avoid Hurricane stupid Gustav.
They drove to Mobile, Ala. But the hotel they had reservations for wouldn't allow cats, so they moved to a pets-friendly hotel next door.
On Monday, even in Mobile, the family dealt with tornado watches and big winds.
I called my sister, Teresa, and she reports:
"You know that hotel next door that threw us out because we have cats? The storm just blew off part of their roof."
Don't toy with the cat gods. They'll mess you up, man.
Doug Elfman's column appears on Mondays, Tuesdays and Fridays. Contact him at 383-0391 or e-mail him at delfman@reviewjournal.com. He also blogs at reviewjournal.com/elfman.