Adam's Place volunteers listen as families try to cope with their losses
October 1, 2010 - 11:00 pm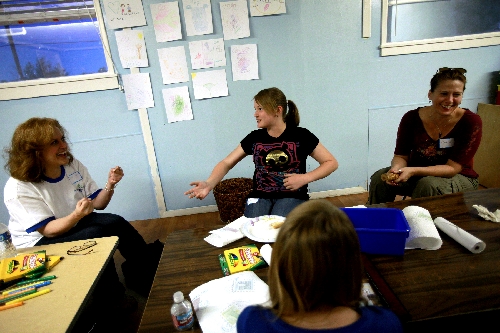 Kayla Falls calls them her "bumming moments."
It's those times when the 12-year-old is reminded that her father, Ryan, suddenly died this year from a massive heart attack.
It was shortly after Father's Day.
He was only 39.
Kayla's mother, Jenifer , chokes up when she talks about her husband of almost 15 years.
The 41-year-old wipes at a river of tears streaming down her face as she holds a photograph of the large man clad in an oversized white T-shirt. His tattooed arms are crossed in front of him, and his head is cocked sideways — as if he's reminding the person behind the camera that he's a tough guy.
But he sure loved Kayla.
"It's really sad that we lost her father, but at some point in her life, unfortunately, she'll have other losses whether it be other relatives, friends or a pet," Jenifer Falls said. "I want to try and instill in her some of the tools she'll need to just cope."
That's why she took her daughter to the Adam's Place Center for Grieving Children and Families, which opened its doors last week. The center, which helps children ages 3 to 18 deal with sudden deaths in their lives, is housed in a modest yellow building formerly known as a preschool on South Decatur.
To help people like Kayla.
"It's hard to hear kids at school talk about their dads," Kayla Falls said. "It's nice to go to a place and not be judged."
Clients must attend an orientation meeting — held the last Thursday of every month — before they can regularly attend the biweekly program. Volunteers undergo background checks and also are trained to listen to children deal with grief.
Jenifer Falls added that she tried to read and learn as much about grief as she could to help her daughter, but it was too emotionally exhausting.
"As far as us communicating together, it hasn't been easy for us," she said. "As a society we're not taught to deal with death very well. Be strong, don't cry, don't talk about it. Eat a pie."
Talking with her mom hasn't been easy, the seventh-grader acknowledged.
"This place is really nice because there's not a lot of places you can talk about it," Kayla Falls said. "I will explode with conversation when I'm here."
That's exactly what founder Kelly Thomas-Boyers wanted — a place where children and their families felt safe enough to share their most painful memories.
After all, she knows what they're going through.
Her son, Adam, died in a car accident in 2007. The 21-year-old wasn't wearing his seat belt. Thomas-Boyers had all the grief in the world and nowhere to turn.
So she made her own place to grieve and to help others cope with their losses.
"There was such a great need for this," Thomas-Boyers said. "It's great to see people really step up. People and volunteers are so enthusiastic about what they're doing here."
That's because those who give their time are dealing with their own losses — the brothers, sisters, cousins and parents who died unexpectedly. The volunteers aren't there to fix anything. They simply listen.
The handful of volunteers hold group sessions once every two weeks for children to talk, draw, color and play their way through grief. This week, the kids drew name banners of their loved ones and added drawings of their memories. They also shared pictures of happy memories.
Kayla Falls passed around a keychain with a picture of her dad on it. Halloween was their favorite holiday. This Halloween will be difficult, she told the group.
It doesn't hurt so much when she talks about her dad's death. She talks the most when she's with her friends at Adam's Place.
"This place should be a franchise like McDonald's," Jenifer Falls said. "There should be Adam's Places all across the nation, and everybody should know about it.
"You look to the left, you look the right, and you're not alone. I want other families to know there's other people and that we can all cry together."
Contact Kristi Jourdan at kjourdan@reviewjournal.com or 702-383-0279.