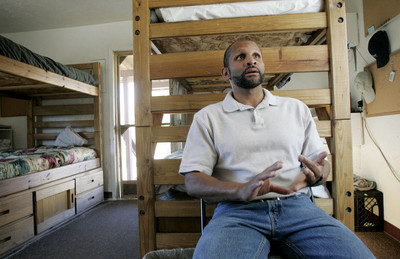 Darren Stewart is learning to live without alcohol and cocaine for the first time in nearly 20 years, having recently replaced the vices with trees and cool mountain breezes.
"I'm learning how to do things that are different," the 40-year-old said on Wednesday. "All my activities before involved drinking. Now, I can get the same enjoyment other ways and remember it the next day."
For the past few months, Stewart has been a resident of WestCare's Harris Springs Ranch near Mount Charleston, a residential substance abuse treatment center for men and boys.
The facility less resembles a rehab than it does a family campground, with its collection of comfortable cabins, beautiful views and occasional visits from deer.
Residents stroll along pathways marked "Recovery Rd." and "Sobriety St.," toss horseshoes during their free time at a small central park, or have lunch at D's Diner, where the motto is, "We serve second chances." There's even playground equipment for visiting youngsters.
Despite the laid-back atmosphere, the addicts at Harris Springs are hard at work getting sober.
The men who live at the wooded ranch endure a strict daily schedule, rising each morning at 5:30, completing daily chores, attending numerous therapeutic "groups" and a nightly 12-step program meeting, and doing homework. They have very little free time each day, and must be in bed by 10:30 p.m.
They can't smoke or drink caffeinated beverages. Phone calls and family visits are limited and must be earned.
Still, most feel lucky to be there.
"I don't want to go back to sleeping in the park, to eating out of Dumpsters," said Jesse Plascencia, a 38-year-old crack cocaine addict and father of three who has been at the ranch about five months.
Plascencia, a former gang member, begged a judge after his last Las Vegas arrest to let him try WestCare instead of jail.
After months of sobriety, he hopes to become a youth counselor some day.
"I want to redeem myself for selling drugs to women and kids," he said. "I need to pay the price."
Forty men live at the ranch at any given time, each for about six months. Sixteen boys are housed in a separate cabin and have no contact with older residents.
The 35-year-old WestCare is one of a dwindling number of options for poor or homeless addicts who don't have insurance and can't afford private rehabilitation services. There is a waiting list of up to six months to get in.
The nonprofit has had to fill the gap in services created by recent cuts to Salvation Army addiction programs, and worries about sustaining programs in a tough economy and with ever-shrinking funds.
"For years, we have relied on a steady stream of grants and other sources," said Kirby Burgess, vice president of WestCare. "We've been truly blessed in terms of giving."
The agency is preparing to launch a year-long campaign to raise about $10 million nationwide to help fill coffers.
WestCare began in 1973 as a small facility for male heroin addicts called Fitzsimmons House. Since then, it has expanded across the state and into several other states. At its four Las Vegas campuses, it offers drug treatment, housing and other services for 6,000 men, women and children each year.
"We see folks who fall through the cracks," Burgess said. "If we were not around, folks would continue falling."
WestCare's statewide budget for Nevada is $9 million.
At the ranch, residents work with staffers such as Andre Hughes, a single father who has been sober seven years. Many who work at the ranch are in recovery themselves.
"It keeps me in touch with where I came from and lets me give back," Hughes said.
He spent years as a local "crackhead" and "Fremont (Street) rat," he said, racking up dozens of arrests on drug charges until he hit bottom one hot summer day following an arrest behind the El Cortez.
"I went through so much crying," he said. "I was flooded with emotion."
Hughes says he's uniquely qualified to work with fellow addicts.
"My job is sharing my experiences," he said. "I never lie to the men."
Stewart said he also hopes to someday become a drug counselor.
He came to Las Vegas a year and a half ago from Minnesota, thinking a change in environment would help him straighten out his life. He was wrong.
"The rats will find the rat hole," he said with a smile. "I gravitated toward the things I knew: drugs."
Not long ago, Stewart was arrested on charges of drug possession with the intent to sell. While in jail, he found WestCare in the phone book.
Many of the men at the ranch are referred there by the Clark County District Court system as a condition of their parole or probation. Others, like Stewart, find their way there on their own.
Stewart, who has a 3-week-old son, said he knew it was time for things to change.
"I don't ever want my son to see me go through the destruction and chaos I went through," he said. "He will never see his dad messed up. I am done."
Contact reporter Lynnette Curtis at lcurtis@reviewjournal.com or 702-383-0285.