Adelson offers conflicting testimony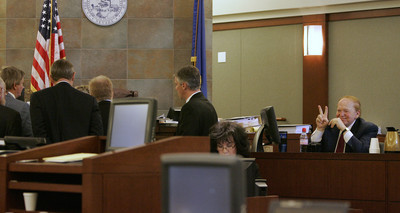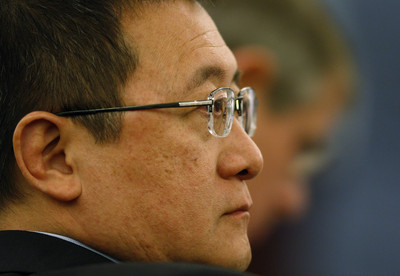 Las Vegas Sands Chairman and CEO Sheldon Adelson offered conflicting testimony Friday about whether he or a top executive of his company breached fiduciary responsibilities and offered to pay a Hong Kong businessman to find investors and help obtain a casino license in Macau.
During contentious questioning before the lunch break Richard Suen's attorney, John O'Malley, asked Adelson whether or not Las Vegas Sands President Bill Weidner wanted Suen to find investors for what was then a proposed hotel-casino development in Macau.
Adelson, 74, who in 2001 was suffering severe pain from a rare neurological disorder, told O'Malley that Weidner should not have asked someone with Suen's lack of financial experience to find investors for the project.
"Mr. Weidner breached his fiduciary duties to his company as far as you understand, is that what you're telling us?" O'Malley asked.
"Yes," Adelson replied, "But I still love him and I have a lot of respect for him."
During cross-examination by Adelson attorney Rusty Hardin a few hours later, Adelson attempted to clarify his comments about Weidner.
"Neither Bill nor I violated our fiduciary responsibilities. Period," Adelson said.
Outside of court, Adelson explained the contradictory testimony by telling the Review-Journal that he was somewhat confused by O'Malley's questioning. He said he was talking about two different types of investors; Weidner wanted Suen to find someone who would put up $500 million or $1 billion to build the project, not the traditional mortgage financing that Las Vegas Sands uses on its developments.
"He doesn't have a case. (O'Malley) is trying to confuse the issue," Adelson said.
Weidner is expected to testify Monday when the trial resumes at 1 p.m.
Adelson ended a full day on the witness stand Friday in the civil lawsuit brought by Suen by telling jurors he always takes care of his employees for their efforts, but that Suen did not help Las Vegas Sands obtain a lucrative gaming subconcession in Macau and is not entitled to share in any of the revenues being produced by the company's Chinese casinos.
"Nobody treats their employees better than I do. Nobody has a benefit plan like we do," Adelson said at the end of almost six hours of testimony. "I think he tried, but he barked up the wrong tree."
Suen claims he set up meetings with officials from the Chinese government in 2001, which led to Las Vegas Sands winning a shared gaming concession a year later. Suen says letters between him and Adelson and Weidner show that he was promised at least $5 million and 2 percent of the gaming operations' net profits in exchange for his help.
"I'm willing to pay him for his time and expenses," Adelson said. "But he did nothing of value. We're not deadbeats. We pay people when they work for us."
Suen sued in 2004 and the trial is expected to last four weeks.
Adelson was both combative and jovial while on the witness stand Friday, but he also had to be reminded several times by District Judge Michelle Leavitt not to talk over his attorneys.
Before his testimony, Adelson entered the Regional Justice Center from the south side entrance with men in suits who appeared to be private security guards. Adelson rode an electric scooter and court security used a hand-held wand to check Adelson. The men in suits escorted Adelson to the main elevators in the lobby that the public uses.
Adelson, who founded Las Vegas Sands in the 1990s and took the company public in 2004, is considered the world's 12th richest man by Forbes, worth between $26 billion to $28 billion, a fact that was brought out to the eight-person jury Friday.
Adelson told the jurors he worked hard to achieve his success "and never climbed on anyone's broken back" to get there.
Adelson began his testimony late Thursday and concluded Friday. His testimony was taken first in the trial because he is leaving the country to celebrate the Jewish holiday of Passover. Adelson's lawyer, Hardin of Houston, said he expected to recall Adelson to the witness stand later in the case.
On the witness stand, Adelson said much of the confusion over the company's dealings with Suen in 2001 arose because of his being afflicted with lumbar plexopathy, a disorder that causes severe pain along his side and hip area. Adelson said he first became ill during a return trip from Beijing on July 4, 2001.
Adelson still suffers from the disease today. He walks with a cane and was helped on and off the witness stand by his wife, Dr. Miriam Adelson.
Adelson testified that doctors spent several months in 2001 trying to determine the nature and cause of his illness. The prescribed medication, however, left him sleepy and at times unaware of certain events and details.
"I was like Rip Van Winkle, the man who went to sleep under a tree for 20 years. I was in terrible pain. Some days the pain was less and some days the pain medication was effective," Adelson said.
Adelson admitted that one day, he took 25 different medications to try and quell the pain.
In later testimony, Adelson said his wife, who is a doctor specializing in the treatment of drug addiction, prescribed methadone, which made the pain more manageable. By early 2002, Adelson said he was beginning to feel normal while conducting business.
Under questioning, Adelson said he didn't believe he was incapacitated and unable to perform his duties as chairman and CEO.
He also testified he didn't think his illness was of a material enough nature that the company needed to file a public disclosure with the Securities and Exchange Commission. Las Vegas Sands was privately held by Adelson at the time but had public debt.
"I guess (general counsel David Friedman) could have filed something that said 'Dear Public. Our chairman is a little cuckoo," Adelson said.
Adelson acknowledged drafting a Dec. 27, 2001, letter to Suen, but said it was revised by Friedman before it was mailed. Friedman worked for Adelson for nine years and resigned in 2004.
The letter notes Suen agreed to "talk to people" he knew in China who would "view The Venetian favorably to deliver a license to Macau." It ended with, "You think we brought you on as a public relations agent, and we thought we brought you on because you represented that you had the contacts that you could present our attributes to secure the license. Tell me how you think we can proceed from here."
Adelson's name was signed to the letter by his secretary, Betty Yurcich.
"What was sent was not what I asked to be sent," Adelson said.
O'Malley said previously that Las Vegas Sands executives worried that paying Suen might bring SEC scrutiny because of the company's dealings with the Chinese government.
Contact reporter Howard Stutz at hstutz@reviewjournal.com or 702-477-3871.