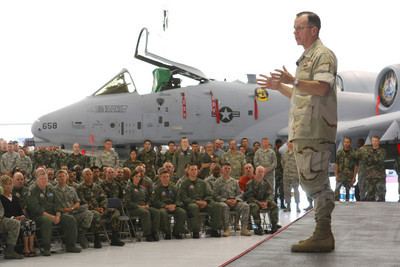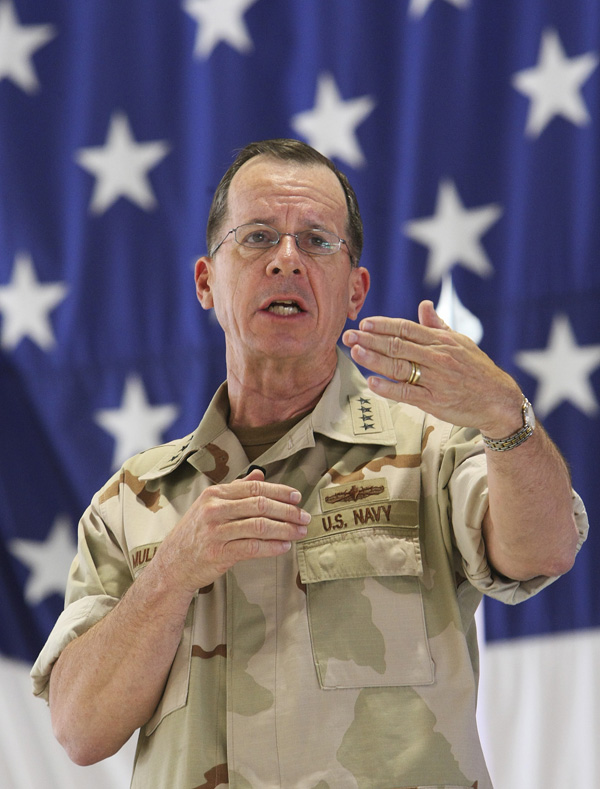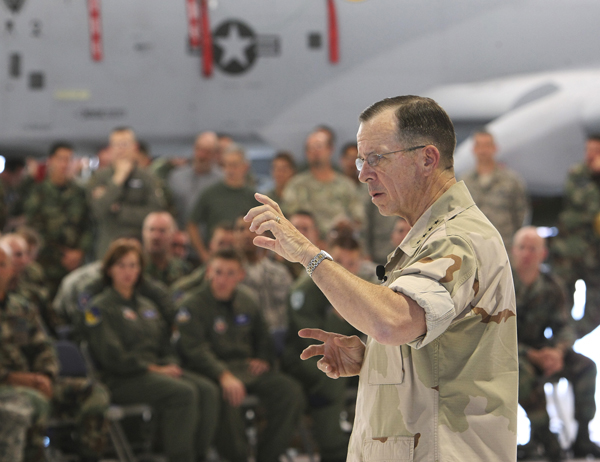 The top Pentagon brass came to Nellis Air Force Base on Tuesday to deliver a pep talk to airmen and allay their fears about what the future holds after this month's resignations of the Air Force's secretary and chief over problems with its nuclear program.
Navy Adm. Mike Mullen, chairman of the Joint Chiefs of Staff, held a town hall meeting with roughly 1,000 airmen huddled in the Thunderbirds' hangar.
He discussed the June 5 resignations of Michael W. Wynne and Gen. T. Michael "Buzz" Moseley and offered a crystal ball look at how the Air Force will evolve.
When one airman asked about the apparent low credibility the Air Force is experiencing and what mid-level leaders can do better in the wake of a chain of failures in the service's nuclear safeguards, Mullen acknowledged the problem has been mounting "for at least a decade. Some say longer."
"The nuclear mission is the most important mission we have," Mullen said, wearing a camouflage basic duty uniform with four stars adorning each side of its collar.
Mullen said he understands the standards involved in upholding the mission's safety. "And I also understand how far removed we are from that standard. That standard must be restored."
Defense Secretary Robert Gates accepted the resignations of Wynne and Moseley after a probe by the military's senior nuclear safety official, Adm. Kirkland Donald, who found the Air Force had failed to focus on its nuclear mission even after an incident last year involving a B-52 bomber crew that unknowingly flew a half dozen nuclear warheads from North Dakota to Louisiana.
Compounding what Donald described as the "gradual erosion" of the nuclear mission was the mistaken shipment of nuclear missile fuses to Taiwan that went unnoticed for 18 months.
Mullen told the throng of Nellis airmen that resignations should be viewed as accountability measures that are "absolutely vital."
"I come from a background where you command ships," he said. "When your ship is aground, it doesn't really make any difference how it got there. If you are the commanding officer, you are on your way out. That's understood going in."
As he was leaving the hangar to visit a Marine base in California before going to Fort Lewis, Wash., Mullen commented briefly on restoring integrity in the safety of the Air Force's nuclear program.
"I've talked to a lot of the Air Force's four stars and they assure me" they'll do just that, he said. "They got the message. … Secondly, the Donald report exposed a lot of challenges, a lot of issues we're going to deal with."
A blue-ribbon commission put together to look at that report, Mullen said, will "essentially make some specific recommendations within 60 days to Secretary of Defense (Gates) on what we should do, what we need to make sure happens."
During the town hall meeting, he said, "The steps that have been taken by Mr. Wynne and General Moseley are significant to move in the right direction for the entire Air Force."
Other questions have swirled around Moseley's leadership, including his involvement in the awarding of a $50 million contract to promote the Thunderbirds aerial demonstration team based at Nellis. Investigators showed that senior officers in 2005 pushed the contract to a company whose owners had close relationships with Moseley and other officials even though the firm's bid was twice as costly as a competitor's.
Mullen didn't touch on the Thunderbirds' public relations contract debacle, but he spoke highly of the remotely piloted Predator and Reaper armed spy plane operations at Creech Air Force Base, 45 miles northwest of Las Vegas.
"We live in a time of enormous change," he said. "Just take where we were a few years ago and what we're doing now. Clearly a few years ago we were talking about the possibility of remote air vehicles and now they have become, I wouldn't say a way of life, but I can tell you a lot of people want them."
Air Force unmanned aerial vehicles are in high demand among coalition ground forces commanders in Afghanistan and Iraq. They will become increasingly more important as the wars continue, Mullen said.
"Here we are involved in the middle of two major counterinsurgencies right now. I also see counter-insurgencies ongoing in other parts of the world," he said. "So counter-insurgency, irregular warfare, those things will continue to be with us for the next several decades."
Mullen noted that the U.S. forces "are most strapped in the Army and Marine Corps right now. We certainly continue to focus on them but we should never forget how important the Air Force and the Navy are both in the fight as our strategic reserve given the pressure, the rotation and deployment that our ground forces are relying on."
Contact reporter Keith Rogers at krogers@reviewjournal.com or 702-383-0308.