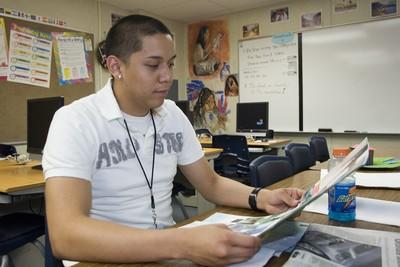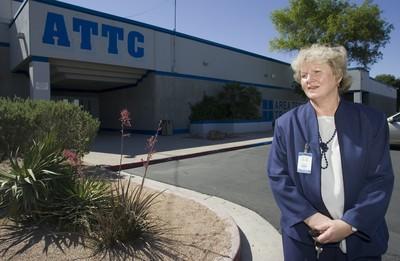 Being an Air Force brat has taught Sandra Ransel a thing or two about moving.
The Desert Rose Adult High School principal is preparing for one of her most challenging moves yet, relocating her school to a new campus this fall.
Desert Rose will be demolished in the coming months to make room for a Career and Technical Academy that is slated to open in 2009.
Meanwhile, the Clark County School District has found a new home for Desert Rose's adult students.
"It's like taking a trip," Ransel said. "You know what to pack if you know where you're going."
Desert Rose will move onto the campus of the Area Technical Trade Center, or ATTC, and Jeffrey Academic Center, two schools that stand side by side near Commerce Street and Cheyenne Avenue, about 5 miles northeast of Desert Rose's current location, near Vegas and Rancho drives.
Desert Rose, the only school of its kind in the district, serves students 17 years old and older who are behind in credits or have dropped out of high school.
Paul Gerner, the district's associate superintendent of the Facilities Division, said most of Desert Rose's students will work out of portables during the next two school years. But the students also will be able to use some classrooms at Jeffrey and ATTC.
The district plans to have Desert Rose permanently move into ATTC's facilities by the fall of 2009.
"We are adaptive," Ransel said of her staff and students. "We know how to make use of whatever space we're given."
More than 4,000 students are enrolled at Desert Rose, but there are never more than 400 students on campus at once, Ransel said. The school operates Monday through Thursday from 8 a.m. to 8:30 p.m.
The school graduated 474 adults last year including an 83-year-old student.
One of the biggest challenges this fall will be making students feel as if they are on one campus, Ransel said.
But the move will also provide new opportunities for Desert Rose students, Ransel said. The school will most likely incorporate some of the programs from ATTC's campus. ATTC has programs in culinary arts, horticulture, welding and other areas.
Jose Ornelas is more than halfway to earning his diploma from Desert Rose. The 17-year-old stopped attending Mojave High School last year because he was a couple of grade levels behind, he said.
Ornelas said he takes school more seriously at Desert Rose and likes that he can work at his own pace there.
The move to a new campus next fall will be a positive step, he said. He's hoping to learn the welding trade because of the school's collaboration with ATTC.
"They have more things over there," Ornelas said of Desert Rose's plan to incorporate ATTC programs. "We'll be able to learn from them."