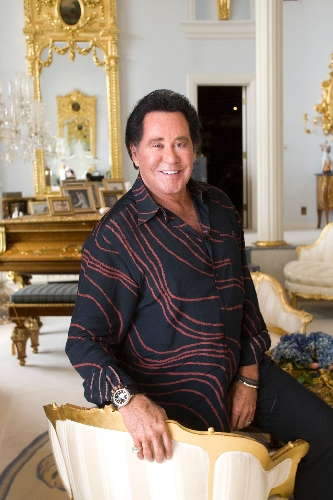 Wayne Newton's neighbors turned out in force Tuesday night to oppose his plan to turn his ranch into a tourist attraction.
Many residents in the entertainer's upscale neighborhood criticized his plan to shuttle visitors on guided tours of his 52-acre ranch at Pecos and Sunset roads, saying it would increase traffic and spoil what's left of the area's rural setting.
Newton has applied for a special-use permit to offer commercial tours of his Casa de Shenandoah ranch, which he built in the mid-1960s.
Neighbors packed the Clark County Commission chambers to express their views about the proposed tours to the Paradise Town Advisory Board. Newton did not attend the meeting.
Most board members sided with opponents. The board will recommend that county commissioners deny the permit. The decision drew resounding applause.
An average of six shuttles an hour would go to the ranch, according to estimates by Newton's planners.
"I'm adamantly against this project," said Bea Katz, who lives in a subdivision south of Newton's property. "I think it's an invasion of our beautiful area and homes."
But Blythe Gable, who lives north of the ranch, argued that the tours would benefit the area.
"This project will be beneficial to the community," Gable said. "It will be a place to relax and reflect … and (for visitors) to see things they don't normally see in Las Vegas."
Newton hopes to get the tours going within a year. He has said that the project would create up to 400 jobs.
He is teaming up with Texas businessman Steven Kennedy to build a museum and theater on 10 acres of land that is zoned for commercial use north of Sunset Road.
He envisions shuttling visitors from the museum and the Strip to his ranch, where they can see his property, an array of animals and 20 vintage cars. Some tours would take people through the bottom floor of his 14,000-square-foot house.
A car wash would be built on Pecos Road to clean the shuttle buses. He also wants to build a small chapel to hold weddings, but it would not be a full-fledged commercial chapel, said Greg Borgel, Newton's planning consultant.
Plans call for closing off Tomiyasu Lane on the west side of his property, where he would create a gateway for the shuttles.
If the county doesn't allow access on Tomiyasu, Newton will carve out an entrance on the north side of the property near Sunset Road, Borgel said.
A procession of residents spoke against blocking off Tomiyasu, saying that would eliminate the best entrance to their neighborhoods.
Jay Brown, Newton's attorney, acted surprised about the opposition to making the road private.
"We really did believe that many of the neighbors wanted to vacate it," Brown said.
Chris McCullough, an attorney representing the neighboring Meldrum family, said he was concerned about Newton asking for a commercial permit to keep more than 50 horses, which produce a large volume of animal waste that could seep into the ground.
Floyd Meldrum, who founded Southern Nevada Paving, owns nine acres not far from Newton's ranch, McCullough noted.
Studies need to be done about how the tours will increase traffic congestion, McCullough said. "Let's not fool ourselves. This is a paved tourist attraction."
Borgel noted that Newton already has 50-plus Arabian horses on site and merely wanted a commercial permit in case he wanted to bring in an animal for breeding.
Beverly Ozmun, who lives in nearby Equestrian Estates, said letting Newton develop a museum and tourist hub could set a precedent for other area celebrities to launch similar ventures.
"Where do you stop?" Ozmun said. "Where are you allowed to stop?"
But Mary Lee Rotar, a longtime area resident, said Newton's half a century in Las Vegas will allow him to offer the public a rare glimpse of local history.
"He has a lot of things people would want to see," Rotar said.
A couple of town board members expressed concerns about Newton asking for multiple waivers from normal development standards.
Others worried that the project would further erode the semi-rural area.
"I just can't support this application," board member Robert Orgill said.
Contact reporter Scott Wyland at swyland@reviewjournal.com or 702-455-4519.