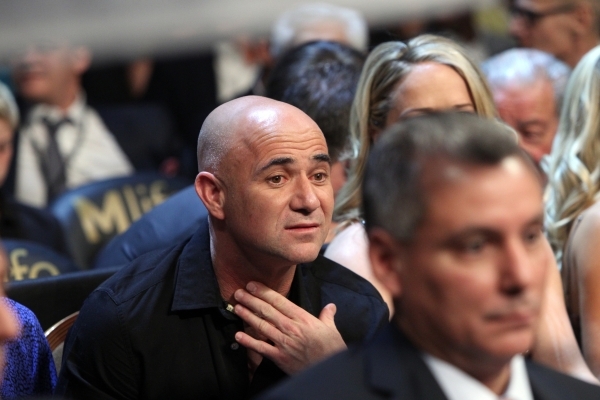 For Andre Agassi, raising money for charity is as easy as game, set and match.
The tennis Hall of Famer from Las Vegas and his wife Stefanie Graf, herself a Hall of Famer, will participate in Billie Jean King and Elton John's annual charity event —€" World TeamTennis Smash Hits —€" Oct. 12 at Caesars Palace.
Agassi, whose philanthropic work rivals his tennis career —€" he has raised more than $185 million over the years for his College Preparatory Academy and his Boys and Girls Club in West Las Vegas —€" is close friends with King and Sir Elton. This will be the 13th time he has appeared at the Smash Hits, which was launched in 1993 to help raise funding for AIDS research and has raised more than $13 million over its 22-year existence. But this is the first time the fundraiser has been held in Agassi's hometown. A portion of the proceeds raissed from the event will be donated to local charity Aid for AIDS of Nevada.
Agassi, an eight-time Grand Slam champion and Graf, a winner of 22 Grand Slam titles and 107 singles titles before retiring in 1999, will be involved in the event in a yet-to-be-determined capacity. They will be joined by Martina Navratilova, who won 18 Grand Slam singles titles and holds 167 singles titles and 177 doubles titles in her Hall of Fame career, and Andy Roddick, who won the 2003 U.S. Open and 30 overall titles on the ATP Tour. A spokesman said Tuesday Agassi will publicly discuss he and his wife's involvement at the Smash Hits fundraiser at a future date.
King, who founded WTT back in the early 1970s, said she hopes bringing the fundraiser to Agassi's hometown will yield big results.
"It is great to have WTT Smash Hits back in the U.S. and even better that we are making our first trip to Las Vegas, the entertainment capital of the world," she said. "Smash Hits is one of my favorite and most meaningful events of the year and we are looking forward to a successful and entertaining night this October at Caesars Palace."
The tennis event will be held on a specially constructed court in the valet parking lot adjacent to Caesars Palace Drive. There will be singles and doubles matches using the World TeamTennis format. Tickets for the fundraiser, priced from $45, $125 and $500 for a special VIP package go on sale at 10 a.m. Thursday at the Colosseum at Caesars Palace box office and through AXS at 888-929-7849.
"I'm so pleased that we will be teaming up with Aid for AIDS of Nevada to raise awareness about the continuing challenges of the HIV/AIDS epidemic, both locally and nationally and to raise urgently needed dollars for community-based HIV prevention, education, treatment and care services," said John, who has a residency playing his show "The Million Dollar Piano" at the Colosseum at Caesars Palace.
Contact reporter Steve Carp at scarp@reviewjournal.com or 702-387-2913. Follow him on Twitter: @stevecarprj.