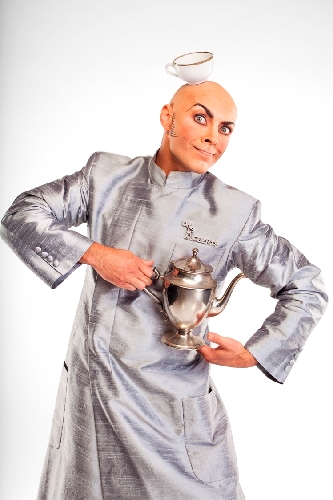 Andre Agassi celebrates the big 4-0 on Thursday.
It's shaping up as a huge year for Las Vegas' favorite son and his mission: transforming the lives of children.
The tennis great addressed a philanthropists conference this week in Los Angeles, where he unveiled an ambitious 10-year initiative for the Andre Agassi Charitable Foundation, which has raised over $80 million for at-risk children in Southern Nevada.
Agassi, who opened his charter school academy in 2001, shared his vision with the Milken Institute Global Conference, saying, "Education is the only way to make systemic change in a child's life. It's by giving them the tools."
It was announced on Tuesday that Sir Elton John is returning to the lineup of Agassi's gala fundraiser, the 15th Grand Slam for Children on Oct. 9 at Wynn Las Vegas. Also joining John will be Matchbox Twenty frontman Rob Thomas, among others.
No word on how Agassi will be celebrating his 40th but Review-Journal reader Grace Olwell served up a winner of a suggestion: the party should include Tim McGraw singing his hit, "My Next 30 Years," but change it to 40.
Agassi shares April 29th birthdays with a long and eclectic list of notables. They include:
■ Duke Ellington, the late jazz pianist and band leader.
■ Rod McKuen, U.S. poet and composer.
■ John Waters, U.S. film director and writer.
■ Jim Ryun, U.S. distance runner and politician.
■ NASCAR great Dale Earnhardt.
■ Comedian Jerry Seinfeld.
■ Actors Daniel Day-Lewis, Michelle Pfeiffer and Uma Thurman (she also turns 40 Thursday).
■ U.S. tennis doubles twins Bob and Mike Bryan, who have won 59 tour titles. They were born on Agassi's eighth birthday.
April 1970 was a month of earth-shaking news: Paul McCartney announced the official split of the Beatles and Apollo 13, scheduled to be the third U.S. lunar landing, nearly ended in tragedy.
One week before Agassi was born, Tom Seaver, the New York Mets' 25-year-old future Hall of Famer, set a modern major league record with 19 strikeouts against the San Diego Padres, including the last 10 batters in a row.
On the radio, Simon & Garfunkel's biggest hit, "Bridge Over Troubled Water," had just ended a six-week run at No. 1.
On the week Agassi was born, the new No. 1 hit was "ABC" by the Jackson 5, whose 12-year-old lead singer, Michael, was a year away from going solo.
In Mannheim, West Germany, Stefanie Marie Graf was six weeks away from celebrating her first birthday.
COURTNEY PUTS ON A SHOW
Rock star Courtney Love still needs attention like some people need chocolate.
While trying on a pair of $3,000 Swarovski crystal stiletto platforms Saturday afternoon at Gregory's, the new luxury shoe store at The Venetian, Love emerged from a second-floor changing room stripped down to her panties and bra, and announced, "If I can't get (bleeped) in these shoes, I can't get (bleeped)."
Love, who recently lost custody of her 17-year-old daughter, was in town to celebrate the release of "Nobody's Daughter" at Tao at The Venetian.
A parade of celebrities have showed up at Gregory's since it opened two months ago.
Paula Abdul made an after-hours call Saturday for three hours of shopping after dinner with Sylvester Stallone and Planet Hollywood founder Robert Earl at Strip Steak.
Mariah Carey might have set the bar for legendary Las Vegas shopping sprees when she walked out with more than two dozen new pair of shoes, according to a spy.
THE SCENE AND HEARD
Las Vegas is not on the 2010 "American Idol" tour schedule released Tuesday. …
"Dr. Robert," a cast member in "Love" (Mirage), will be throwing out the first pitch at Wrigley Field on Thursday for the Chicago Cubs-Arizona Diamondbacks game. He will be accompanied by a number of other members of the cast who plan to interact with the crowd. The game will be aired on WGN (Channel 16 in Las Vegas, 11:20 a.m.) In "Love," Dr. Robert's character wears a long silver doctor's coat and carries a steaming tea pot.
SIGHTINGS
"Transformers" star Shia LaBeouf, at the late performance of "Love" (Mirage) on Monday night.
THE PUNCH LINE
"Here in New York, the Yankees are champions, but in Arizona, they would be deported." — David Letterman
Norm Clarke can be reached at (702) 383-0244 or norm@reviewjournal.com. Find additional sightings and more online at www.normclarke.com.