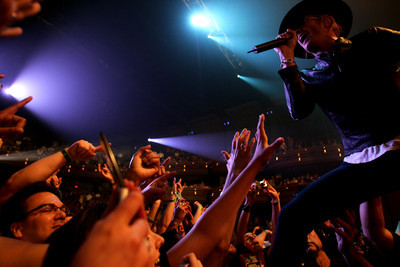 It was a cliche, but it didn't really sound like one, at least not when delivered by a bare-chested dude who howled out the words like he was born with a bullhorn for a larynx.
"What goes around comes around," Stone Temple Pilots frontman Scott Weiland sang at a sold-out Pearl on Thursday, his elastic limbs and gutbucket groan suggestive of a gene splice between Gumby and Jim Morrison.
True to Weiland's words, age has been pretty kind to this bunch, even if they haven't always been so kind to themselves.
Their tunes sound as if they've spent the five years since the band was last active locked away in the weight room, guzzling protein shakes and squat thrusting lots of iron.
It begins with bassist Robert DeLeo, who hunches over his instrument, hunkered down, like he's performing inside a wind tunnel. He's a better player than he gets credit for, locking horns with drummer Eric Kretz to form a quartz-dense bottom end whose concussiveness seems to take on new dimensions live.
Add to the mix classic rock-weened guitarist Dean DeLeo, who solos at will, and the kinetic Weiland, whose voice sounds as if it begins in his pelvis before slowly slithering out of his gullet, and it equates to some strong-armed jams that have benefitted from the passing of time.
When STP debuted in the early '90s at the height of the grunge boom, a strong era for guitar-driven rock bands, the group was dismissed by some as being a watered-down version of heavyweights Nirvana, Alice In Chains and Soundgarden.
Few bands wouldn't get overshadowed by that hall of fame triumvirate.
Fast-forward to a decade and a half later, when all of the aforementioned acts are either defunct or touring under a different incarnation, and STP sounds much better for the wear, especially when milquetoast acts such as Nickelback and Hinder have become the prime movers of mainstream rock.
Granted, STP probably never will be considered on par with a band like Pearl Jam, but they sure can knock the snot out of, say, 3 Doors Down.
In other words, they're one of the few acts that somehow seems more relevant after their commercial peak has passed.
This was apparent at The Pearl, where, save for a three-song suite in the middle of the show where the band showed a bit of restraint on poppier numbers "Lady Picture Show," "Sour Girl" and menacing anti-ballad "Creep," STP mostly battered the crowd with hard and dark, sweat-flecked rockers such as "Crackerman" and a grimacing "All in the Suit That You Wear," songs that you felt in your chest.
There's a tension inherent in this band, and it boils over onstage.
When someone hurled cheesecake — yes, cheesecake — Robert DeLeo's way, he threatened to take off his bass and bash in the offending party's skull.
"We're not serving steak and lobster here," Weiland drawled after the incident, whatever that meant.
But though his between-song banter was difficult to decipher at times, Weiland was hard to take your eyes off of, rolling his shoulders, chain smoking, crawling atop the monitors and singing from his knees, his loosey-goosey frame seemingly composed of unstable molecules.
Backed by a huge wall of LED lights that projected images of muscle cars and mushroom clouds, Weiland was no more subtle.
"I feel I've come of age," he sang during a gruff "Dead and Bloated" near the show's end, and he wasn't alone in thinking as much.
Contact reporter Jason Bracelin at jbracelin@reviewjournal.com or 702-383-0476.
REVIEW who: Stone Temple Pilots when: Thursday where: The Pearl at the Palms attendance: 2,500 (sold out) grade: B+