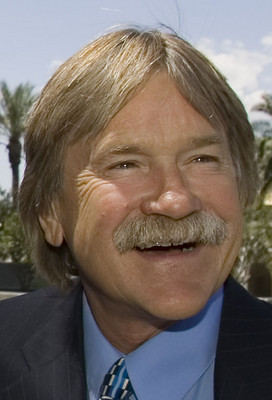 CARSON CITY — Gov. Jim Gibbons called Wednesday for state Agency for Nuclear Projects Executive Director Bob Loux to resign immediately after a preliminary audit showed he has been paying himself and his staff salaries far beyond authorized levels for at least three years.
Loux could not be reached for comment after receiving word from Gibbons, although earlier in the day he said in an interview that "I am not going away."
"I want to continue to focus on the (Yucca Mountain) project," Loux said. "What I did was not a good idea. I hope what I did does not have an adverse effect on what we are doing."
According to Ben Kieckhefer, Gibbons' communication director, two of the administration's top staff members met with Loux and he told them he would consider his options.
In a letter to Loux, Gibbons said he has "lost faith" in Loux's ability to manage the Nuclear Projects Office.
"An office that cannot manage its own budget surely cannot be expected to responsibly oversee Nevada's fight against a nuclear waste repository at Yucca Mountain," Gibbons said.
During a Tuesday meeting of the Legislature's Interim Finance Committee Loux sought permission to transfer money from his current budget to cover the $500,000 he overspent beyond authorized levels in last year's budget.
His request included $72,000 to cover additional retirement and other benefit expenses for himself and his staff that he did not calculate when he changed payroll records to increase their salaries beyond legal limits.
Kieckhefer said the administration believes Gibbons cannot fire Loux because he serves under the authority of the state Commission on Nuclear Projects, headed by former governor and U.S. Sen. Richard Bryan.
Before the audit was released, Bryan on Wednesday said he did not want to fire Loux, but would ask the six other members of the commission what they wanted to do.
"I do not defend his actions," Bryan said. "People do make mistakes. He is an invaluable asset for our efforts to oppose the high-level waste repository. He has the institutional history that goes back to the beginning."
Bryan said Loux told him he would pay the state back for the unauthorized pay he received.
In his career, Loux has been the top state official opposed to Yucca Mountain for every governor since Mike O'Callaghan in the 1970s. The audit shows he was receiving higher than authorized salaries at least back to the administration of Gov. Kenny Guinn.
He has been a state government employee for 32 years and would draw a retirement pension equal to 80 percent of the average pay he received during his three years of highest pay.
Before Loux' salary manipulation was discovered by the state budget office in August, he was drawing a $151,542 a year salary, nearly 33 percent more than his authorized $114,088. Nevada governors, in comparison, by law receive annual salaries of $141,000.
In addition, Nuclear Project Office staff members Joseph Strolin and Susan Lynch were drawing $125,253 a year salaries, also nearly 33 percent more than authorized; staff member Trudy Sanford was paid $113,627, or 52 percent more than the limit.
Staff members Paul Maser and Cathy Sack respectively were paid $99,263 and $79,857 salaries, also about a third more than authorized by law.
Kieckhefer said the administration will take steps so Loux and his staff do not receive retirement pensions higher than allowed by law.
"That point was immediately recognized," he added.
Josh Hicks, Gibbons' chief of staff, was directed Wednesday to review all salary increases given state employees.
Loux admitted Tuesday that last year he gave his entire staff, including himself, salaries 16 percent higher than authorized.
He explained his actions by saying their workload had "increased by 15 percent to 20 percent" because they were taking on the duties of an employee who got sick and retired.
The money that employee would have been paid was used to cover their salary increases, Loux said.
But Assembly Speaker Barbara Buckley, D-Las Vegas, noted other state employees received 2 percent increases and they also must do far more work because of vacancies caused by state hiring freeze.
"They are doing double and triple duty and they didn't get 16 percent," Buckley said.
After the audit is completed, Kieckhefer said Gibbons then could take disciplinary action against Loux, including suggesting to the attorney general's office he be charged with malfeasance in office.
"For him to do what he did in the middle of a fiscal crisis is just unbelievable," Kieckhefer said.
Sen. Bob Beers, R-Las Vegas, said what has happened with the Nuclear Projects office may be a reason to shut down the operation and leave it up to Nevada's congressional delegation in Washington to argue the state's Yucca Mountain posotion.
"If the law has been willfully violated we need to have restitution and to ensure no other public servants use their authority and power to enrich themselves unjustly," Beers said.
In a statement, Senate Majority Leader Harry Reid said Loux "has contributed a great deal to our state's fight against the proposed Yucca Mountain nuclear waste dump, and I want to thank him for his efforts.
"While current circumstances are unfortunate, Bob has done tremendous work battling Yucca Mountain."
Contact Review-Journal Capital Bureau chief Ed Vogel at evogel @reviewjournal.com or 775-687-3901.