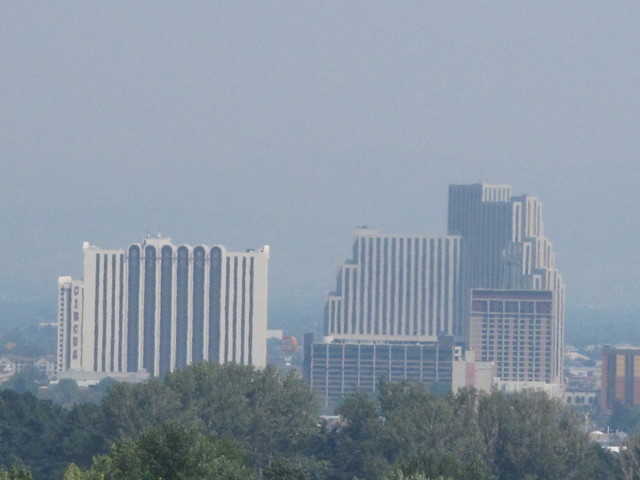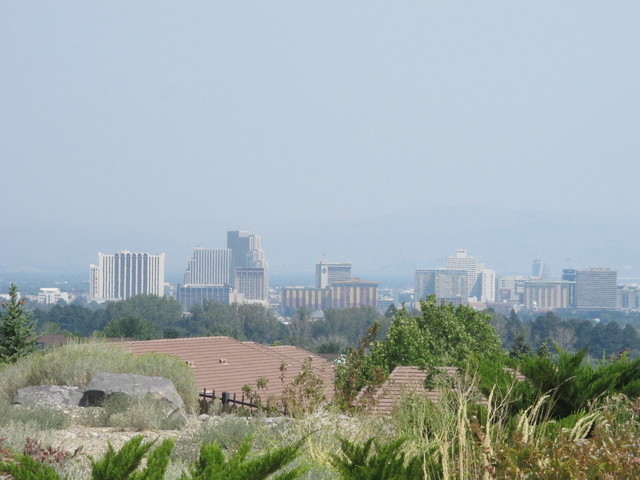 CARSON CITY — Douglas County schools Superintendent Lisa Noonan said she has experienced weather problems with wind and snow, but never imagined anything as bad as the cloud of dirty air from a Sierra Nevada wildfire that has settled over northwestern Nevada.
The air quality early Tuesday morning in the Gardnerville Ranchos part of the county, about 20 miles south of Carson City, reached 343, or the "hazardous" range for all people. By 11 a.m., the air quality there had dropped to 266, or in the very unhealthy range. In Carson City it stood at 288. The top of the scale is 500.
At the same time, Reno air quality stood at 152, or unhealthy. Air in Las Vegas, which has not been affected by the fire, measured 35, or good air quality.
Smoke is being blown into northwestern Nevada from the 64-square-mile Rim Fire, near Yosemite National Park in California. The region largely has been covered with smoke since Thursday afternoon.
"This is a new one for me," Noonan said Tuesday in a call from her office in Minden. "We are doing common-sense things, keeping kids inside for recess, having indoor athletic practices. We haven't been talking about closing schools. I don't think kids would be any better off at home than in school. A lot of their parents have to go to work."
Many homes also do not have air conditioning, while schools do, and all windows and doors are kept closed.
Douglas County is nearly 100 miles from the west entrance of Yosemite National Park, but it is the closest point in Nevada to the huge fire. And the closer to the fire, the higher the amount of smoke and unhealthy air.
"Hazardous" air means the older people and those with cardiopulmonary disease could suffer serious aggravation of heart or lung diseases or even death. There also is a serious risk of respiratory effects in the general population. All people are advised to remain indoors and limit physical exertion.
JoAnn Kittrell, the spokeswoman for the state Department of Conservation and Natural Resources, said her agency's air quality monitors only once before have recorded such high amounts of bad air: During the so-called Waterfall Fire that burned 17 homes at the edge of Carson City in 2004. But that fire was over in a day, and a cloud of smoke did not settle over the region.
The Nevada Interscholastic Activities Association has decided to leave it up to the individual school districts in Northern Nevada to decide whether to hold Friday night football games and weekend soccer and cross-country events.
But the National Weather Services has made no prediction about when the smoke will blow out of the region. The fire is only 20 percent contained so smoke conceivably could hang over the region for another week or even longer.
Jon Tyler, a spokesman for Carson-Tahoe Regional Medical Center, said the hospital has experienced only a slight increase in admissions due to respiratory problems from the Rim Fire.
Contact Capital Bureau Chief Ed Vogel at evogel@reviewjournal.com or 775-687-3901.