Alaska volcano shoots ash 15,000 feet into the air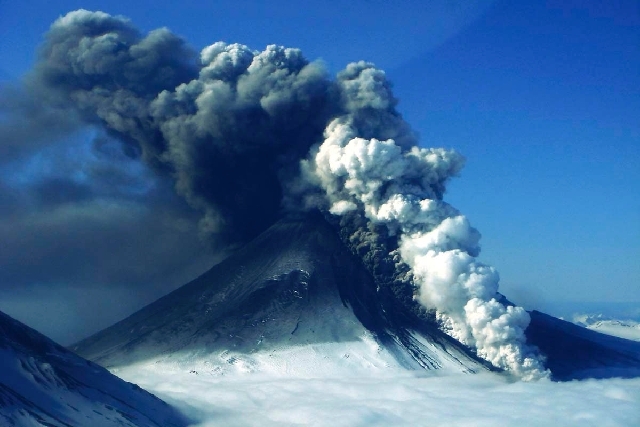 Alaska's remote Pavlof Volcano was shooting lava hundreds of feet into the air, but its ash plume was thinning Saturday and no longer making it dangerous for airplanes to fly nearby.
A narrow ash plume extends a couple hundred miles southeast from the volcano, which is 625 miles southwest of Anchorage, said Geologist Chris Waythomas of the Alaska Volcano Observatory.
The eruption that began Monday seemed to be slowing on Saturday, but Waythomas said that could change at any time.
"Things could ramp up quickly," he said.
There are no flight restrictions because of the eruption, but pilots are being told to use caution and pay attention, Waythomas said.
Ash plumes would need to rise above 20,000 feet to threaten aviation, he said.
Seismic tremors from the 8,262-foot volcano have been going up and down, but remain at a fairly high level, Waythomas said.
Scientists are not expecting the eruption to end anytime soon but so far it has not been explosive. There are mud flows, but no one lives close enough to be threatened.
Pilots flying by on Saturday morning reported lava fountaining, which Waythomas described as rooster tails of incandescent lava shooting up a couple of hundred feet above the summit.
Pavlof is among the most active volcanoes in the Aleutian arc, with nearly 40 known eruptions, according to the observatory.
The volcano last erupted in 2007. During the 29-day eruption, Pavlof emitted mud flows and erupting lava, as well as ash clouds up to 18,000 feet high.
"Ash is the main thing we're keeping an eye on," Waythomas said. "But if it stays below 20,000 (feet) things will be good."
The weather forecast is calling for winds to shift and the ash cloud to head west, pushing it toward the community of Sand Point, but Waythomas said residents shouldn't expect more than a trace amount of ash.